Après Peau d'âne, la nouvelle héroïne que j'ai choisi de relooker n'a rien à voir avec une princesse de conte de fée.
Il s'agit d'un personnage créé par Luc besson dans le film "Léon" qui fait d'ailleurs partie de l'un de mes films préféré.
j'ai du voir ce film vers mes 10 ans je crois, et le personnage de Mathilda, avec un age presque similaire au mien, m'avait énormément marqué. J'adorais sa démarche, ses collants kitchs, son collier de chien, ses bottes et surtout sa coupe !
près de 12 ans plus tard, elle me plait toujours autant, ( j'ai d'ailleurs fini par adopter sa coiffure il y a 3 ans ) et c'est pour cela que j'ai choisi de la mettre à l'honneur aujourd'hui.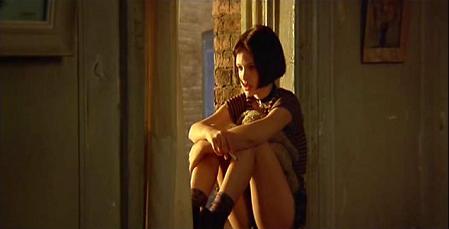 Today's heroine has nothing to do with princesses or fairy tale characters.
No, today's character was created by Luc Besson in the movie "Léon", which happens to be a favourite of mine.
I think I must have seen this movie when I was about 10, and I remember being particularly fond of Mathilda, who was pretty much the same age as me. I loved her demeanor, her kitschy tights, her dog collar, her boots, and especially her haircut! Almost 12 years later, I still love her (I even went so far as to get her haircut 3 years ago), and that's why I decided to create this ode to her today.
[kml_flashembed movie="http://youtube.com/v/fOjfp2oE4MA" width="212" height="175" wmode="transparent" /]
Petit retour sur image de notre héroïne: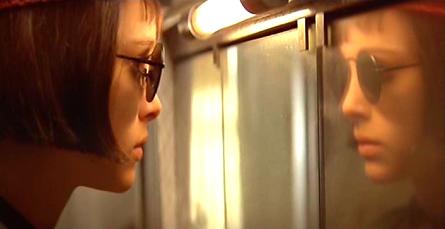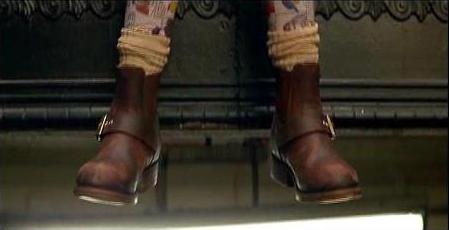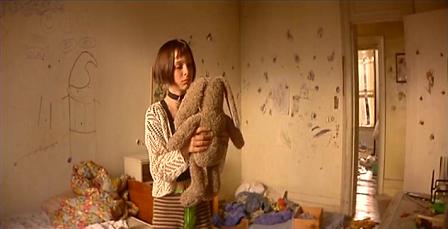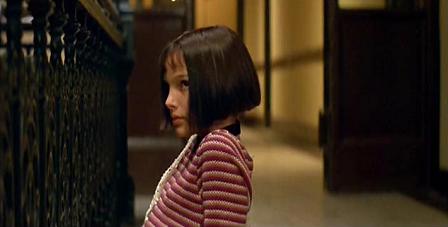 Pour recréer le look de Mathilda, voici les différents vêtements et accessoires dénichés sur des sites de vente en ligne:
To get Mathilda's look, here are some clothes and accessories that I found on various online shopping sites.
tout d'abord, les lunettes façon John Lennon, Pour rester incognito même avec un sac rempli d'armes en tout genre. First of all, these John Lennon type glasses help to go unnoticed, even when you are carrying a bag full of weapons.
lunettes sur anysunglasses.com
Un petit pull rayé, tout simple. Mathilda assemble des pièces assez quelconques, en obtenant toujours un résultat original. This striped shirt is simple, but Mathilda always manages to wind up with an original look by mixing and matching various pieces.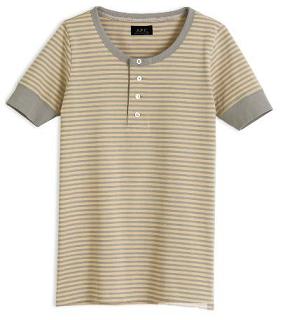 Tee shirt a.p.c
Un short, très court, comme la plupart des autres vêtements de sa garde robe. These shorts are very short indeed; not unlike much of her wardrobe.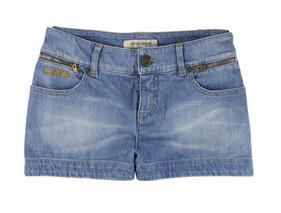 Short see by Chloé
plutôt que porter un vrai gun dans sa poche, autant en porter en bijoux? Why carry a pistol when you can wear one in jewellery form?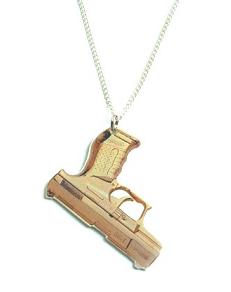 collier pistolet etsy
jLes boots de motard, plus chic et luxe, avec de beaux talons. These biker boots are chic and luxurious, with beautiful heels.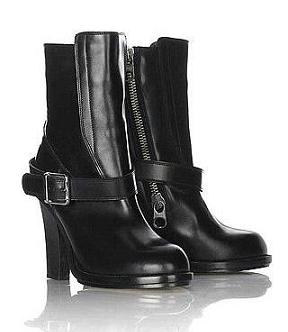 Chaussures Chloé
Et la peluche, qui nous rappelle qu'avant tout, Mathilda est une enfant !( Je sais qu'en vrai c'est un lapin, mais on ne peut pas tout avoir) . And finally, this stuffed toy reminds us that Mathilda is first and foremost, a child! (I realised this should be a bunny, but you can't have it all.)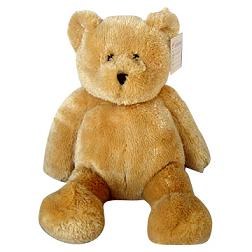 Dans la série des relooking des héroïnes de notre enfance: Peau d'âne, Alice au pays des merveilles, maria dans la mélodie du bonheur, mary poppins, Dorothy dans la magicien d'Oz.
Je n'ai pas pour habitude de créer un article simplement pour poster une vidéo, mais je pense que celle d'Erin Fetherston, qui collabore une nouvelle fois avec Ellen Von Unwerth, en vaut vraiment la peine.
Tout comme le précédent court métrage, Wendybird, la poésie et le rêve sont au rendez vous.
8 minutes de film mettant en scène Zooey Deschanel entouré de nymphes, le tout baignant dans une lumière poudré très hamiltonienne. Une ambiance des plus féérique, qui ne nous étonne pas venant de la créatrice, mais ne cesse de nous ravir !
[kml_flashembed movie="http://youtube.com/v/wtLUW8Sl--o" width="425" height="350" wmode="transparent" /]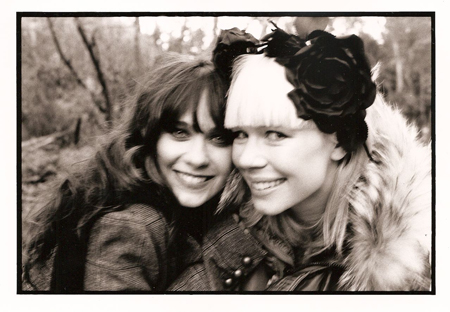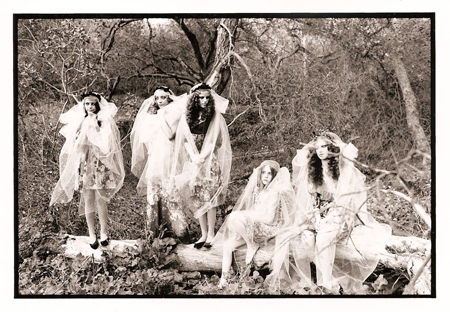 Sinon rien à voir, mais je tenais à faire part de ma déception concernant la tea gallery Mad Vicky's créé par Bianca Casady, une des sœurs du groupe Cocorosie. En arrivant rue Nicolet, le lieu à l'air tout simplement fermé, et la pièce que l'on aperçoit à travers la vitre dans l'obscurité me semble des plus hostile ( je ne vais pas dans les détails, mais le lit défait, le bordel environnant, les baskets qui trainent ainsi que les objets recouverts de sacs plastique devraient suffire a se donner une idée) . A en juger par ces quelques éléments de décoration, je pense que soit le lieu a fait (rapidement) faillite, soit il s'agit d'une galerie d'art extrêmement conceptuelle dans son genre. Moi qui m'attendais à prendre un thé dans un endroit cosy, me voila bien déçue, complètement à côté de la plaque, et soumise à redescendre de mon petit nuage…
Edit 00:10 : La mad vicky's tea gallery est bien ouverte, mais l'installation quelque peu particulière de ce mois ci, le "twin bed" de Bradley et Eliza Shaw m'a fait penser le contraire. Je crois qu'il va encore me falloir un peu de temps avant de m'habituer à l'art conceptuel…et surtout m'informer à l'avance du programme et des horaires.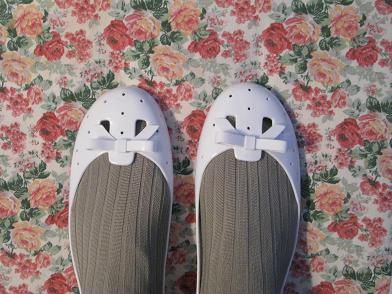 Princesse Tam Tam, une marque à priori plutôt de petites culottes.
C'est pourtant dans l'une des boutiques de cette enseigne que j'ai trouvé de ravissantes petites chaussures, toutes simples avec juste ce qu'il faut de détails pour rendre le modèle plein de charme.
Une certaine ressemblance avec le modèle jelly de Marc jacobs n'est sans doute pas fortuite… mais je peux tout de même dire que je préfère grandement celles que j'ai actuellement au bout des pieds.
***
When one thinks Princesse Tam Tam, one usually thinks lingerie.
Yet that's where I picked up these ravishing shoes; a simple yet charming number thanks to some subdued detail. Although they do bear a certain resemblance to the Marc Jacobs Jelly design, I must say that I greatly prefer the shoes that currently grace my feet.
Music: Acid House Kings – Sleeping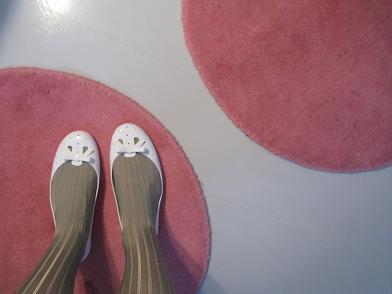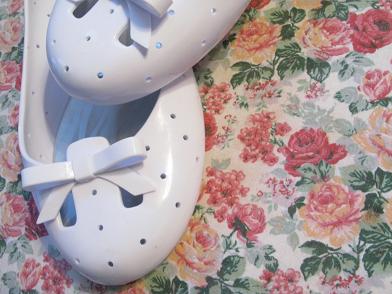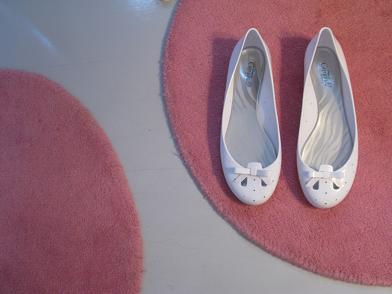 Ballerines chez princesse Tam Tam / Princesse Tam Tam ballet flats
Existe en blanc et en noir / available in white or black