-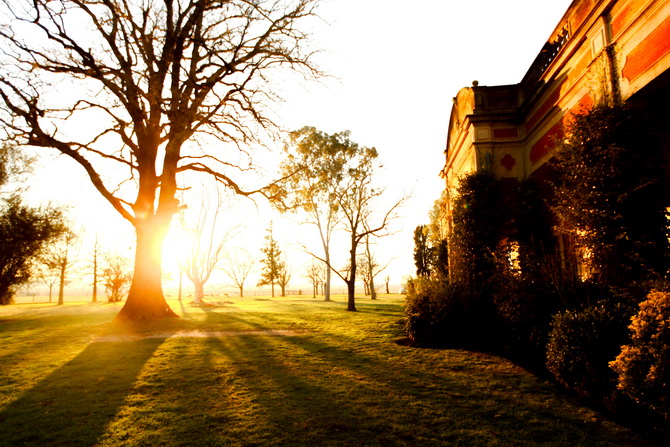 -
-
Et voici mon tout dernier article sur l'Argentine.
Je tiens à remercier tout particulièrement Kenzo Parfum de m'avoir invité à la présentation de leur nouveau parfum Flower in the Air à Buenos Aires, et offert la chance de découvrir ce magnifique pays. Un grand merci à Marie de s'être si bien occupée de moi !
J'espère que les photos vous aurons plues, et donné des idées d'évasion.
L'Argentine est tellement grande qu'il est impossible de la visiter en moins de deux semaines, j'aimerais donc énormément revenir et me balader dans le sud où l'on peut admirer de magnifique cascades, et les paysages enneigé d'Ushuaïa !
Me retrouver seule dans une Estancia pour profiter de la nature et faire un peu de cheval a été l'occasion parfaite pour parler avec des Argentins et apprendre un peu plus sur leur pays.
J'ai ainsi appris que ses habitants sont habitués à faire énormément de trajets en voiture, tant les distances sont importantes.
La prononciation Argentine est un peu différente des autres pays hispaniques ( notons que j'ai appris l'espagnol il y a quelques années puis ai tout oublié à force de ne pas le pratiquer assez souvent ). C'est  quand je me suis retrouvé dans cette Estancia, avec nul autre choix que de parler espagnol que j'ai remarqué cette amusante différence: les Argentins de dirons pas "como te llamas" mais "como de jamas" ( comment tu t'appelles ).
J'ai ainsi mis un certain temps à comprendre ce qu'était un "cabajo" ( caballo = cheval ).
Fort embêtant, étant donné que je me trouvais dans un ranch et qu'on me demandais souvent si je voulais faire un "tour de cabajo"…
"Heu, pardon un tour de quoi ?"
Pour ma dernière journée à San Antonio de Areco, je me suis levée vers 6h du matin juste avant le lever du soleil pour profiter de la magnifique lumière.
Comme c'était la fin de l'hiver, il faisait encore assez froid, mais les arbres sans feuilles et l'herbe chargée de gel offraient un spectacle magnifique.
J'ai été extrêmement chanceuse, car il a fait extrêmement beau tout au long de mon séjour. Des conditions parfaites pour des ballades à cheval ( cabajo ahah ! ).
El ombu de Areco proposait deux excursions par jour dans la campagne environnante.
J'en suis revenu au bout de deux jours avec des courbatures terribles, mais heureuse comme tout d'avoir enfin appris à courir au galop !
Comme j'ai déjà beaucoup parlé, je vous laisse découvrir les photos avec ces superbes chevaux, et les écuyers très chics habillés en vêtements traditionnel de "Gaucho" !
-
-
♫ ♪ Sixto Rodriguez – Sugar Man
-
-
So this is it, my articles about Argentina are coming to an end !
I want to thank Kenzo Parfum for inviting me to the presentation of their new fragrance Flower in The Air in Buenos Aires, and for giving me the opportunity to visit this amazing country.
Special thanks to Marie who took such a good care of me.
I hope you liked the photos. Maybe they gave you some adventures ideas for your next trip !
Argentina is so big that it is impossible to visit everything in only two weeks, this is why I would love coming back and go to the south. I heard there are some amazing waterfalls here, and the landscapes of Ushuaïa are quite amazing !
Being alone in an Estancia to enjoy the nature around was the perfect opportunity for talking with Argentines and learn a bit more about their country.
This is how I discovered that people are used to drive a lot for going from one place to another, as the distances are so huge.
Argentinian pronunciation slightly differs from other hispanics countries ( note that I learned Spanish a while ago, then didn't practiced enough so forgot almost everything ).
That's when I found myself in this Estancia, with no other choice but speaking ( my awful ) Spanish that I noticed this difference:
Argentines wouldn't say " Como te llamas" but " Como te jamas " ( what's your name ? ).
It took me some time to get what "Cabajo" meant ( Cabajo = Caballo = Horse ).
Quite an issue, especially when you are in a ranch and they ask you all the time in Spanish if you want to "have a tour with the cabajos".
… "Uh sorry, a tour with what ?"
On my last day in San Antonio de Areco, I woke up at 6 AM just before sunrise, so I could enjoy the beautiful light.
It was the end of winter, and still pretty cold, but how beautiful to see these very graphic trees and the frozen grass in the morning light !
I've been extremely lucky because it was very sunny during my stay. Perfect condition for horse riding ( Cabajo haha ! ).
El Ombu de Areco proposed two tours per day in the surrounding countryside.
I came back after two days with terrible pain, but so happy to be able to gallop !
As I've already talked a lot, I'll leave you with the photos so you can enjoy the beautiful horses, and the cavaliers dressed in beautiful traditional "Gaucho' clothing !
-
-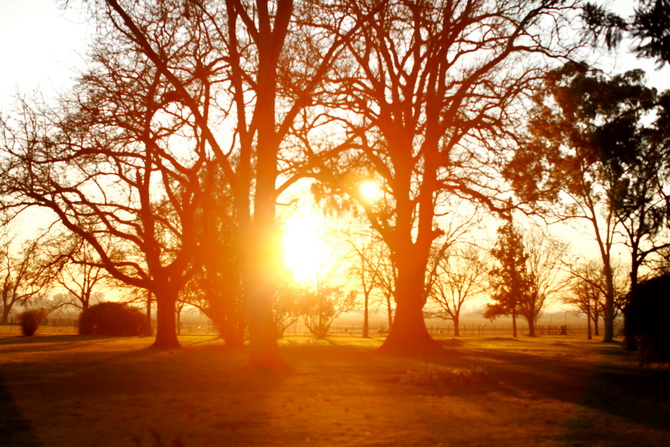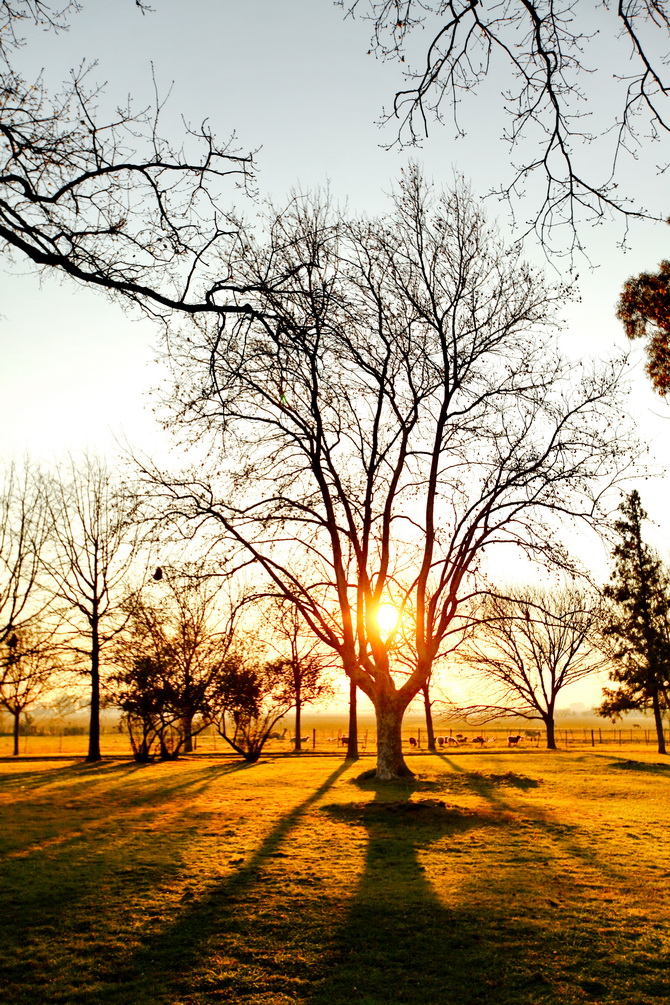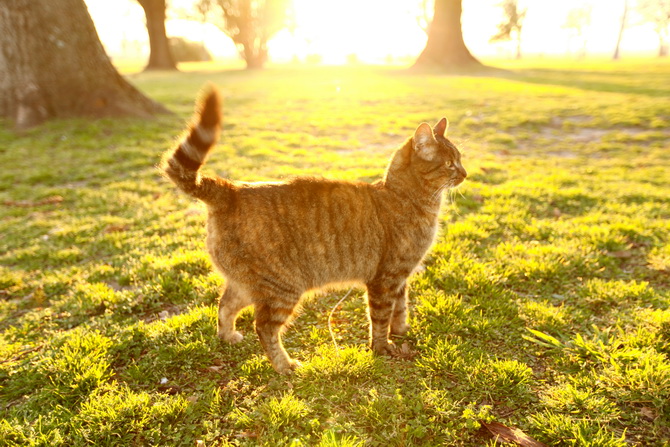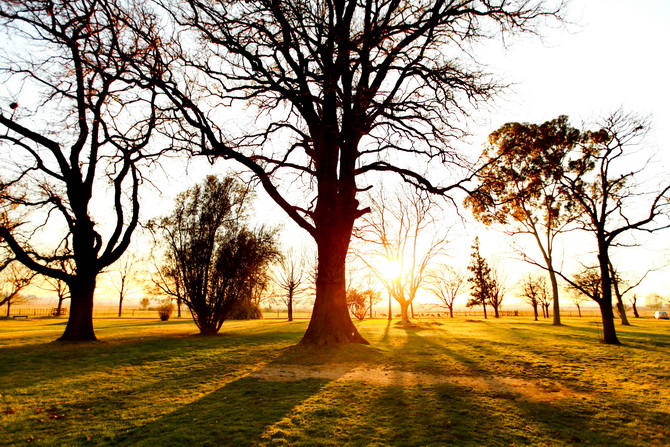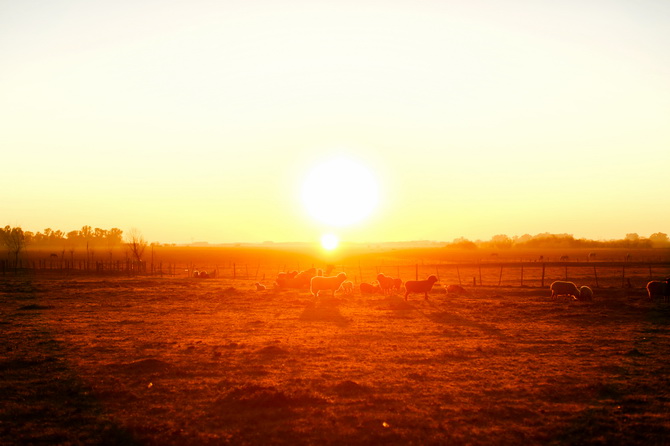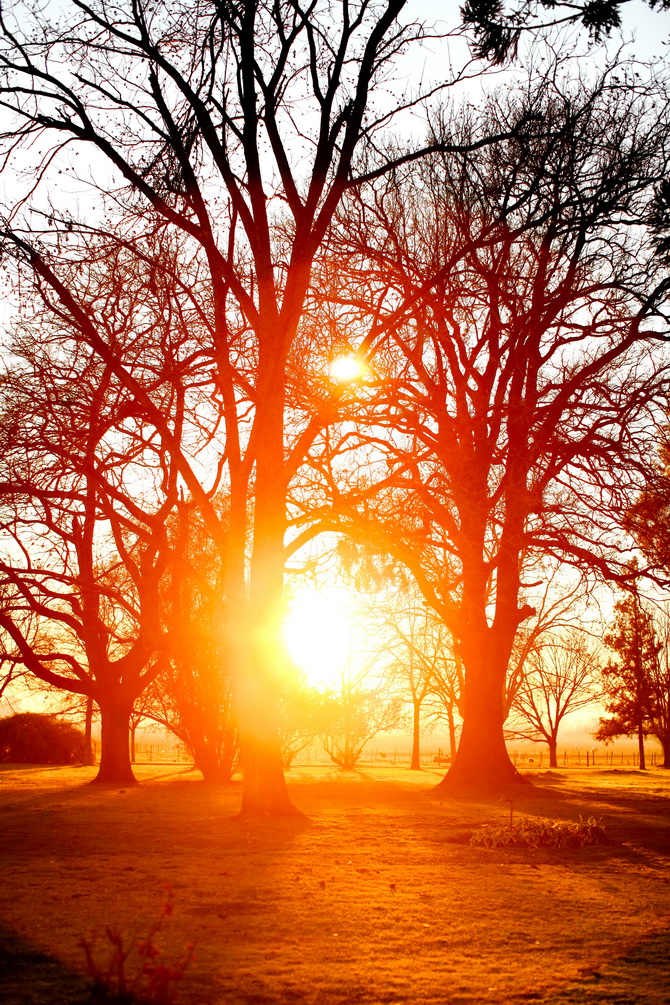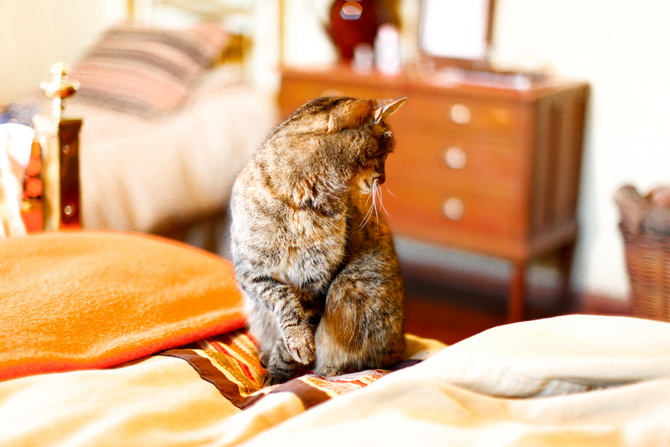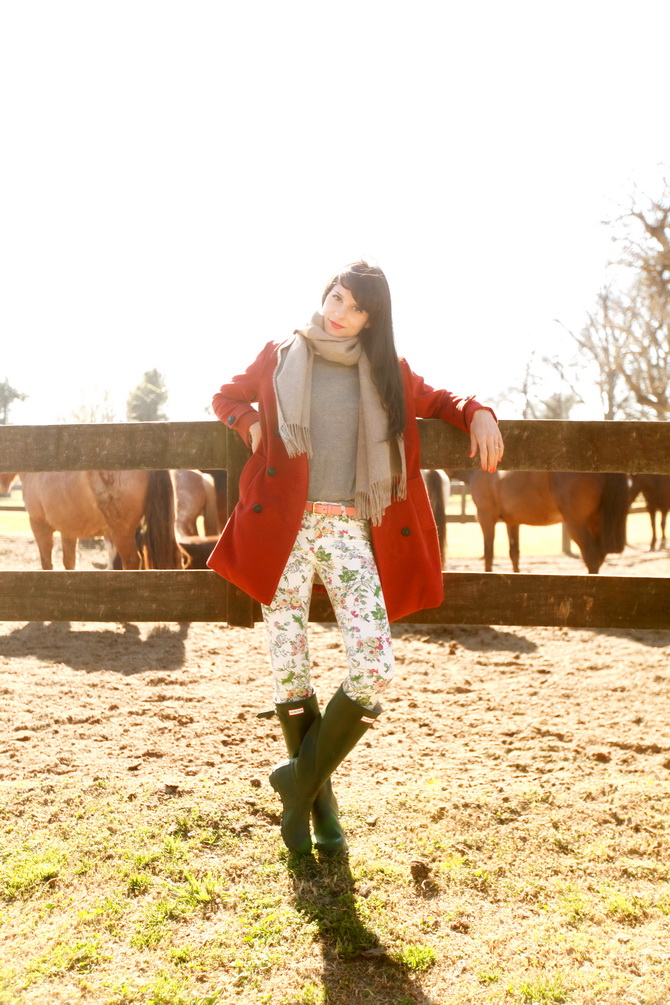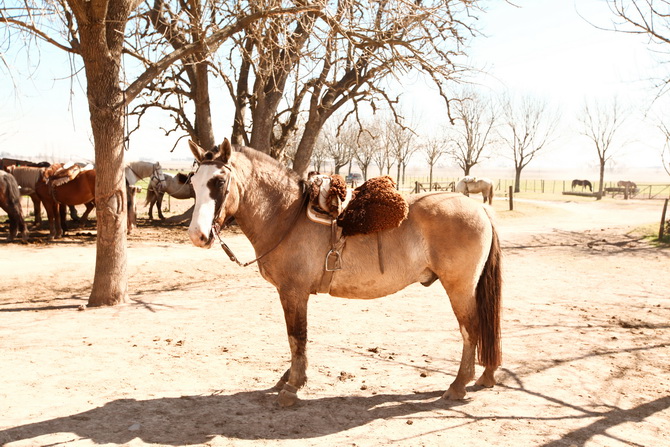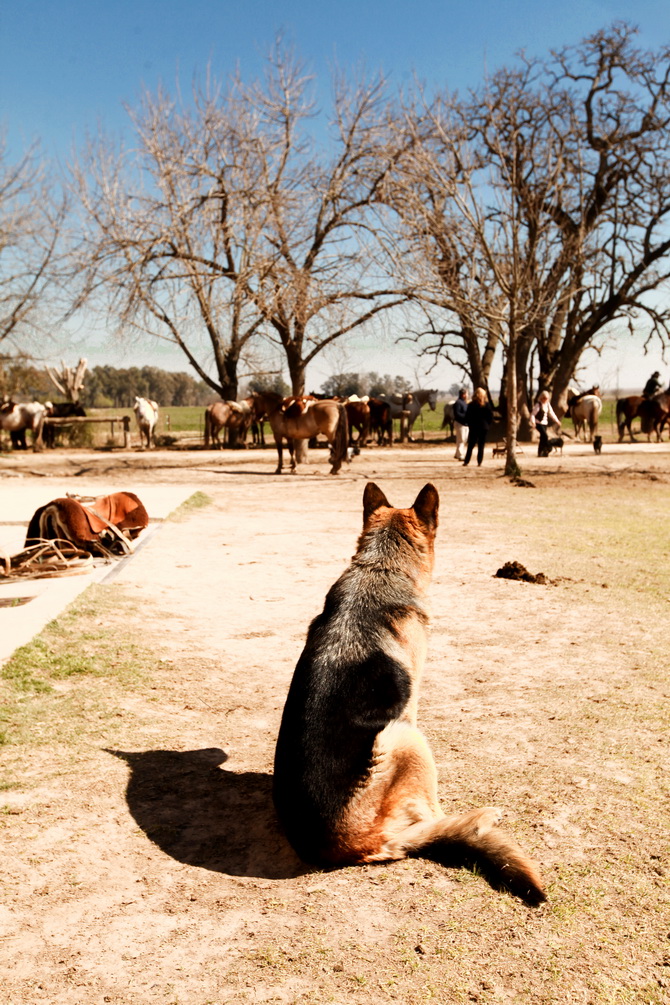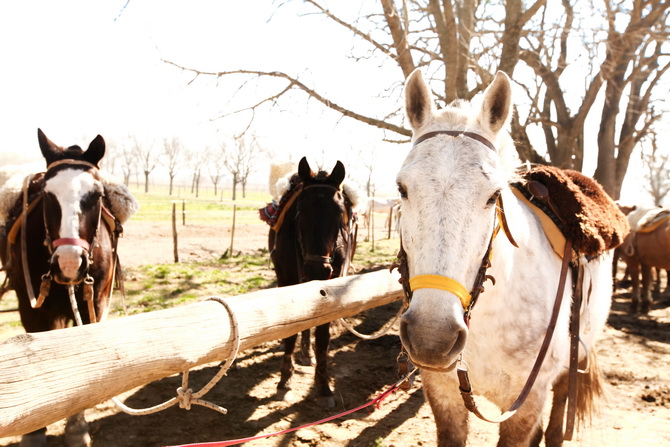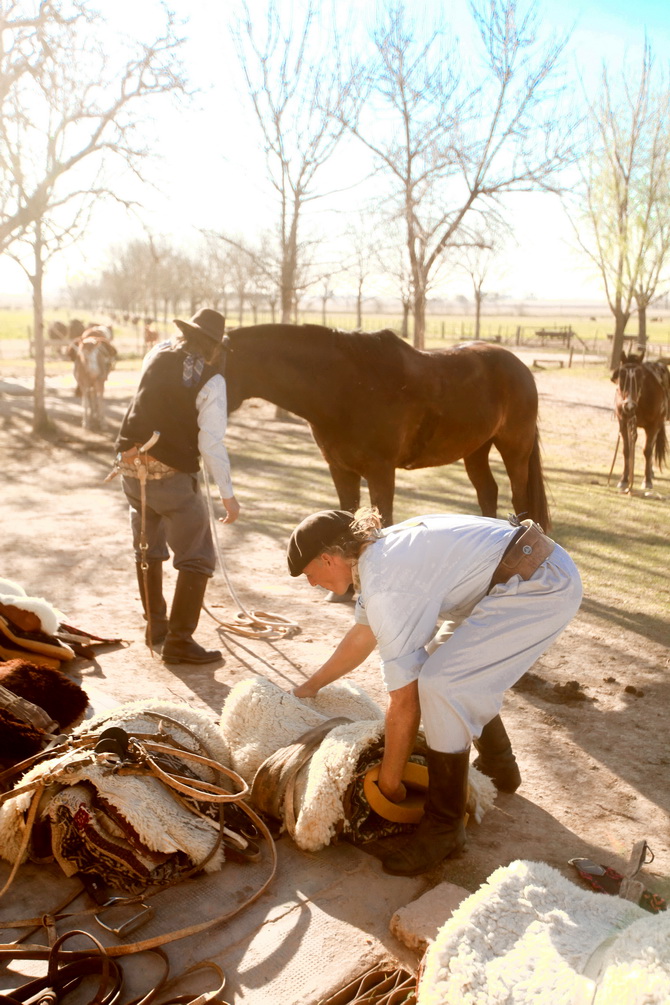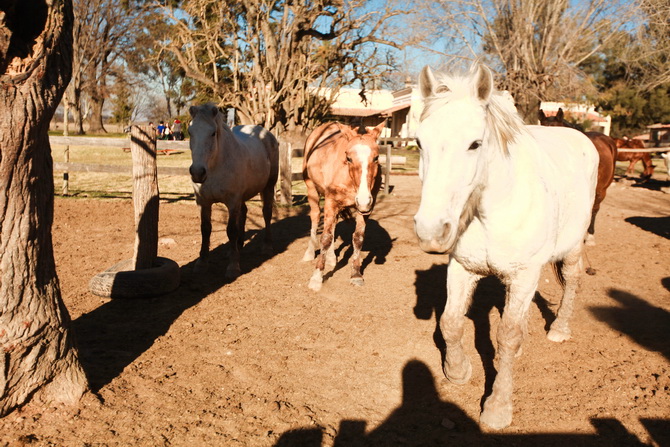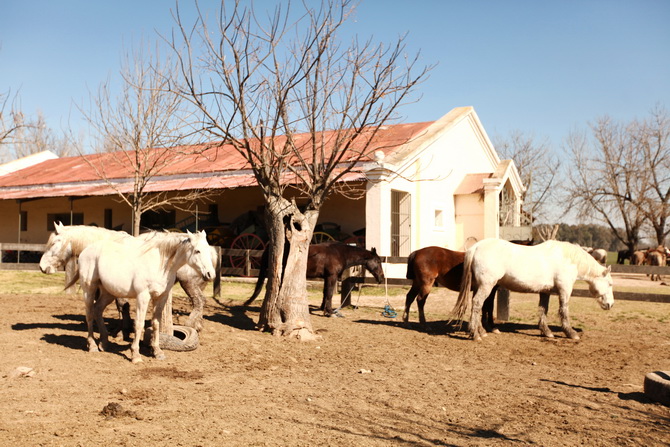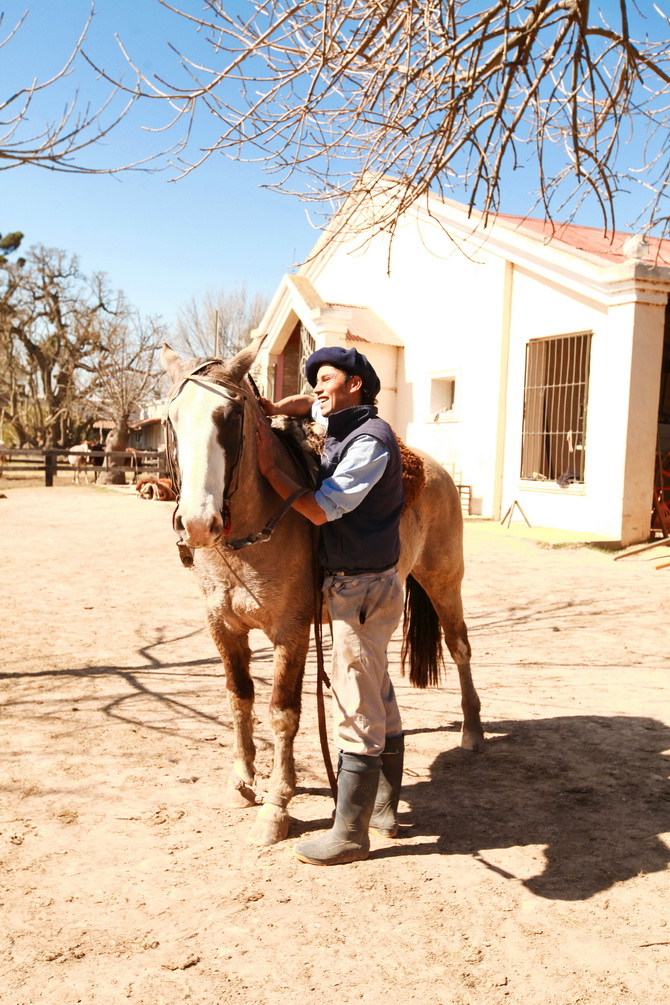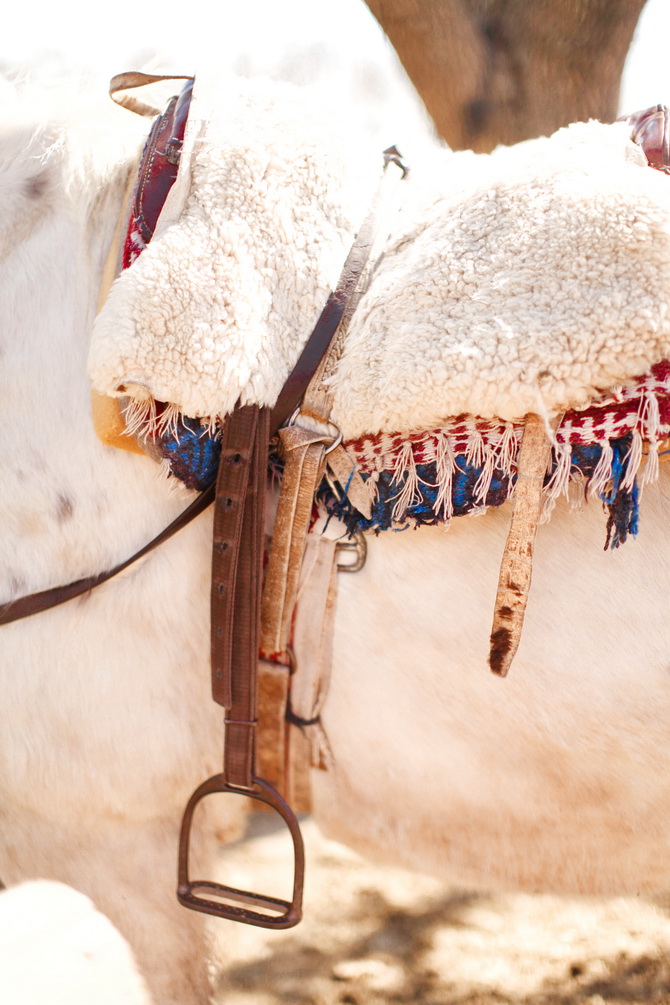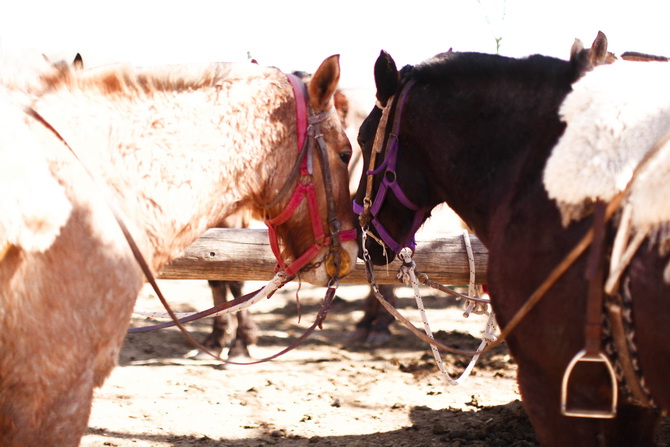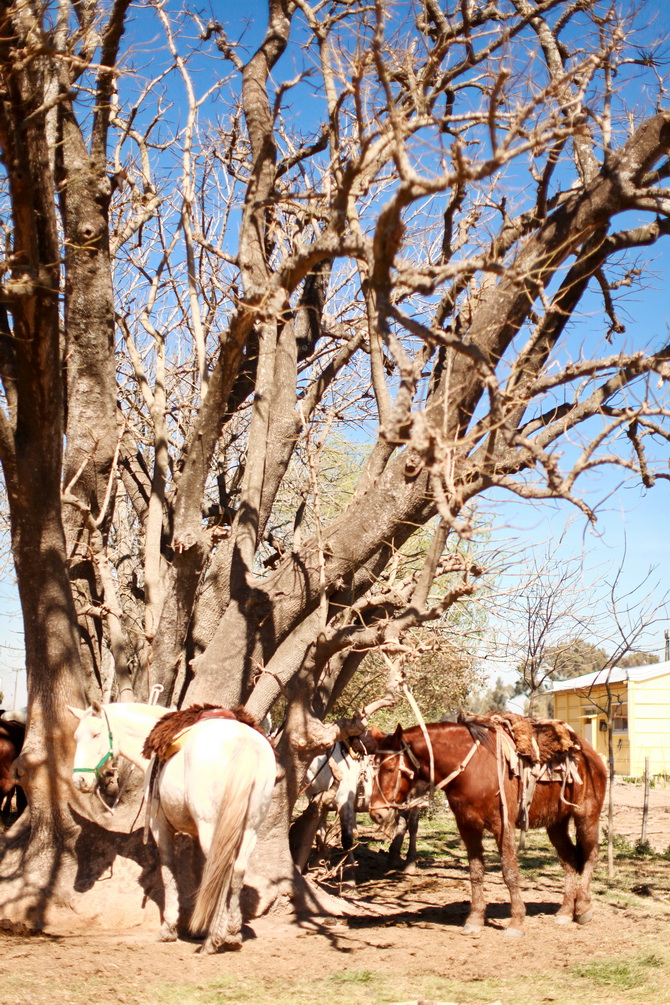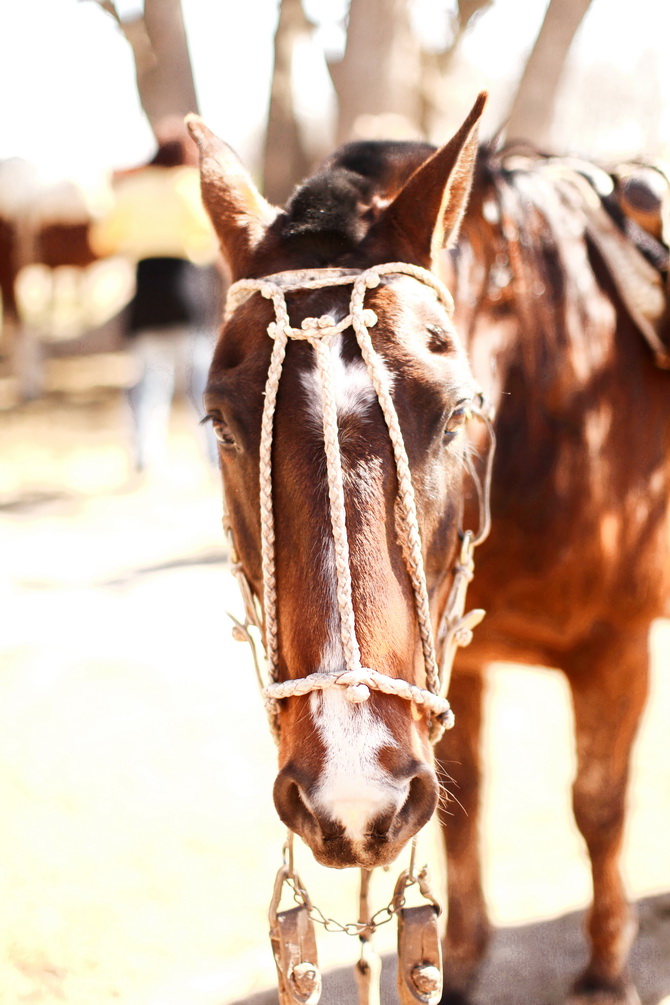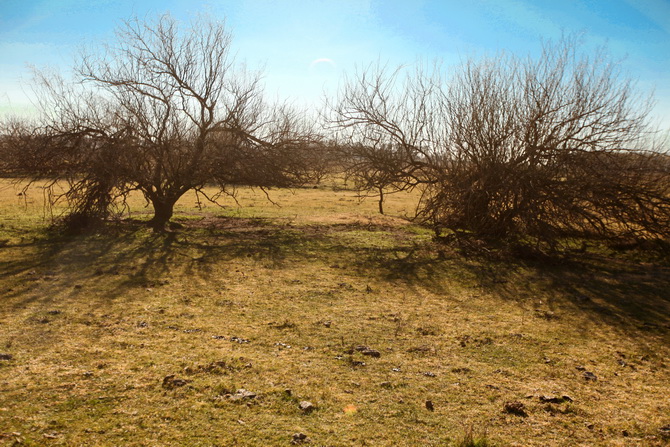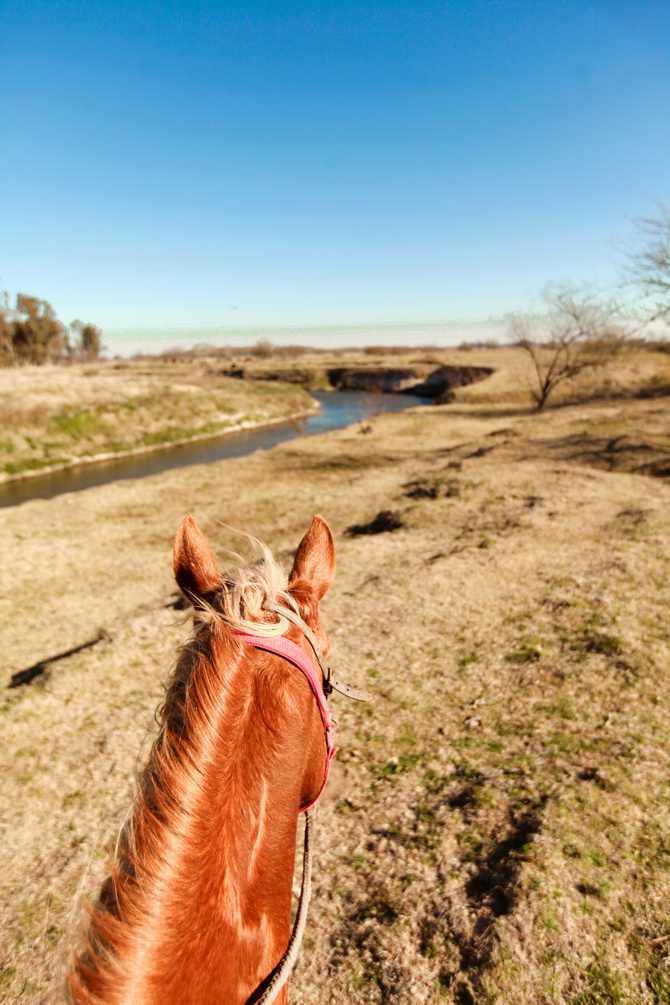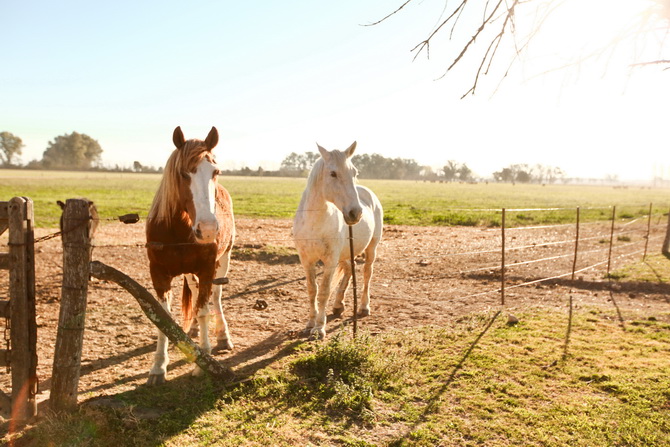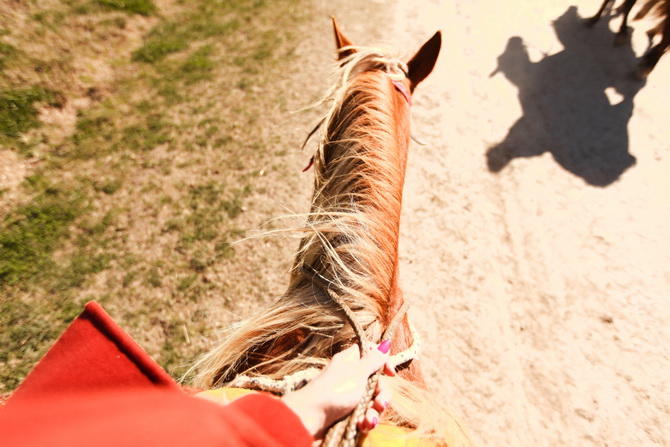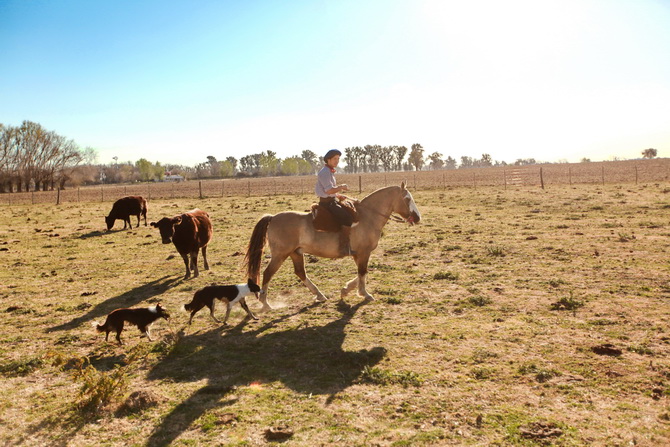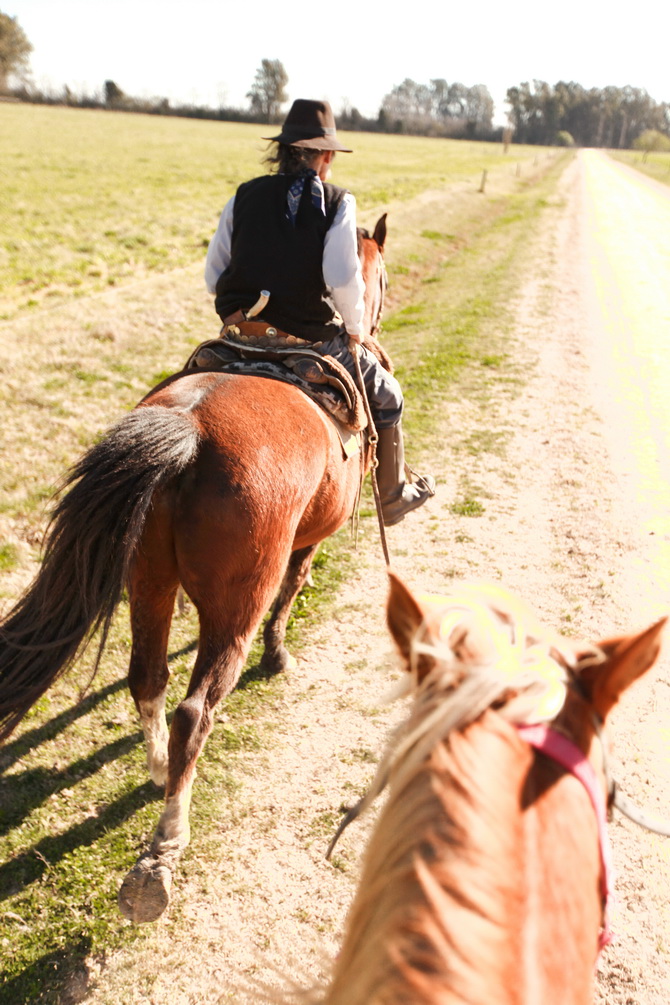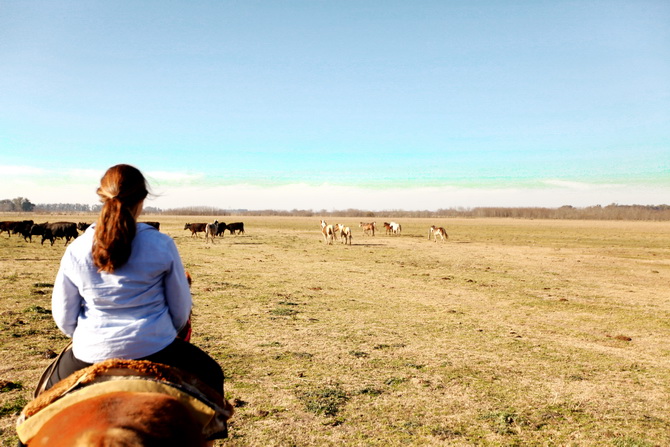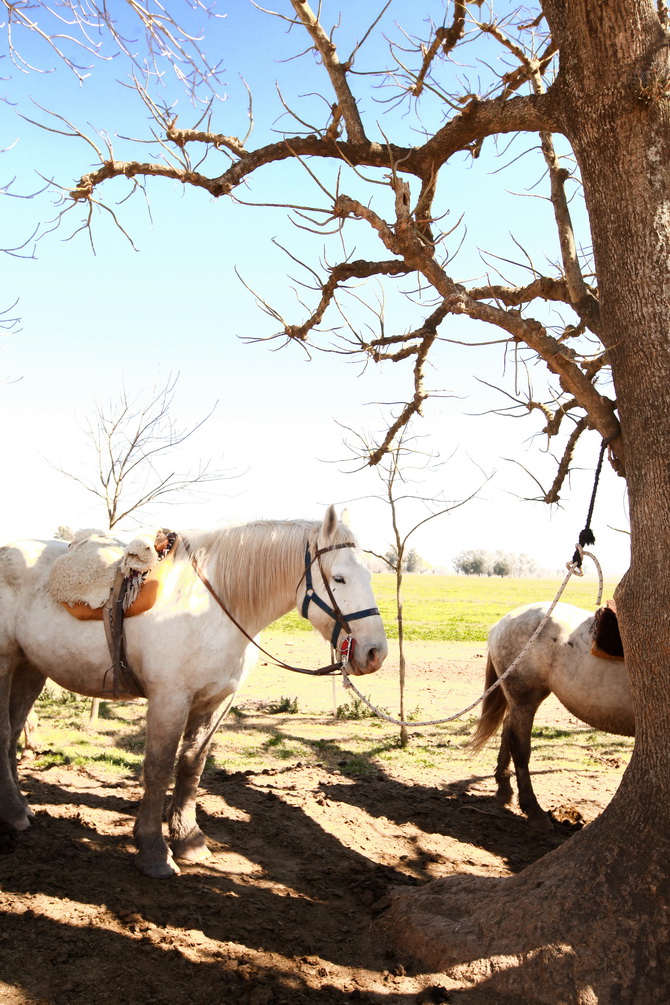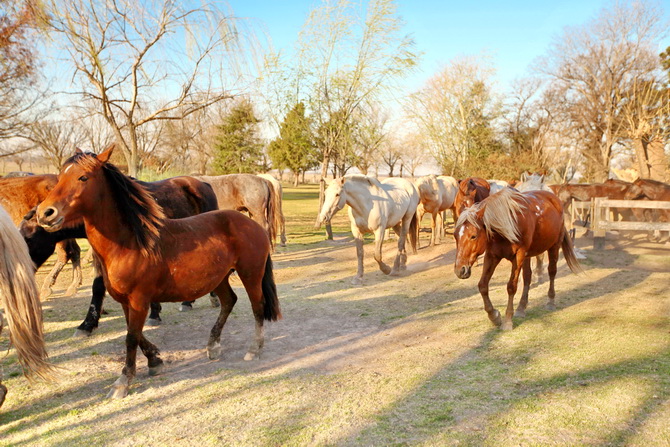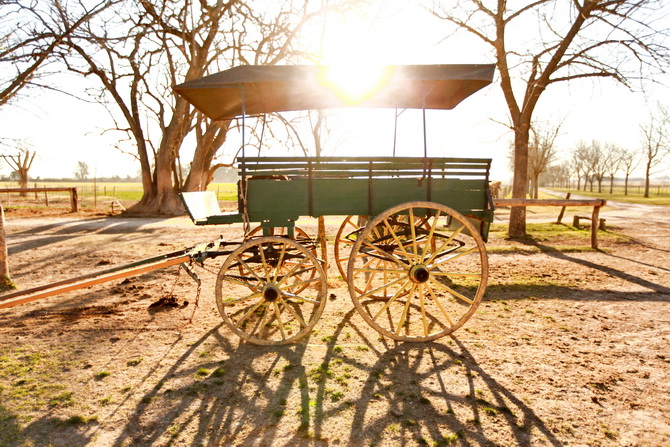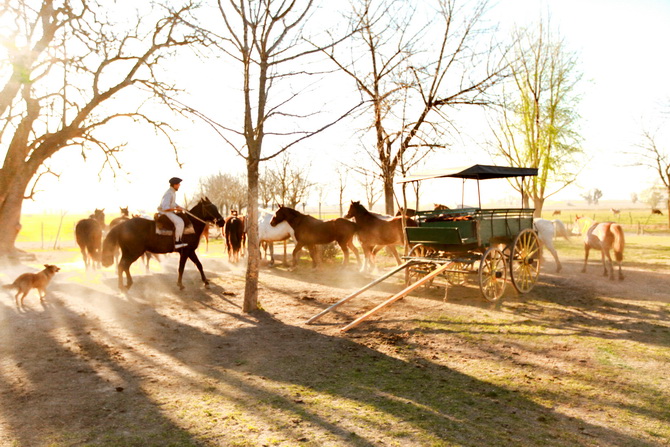 -
-
-
Je portais un manteau Drôle ( Buenos Aires ), un pantalon Zara, des bottes Hunter, Un pull Asos, une ceinture Orla Kiely, une écharpe Paul French Gallery ( Buenos Aires ).
-
I wore: Drôle coat ( Buenos Aires ), Zara pants, Hunter boots, Asos jumper, orla Kiely belt, belt from Paul French Gallery ( Buenos Aires ).
-
-
-
-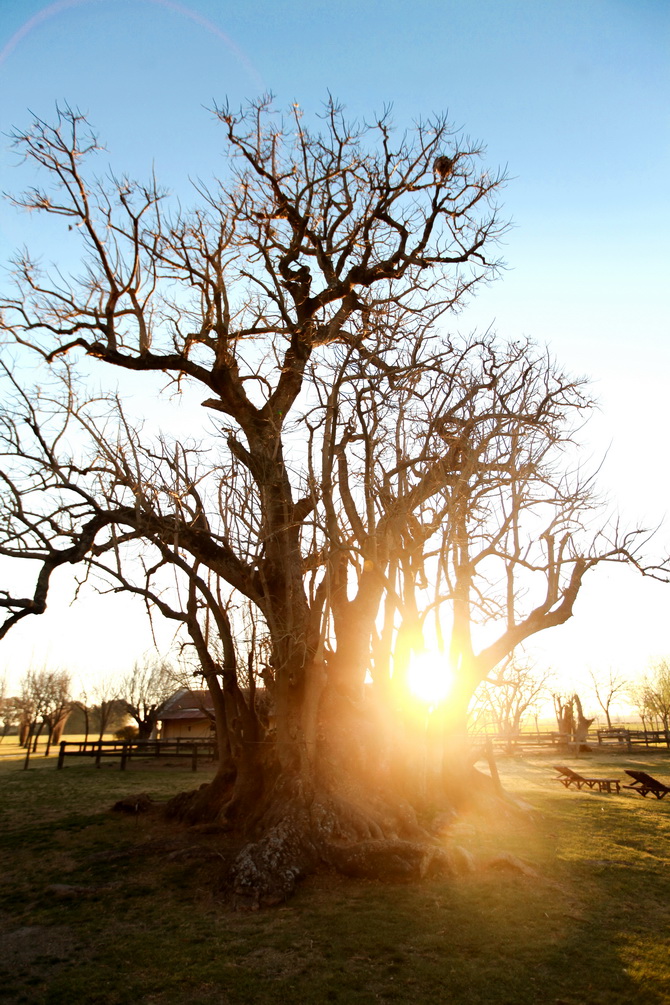 -
-
Depuis mes tout premiers articles sur l'Argentine, j'avais hâte de vous parler d'El Ombu De Areco.
C'est une Estancia ( sorte de ranch qui fait également maison d'hôte ) à environ une heure et demi en voiture de Buenos Aires, qui m'avait été vivement conseillé.
Elle tient son nom du très vieil arbre au milieu du jardin, un Ombu planté en 1806.
Comme j'avais suffisamment de temps libre, très envie de sortir un peu de la ville et de me plonger dans la nature Argentine, j'ai sauté sur l'occasion !
Et je ne l'ai pas regretté. L'endroit était absolument magnifique.
Ça a été un véritable régal pour moi pour faire des photos. Un lieu délicieusement authentique avec une ambiance chaleureuse, des vieilles cheminées, superbes lits en fer forgé, très beau carrelage … le tout dans un cadre bucolique à souhait.
Un paysage on ne peut plus Argentin. Et quelle surprise de me voir transportée dans un décor similaire à l'affiche du film Big Fish au moment du soleil couchant !
La lumière devenait joliment dorée à ce moment là. Avec la poussière soulevée par le vent et les bêtes dans les champs, je me sentais presque comme dans un western.
C'était aussi le paradis des animaux!
Moi qui aime tant être entourée de bestioles en tout genre, j'ai été servie.
La propriétaire de l'Estancia est passée un matin accompagnée d'un nombre impressionnant de chiens. Je lui ai alors demandé combien elle en avait, ce à quoi elle m'a répondu " Aujourd'hui j'en ai ramené 10, mais j'en ai bien plus à la maison ".
Des chats partout, des grosses perruches en liberté qui piaillaient dans les arbres ( oui ça existe, en Argentine ! ) … mais l'animal le plus important d'El Ombu, c'était le cheval.
Je vous en parlerais plus en détail dans un prochain billet!
-
-
♫ ♪ Neil Young – Heart of Gold
-
-
Since my first articles about Argentina, I was really excited to tell you about El Ombu de Areco.
It's an Estancia ( kind of ranch that also works as a guesthouse ) about one hour and a half by car from Buenos Aires, which was highly recommended to me.
It was named after the very old tree in the middle of the garde, an Ombu planted in 1806.
Because I had some free time, the desire to go outside the city and discover what was outside, I gave it a go !
And I never regretted. The place was absolutely beautiful.
It was such a treat for me to take pictures there. A delightfully authentic place with a warm atmosphere, old fireplaces, incredible bed…
All surrounded by a landscape that couldn't be more Argentine. And what a surprise to see the place changing into a Big Fish scene at sunset !
The light was turning into a beautiful golden color through the trees, and with the dust raising in the air because of the wind, I almost could believe I was in a western movie.
It was also a paradise for the animals. From someone who really like to be surrounded by animals of all kind, I can tell you I was very happy !
The owner of the Estancia came by one morning, accompanied by an impressive amount of dogs. When I asked her how many dogs there were, she simply replied " Today I brought 10, but I have a lot more at home".
Cats everywhere, lots of wild parakeets chirping in the trees ( yes that does exist, in Argentina ! ) … but the most important animal at El Ombu was the Horse.
And this is something I'll tell you more about in my next post !
-
-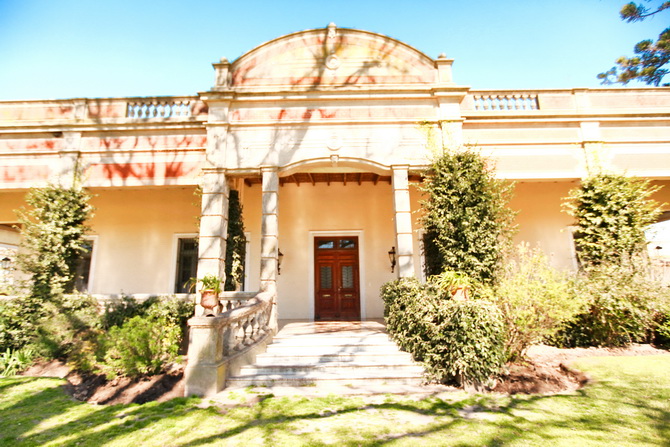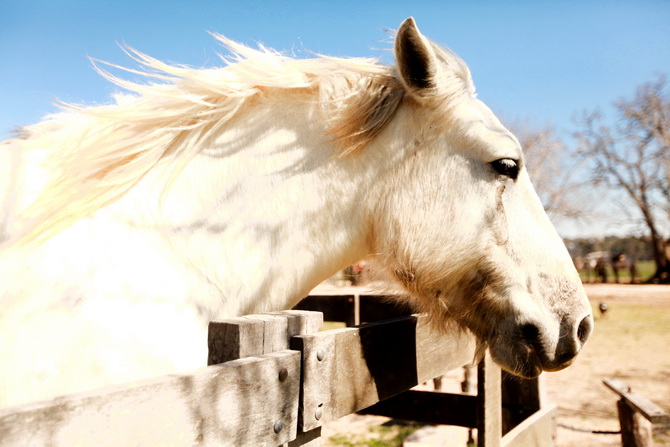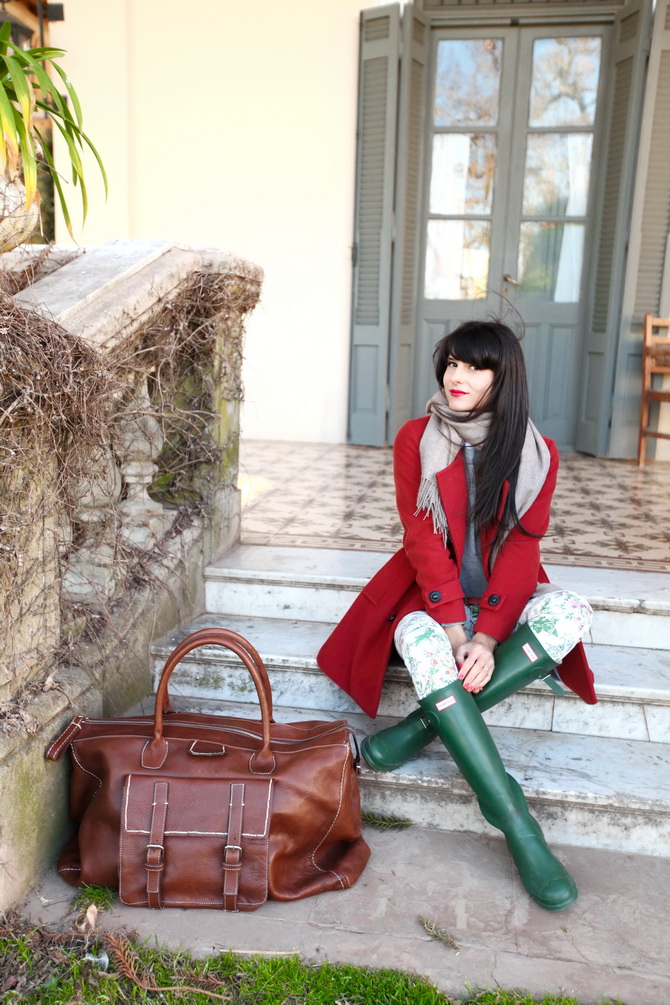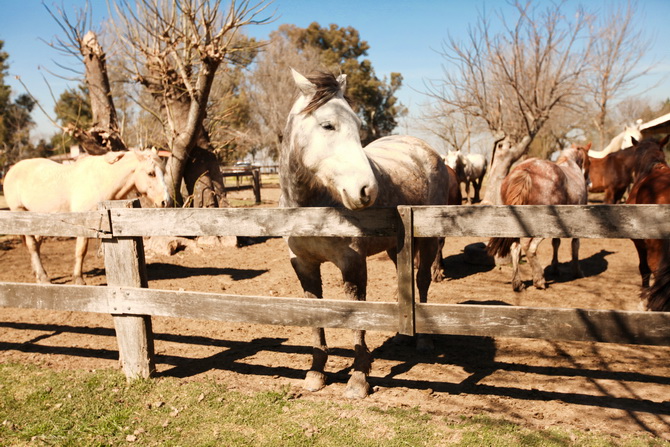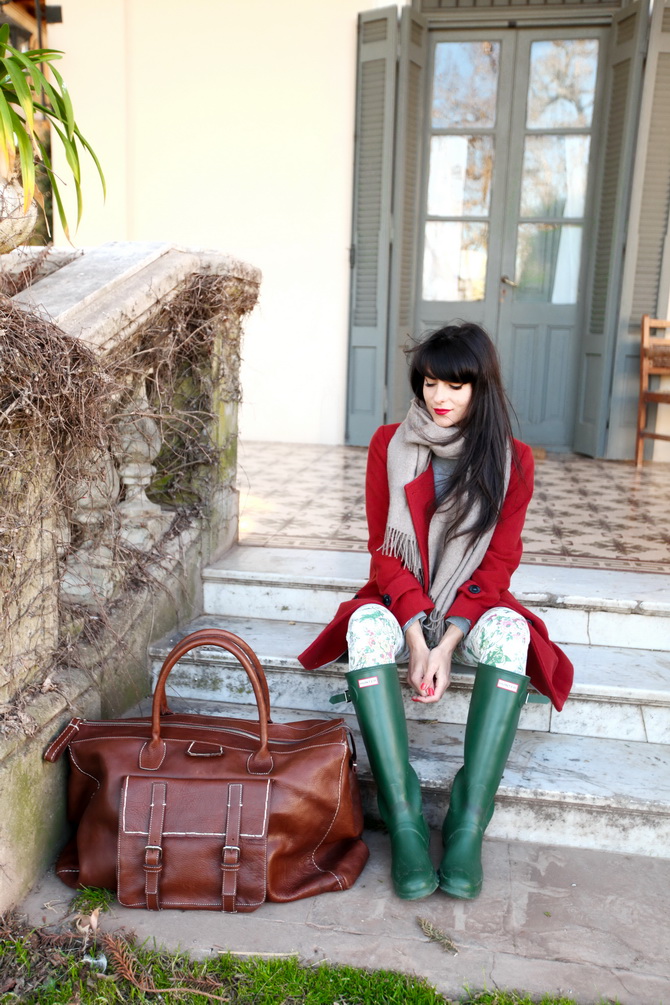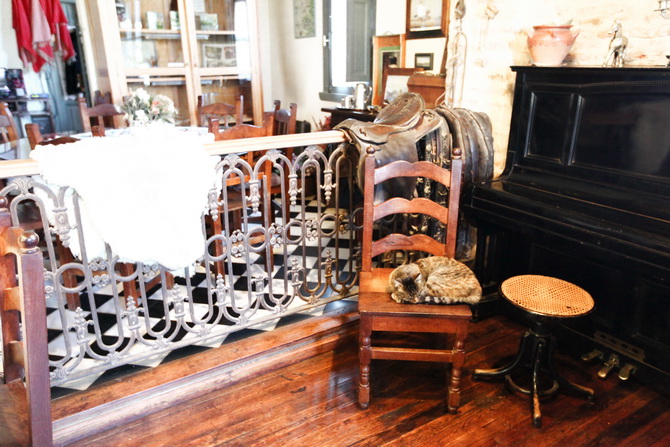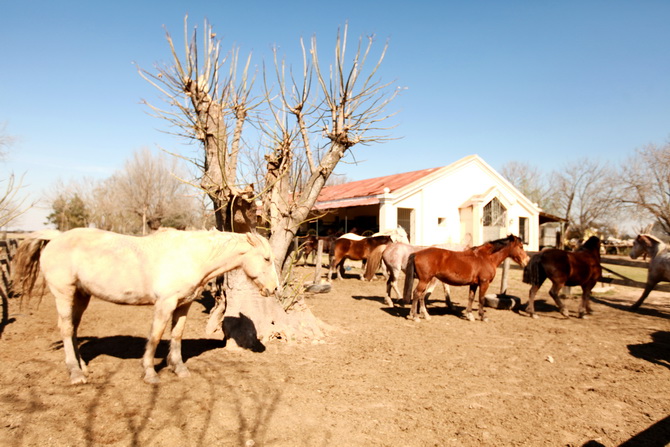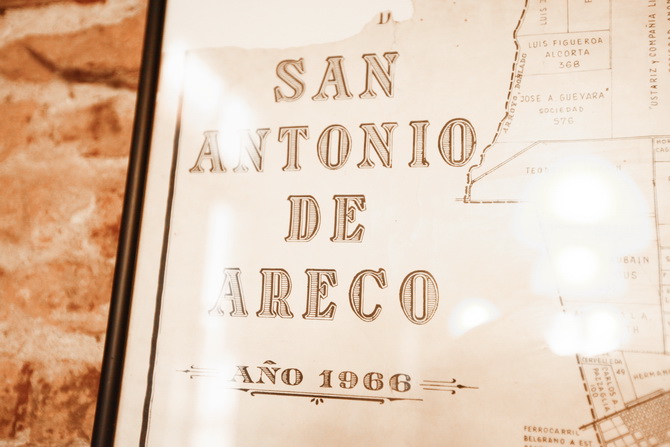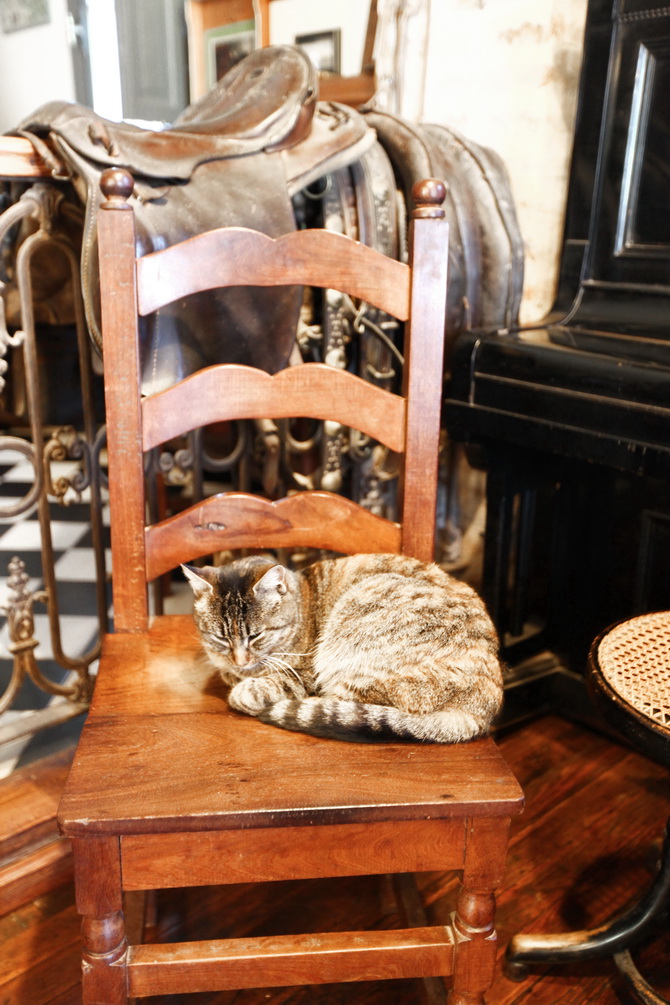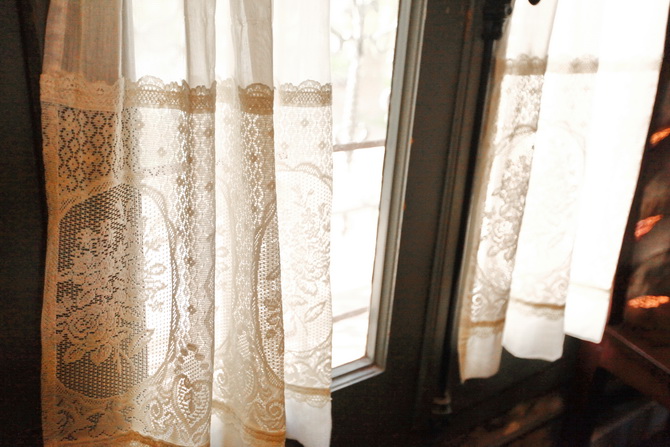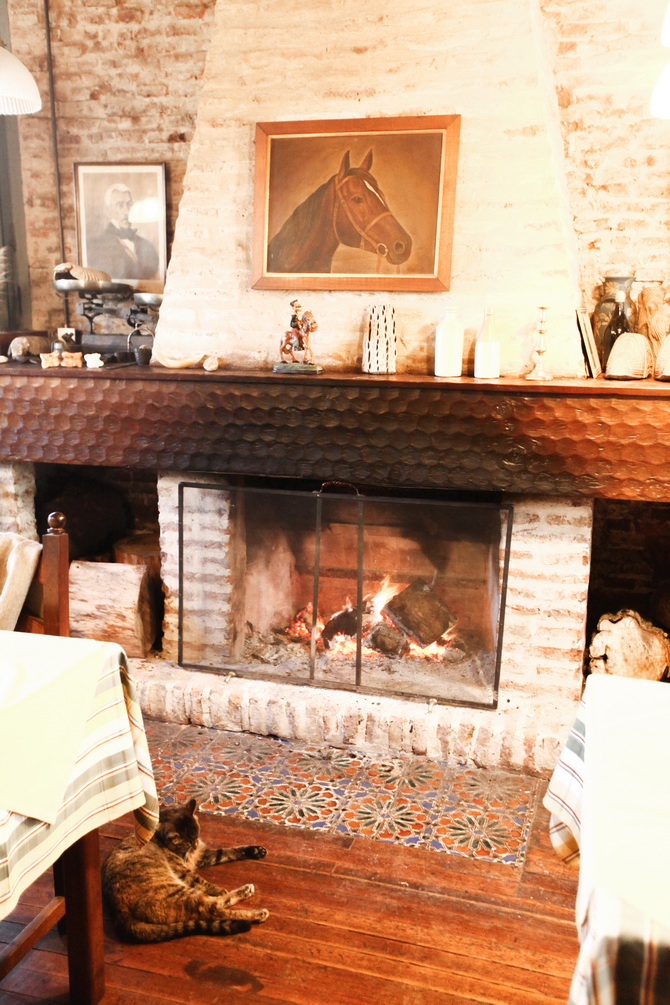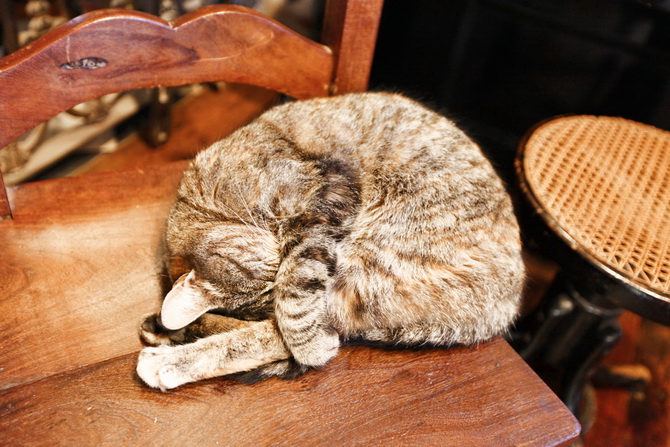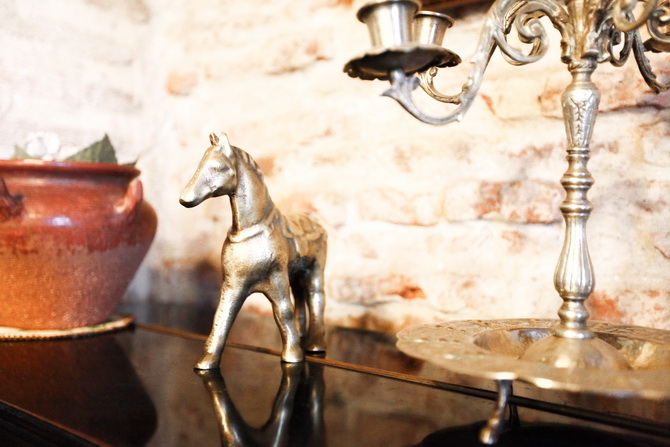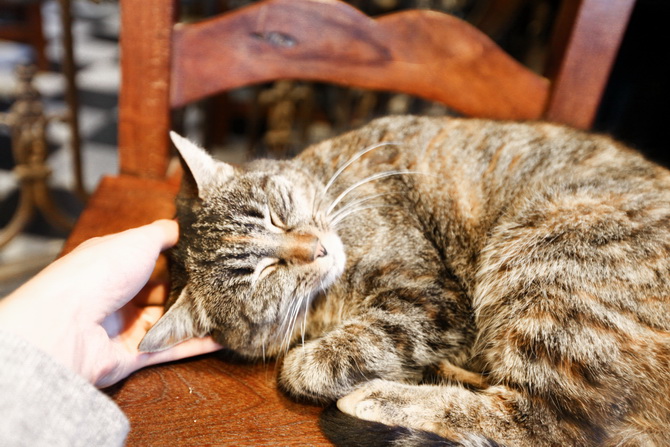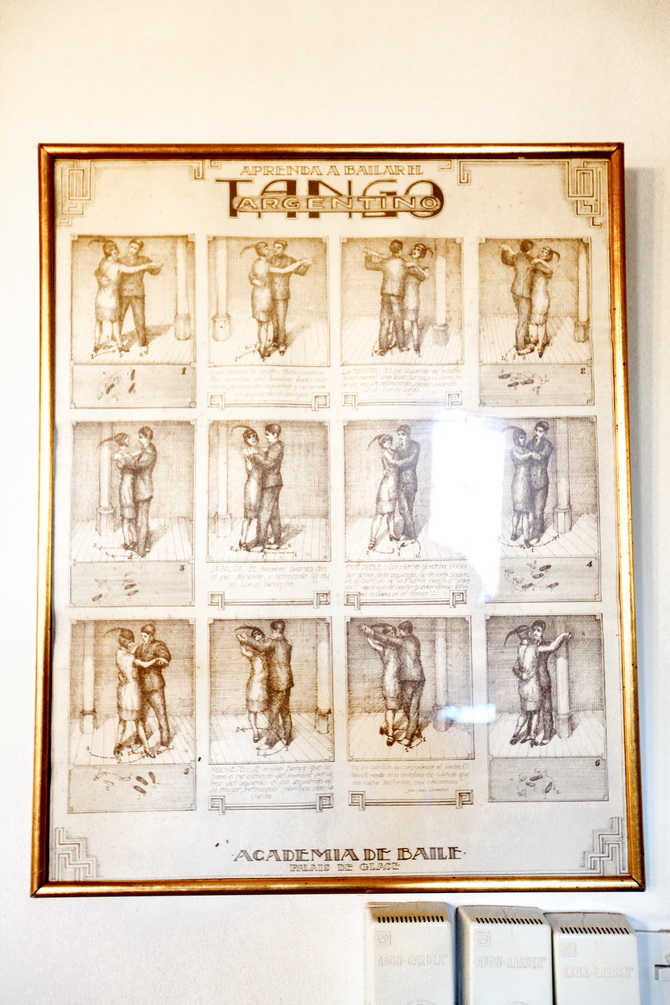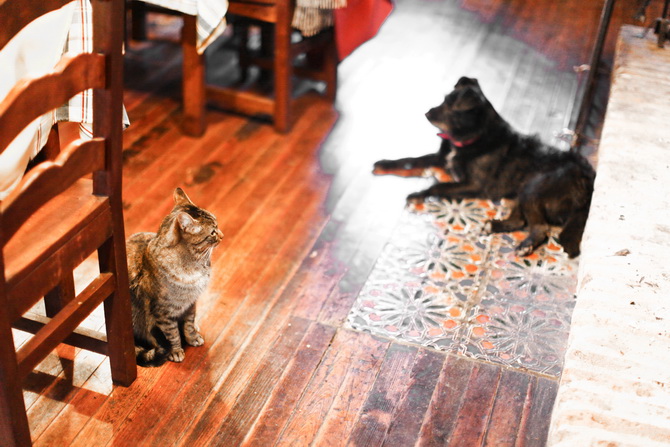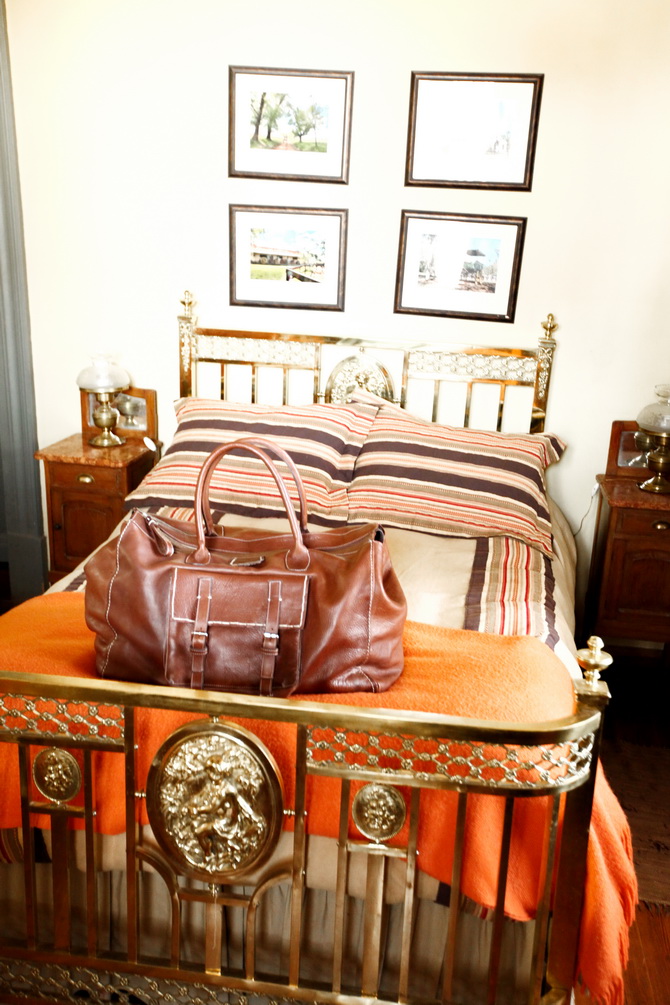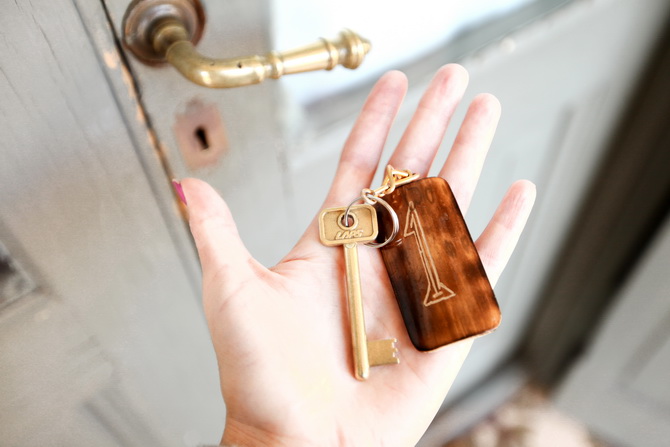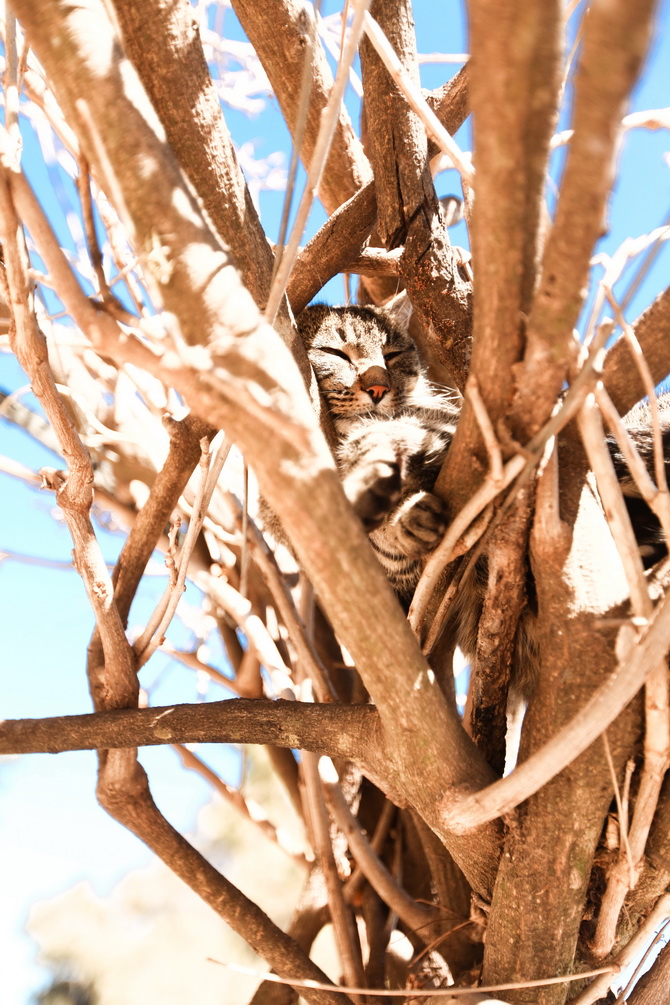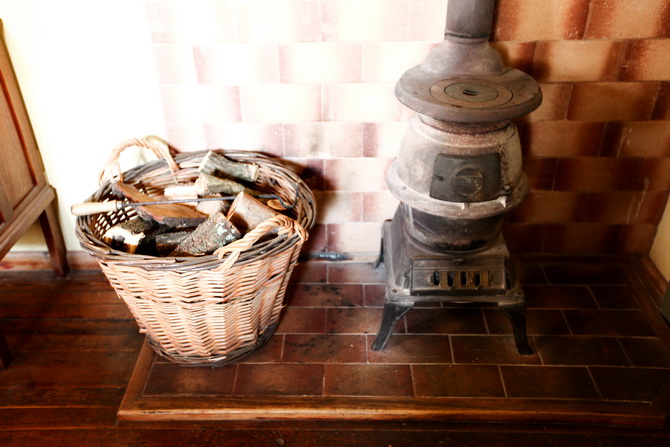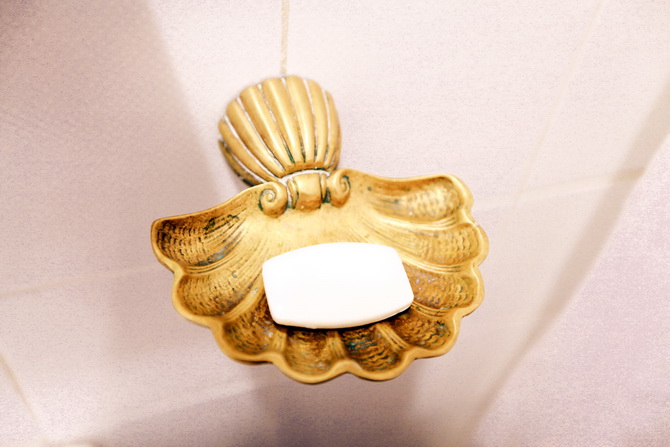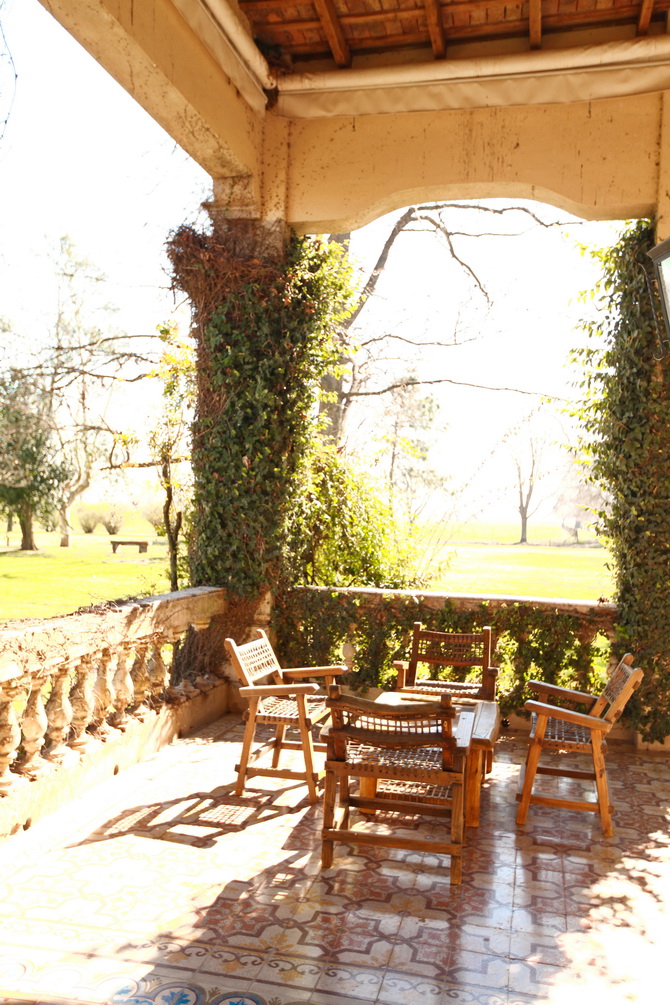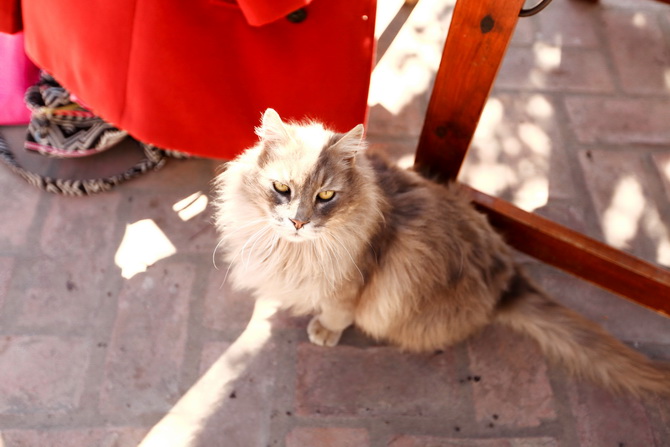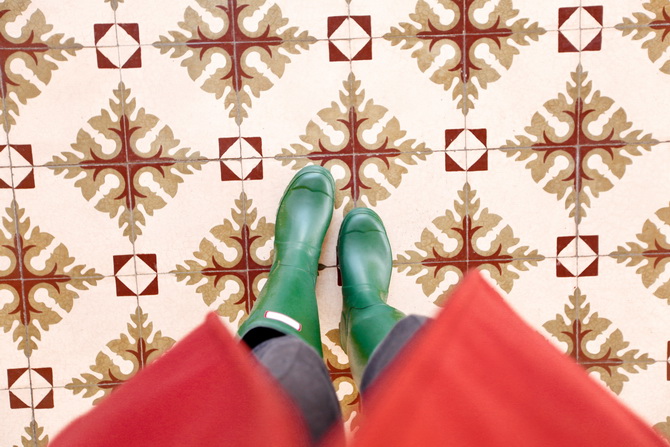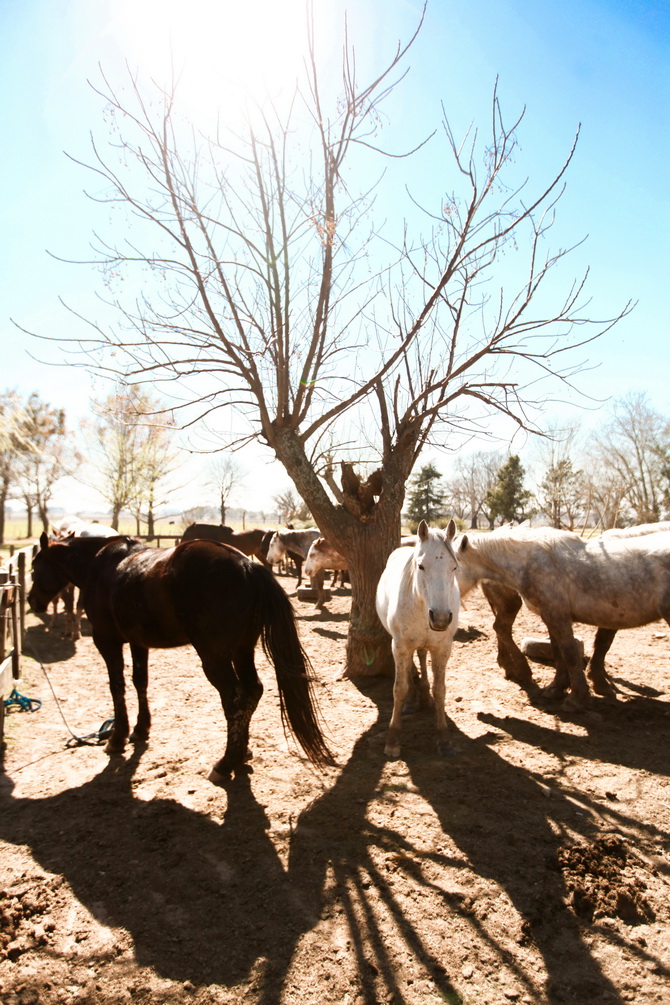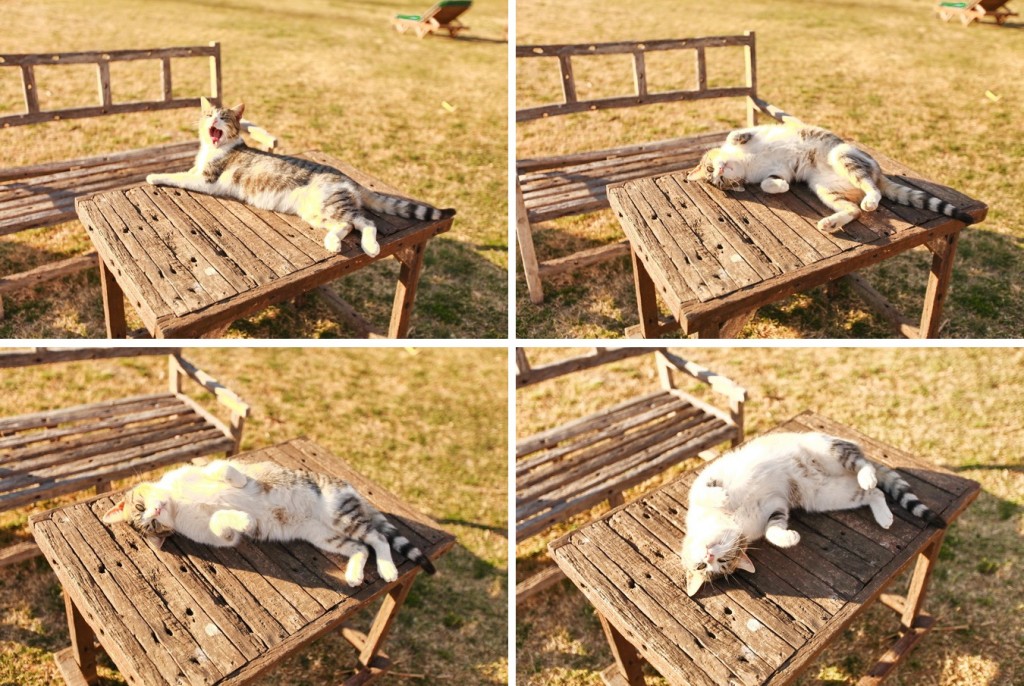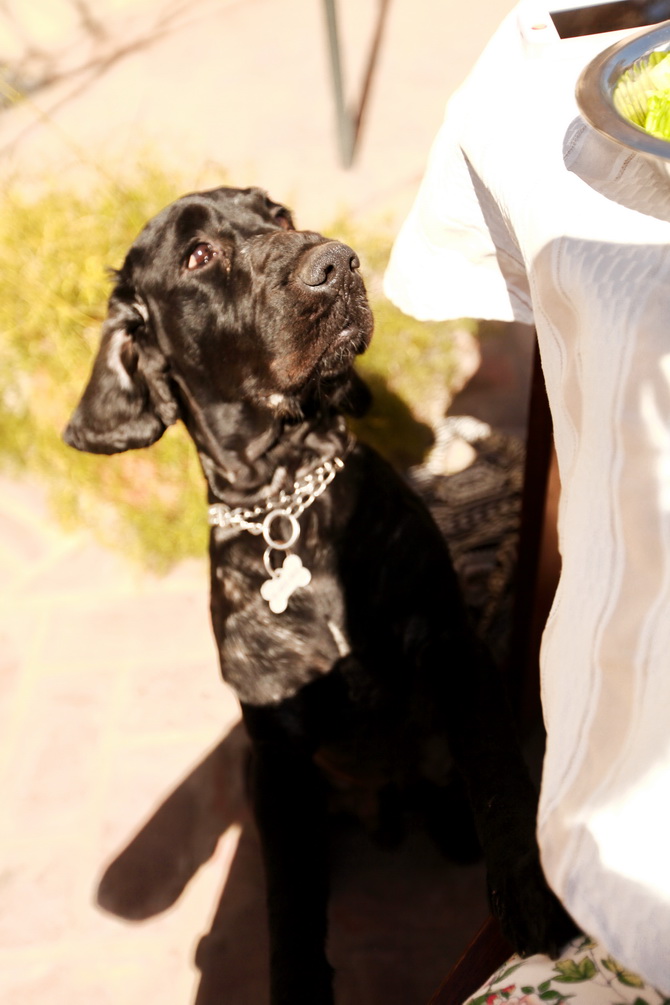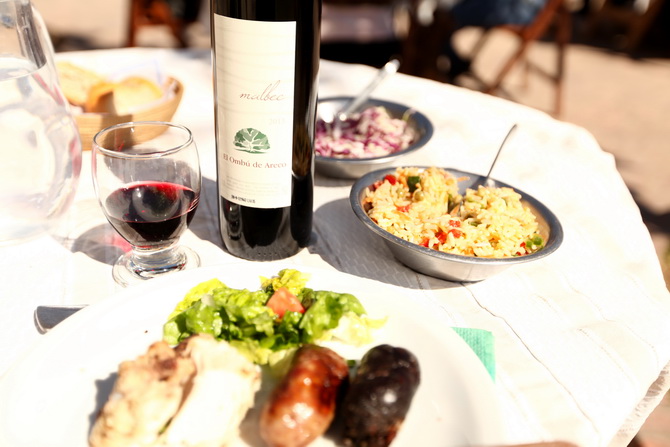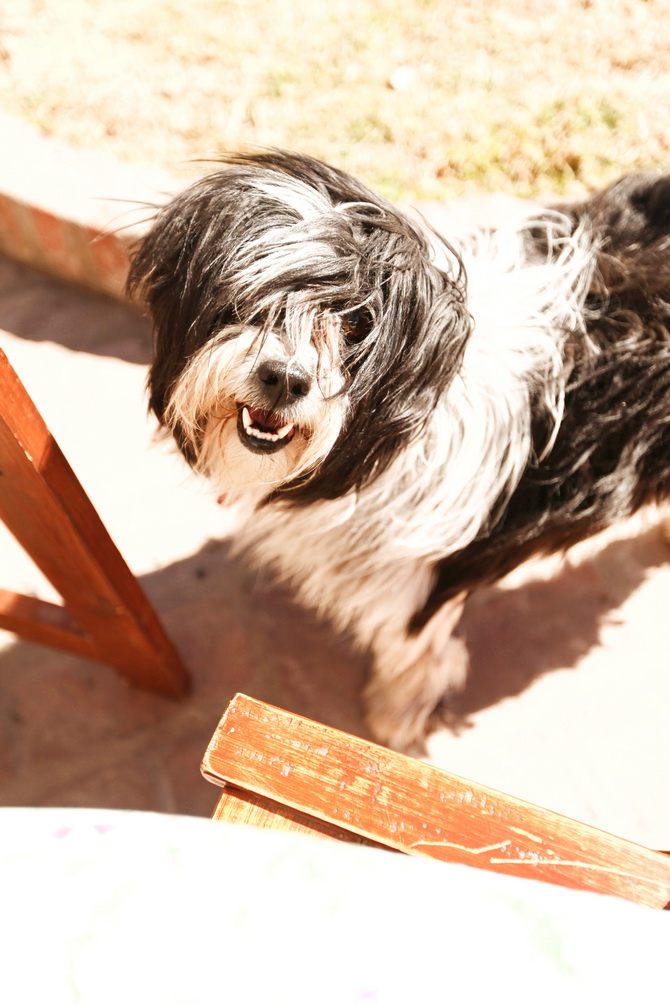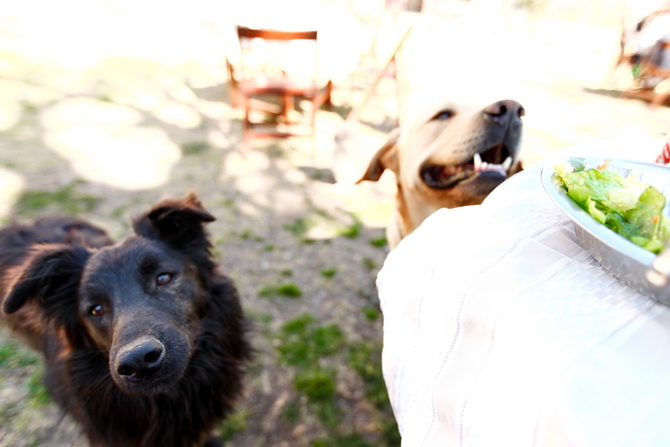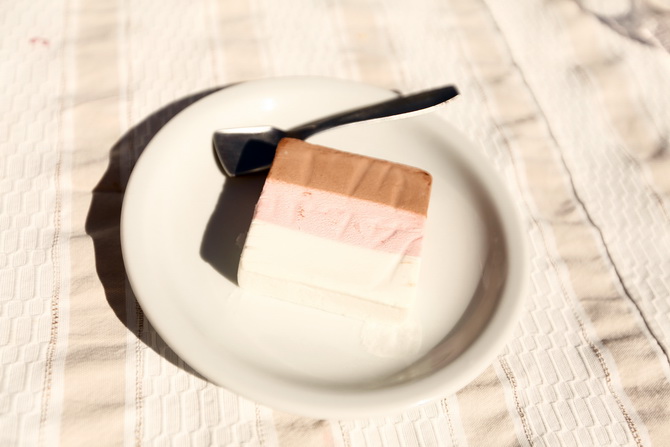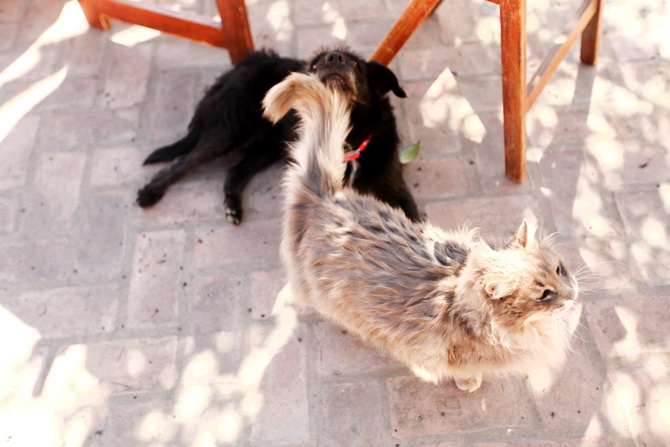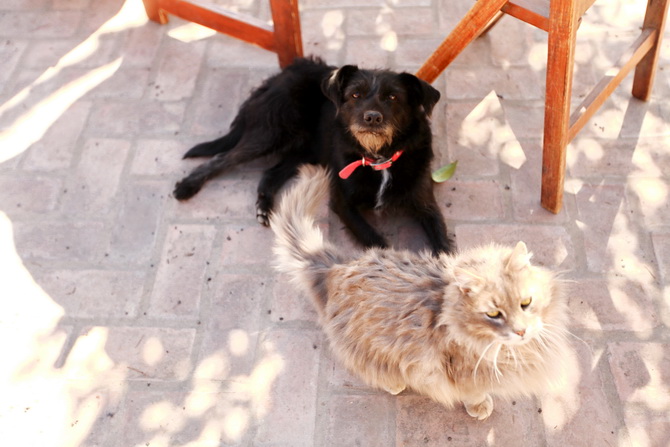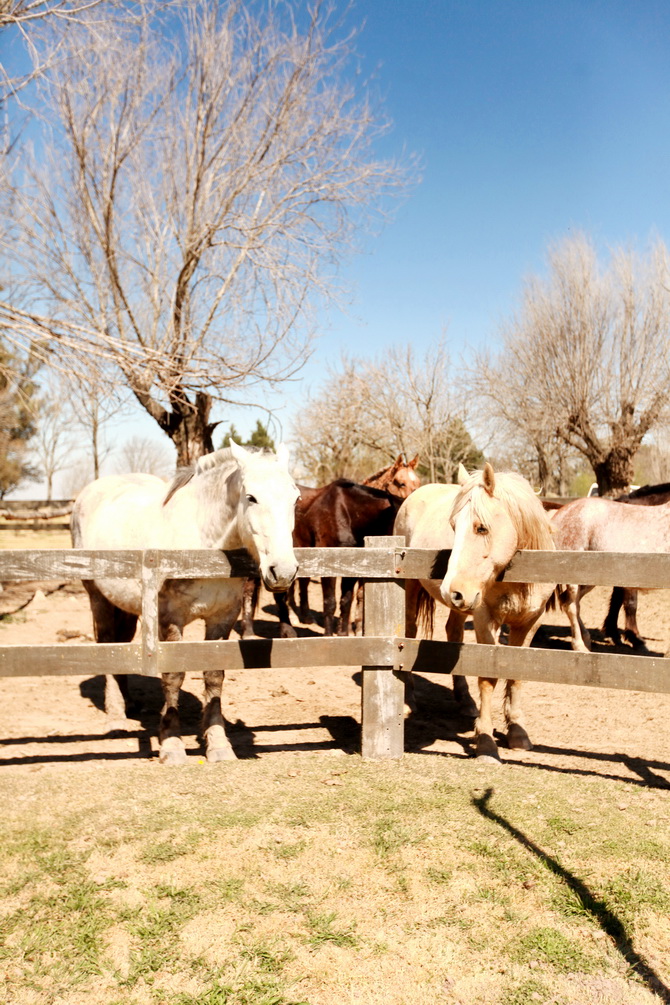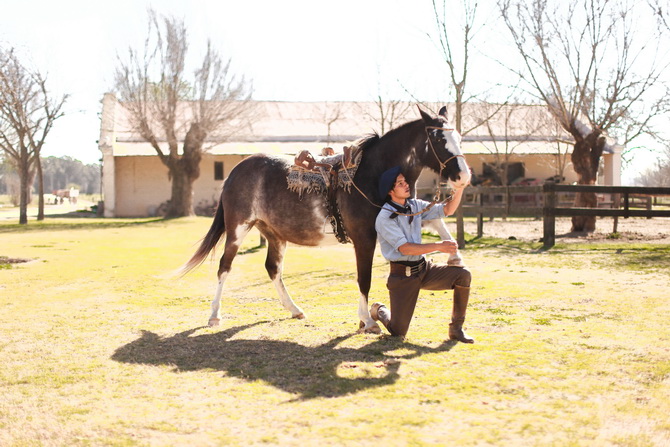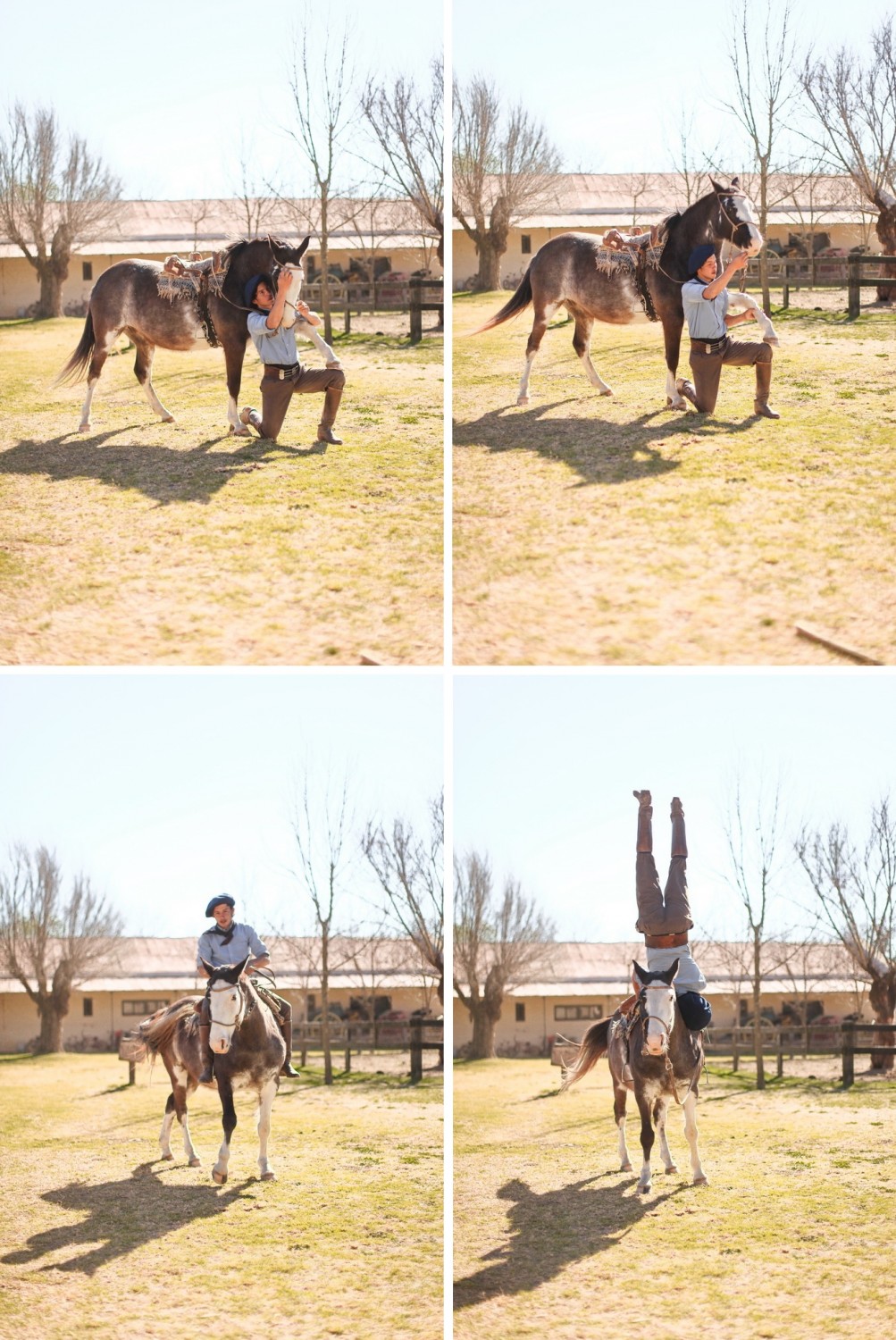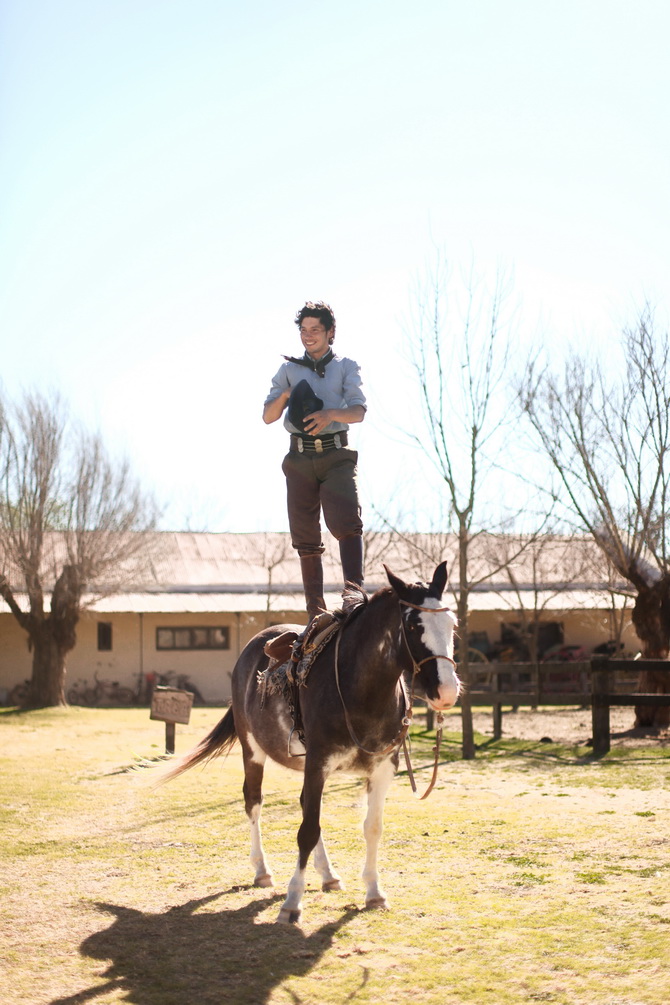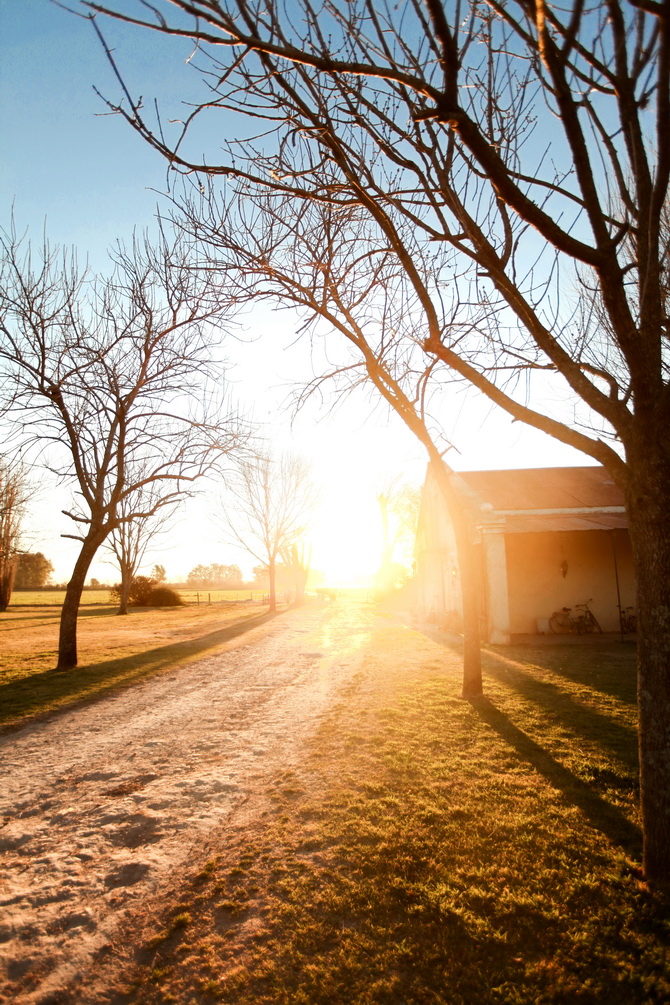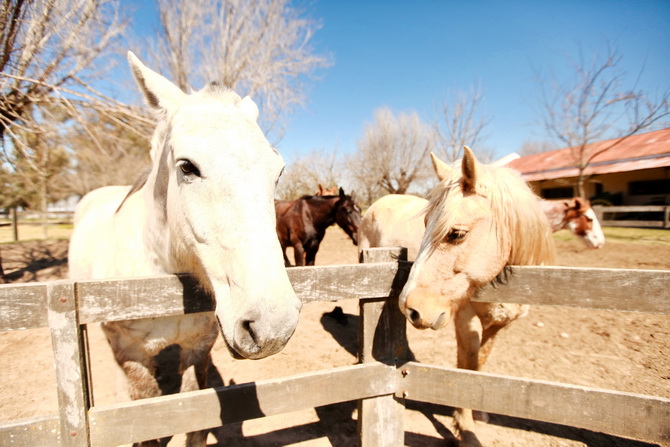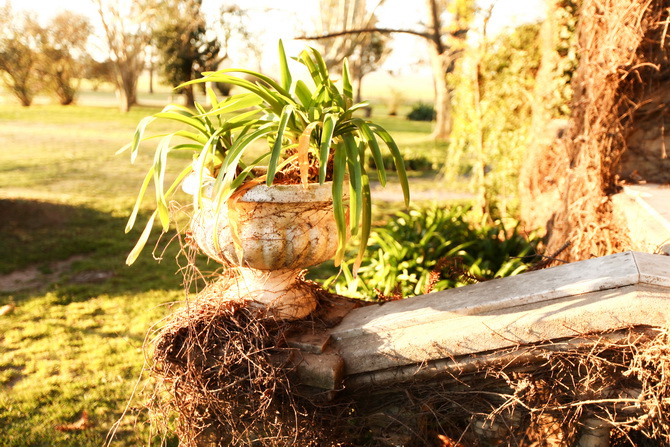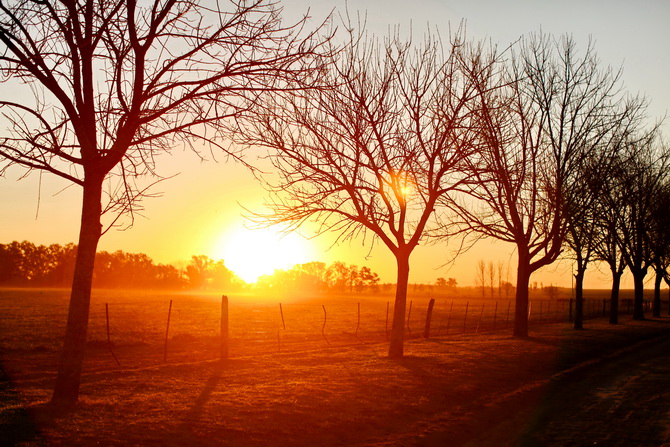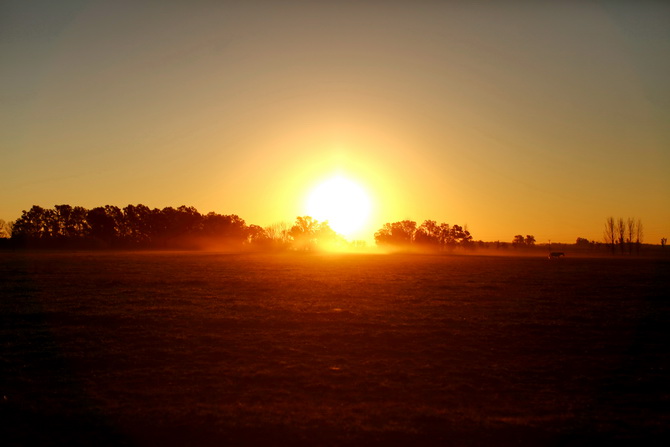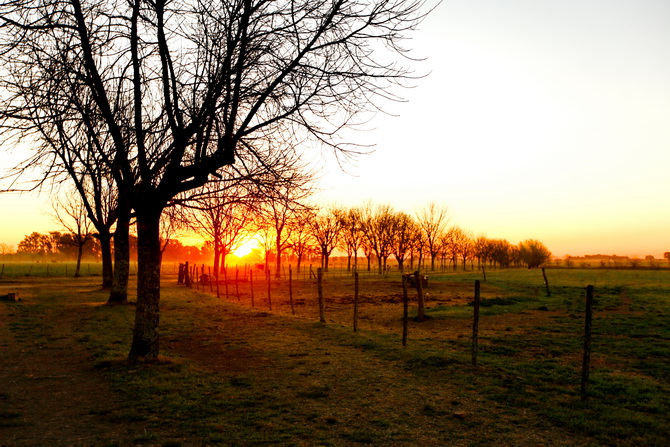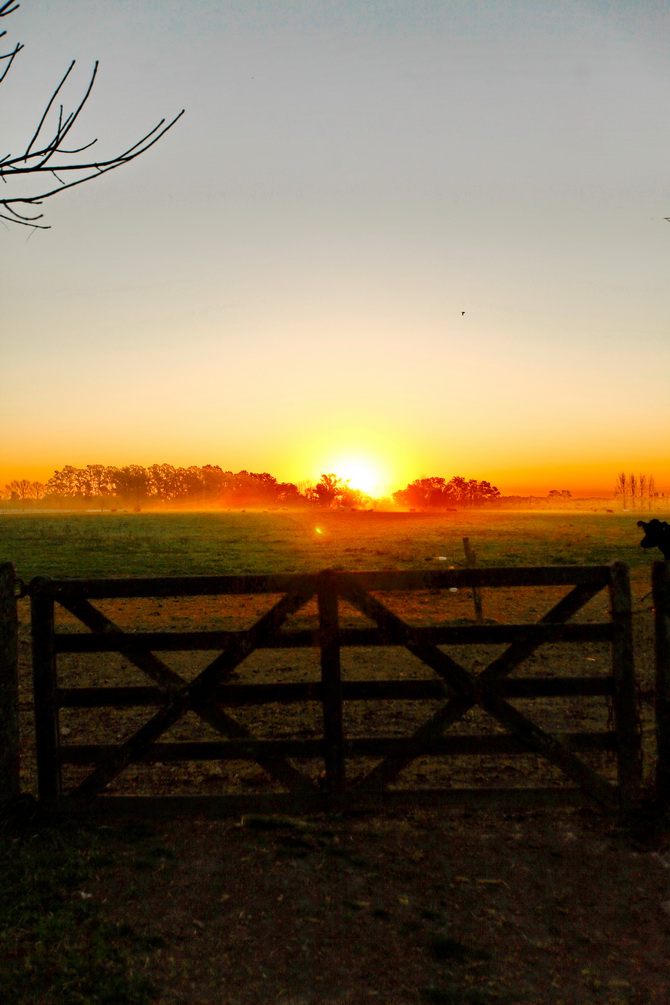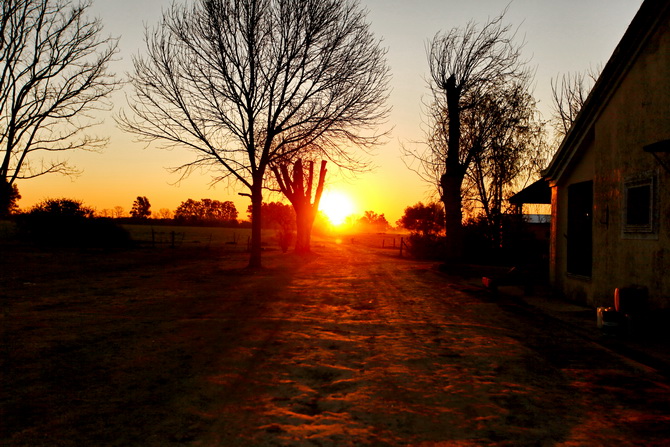 -
-
Je portais: Une manteau Drôle ( Buenos Aires ), Pantalon Zara, Bottes Hunter, sac Paul French Gallery ( Buenos Aires ).
-
I was wearing : Drôle coat ( Buenos Aires ), Zara jeans, Hunter boots, bag from Paul French Gallery ( Buenos Aires ).
-
-
-
-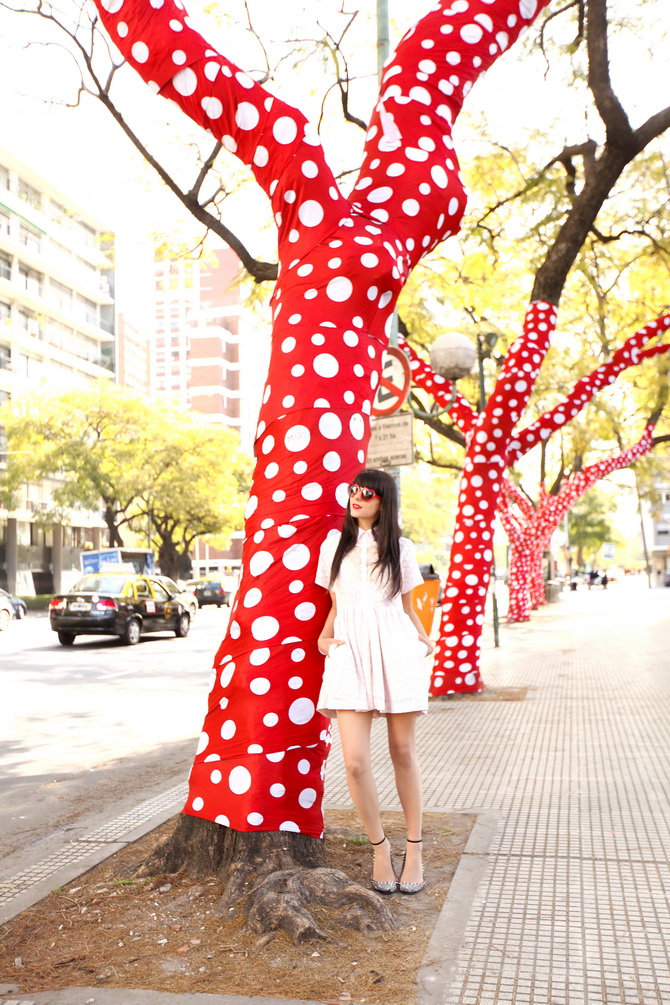 -
-
Retour en Argentine!
Il me reste encore quelques articles à partager avec vous.
J'avais manqué l'expo de Yayoi Kusama à Paris, donc quelle joie de la voir au musée Malba du Buenos Aires.
L'expo était assez petite, mais beaucoup de bonnes idées autour.
Les arbres recouverts des célèbres pois par exemple, ou encore des autocollants qui faisaient office de billet d'entrée.
Les gens se collaient en rigolant ces ronds colorés sur le visage, sur les vêtements, sur les pieds … ce qui participait à la très bonne ambiance de l'expo.
-
-
♫ ♪ The Beatles – Martha my dear
-
-
Let's go back to Argentina, shall we ?
I still have a few articles left for you.
I missed the Yayoi Kusama exhibition which took place in Paris, so I was more than happy to see it here in Buenos Aires !
The exhibition itself was quite small, but with many nice details all around.
Trees covered with these famous polka dots for example, or stickers as entry tickets.
People were having a lot of fun sticking these colorful polka dots on their face, their clothes and their feet … which made the exhibition atmosphere even more playful !
-
-
-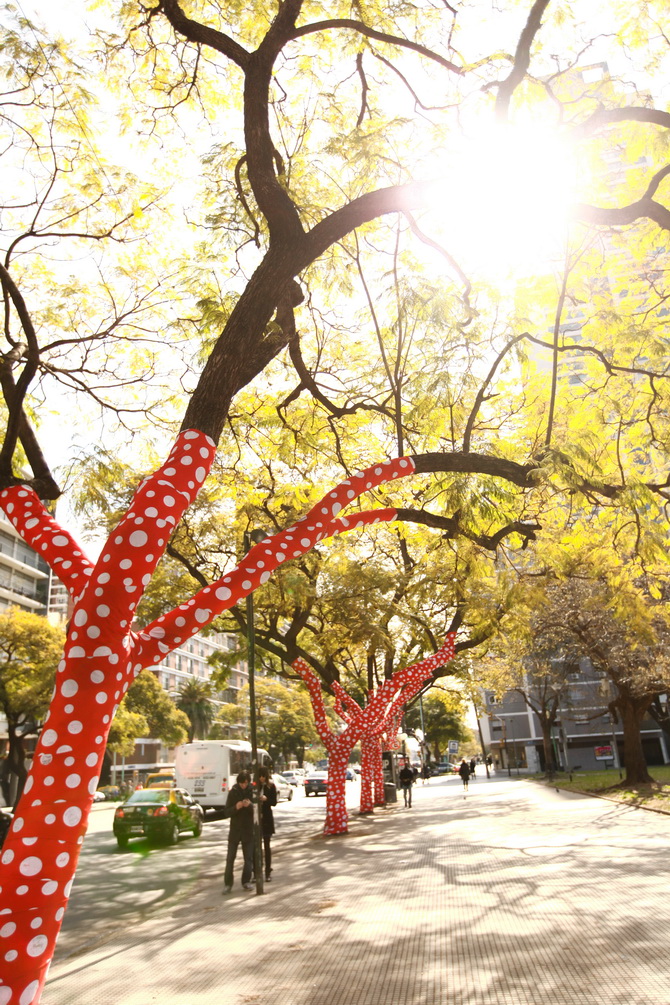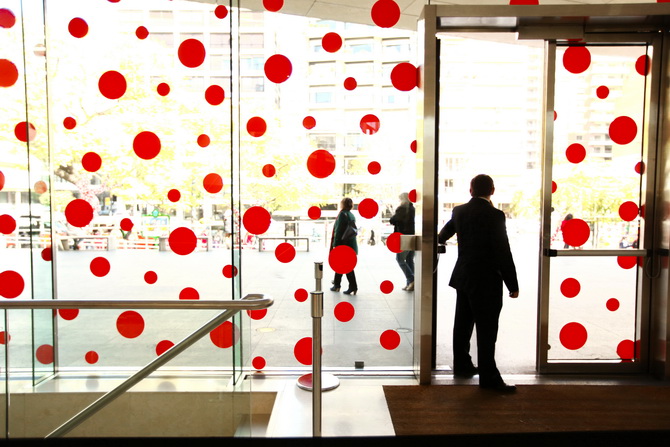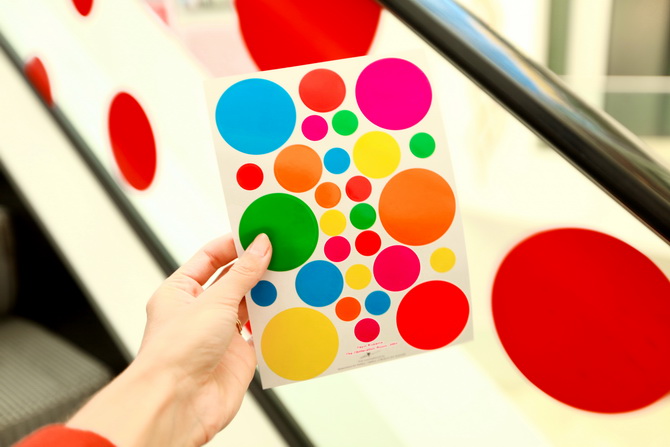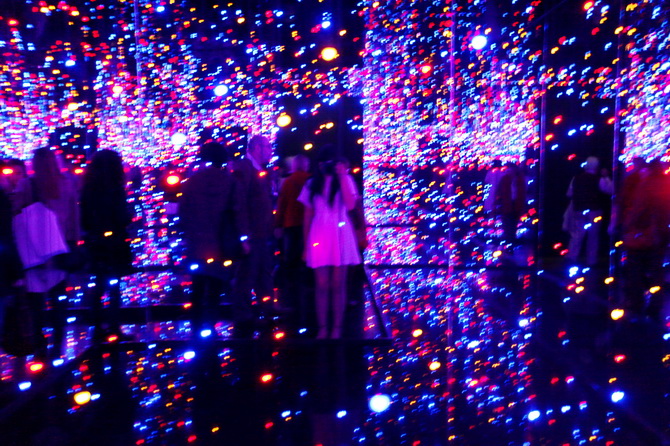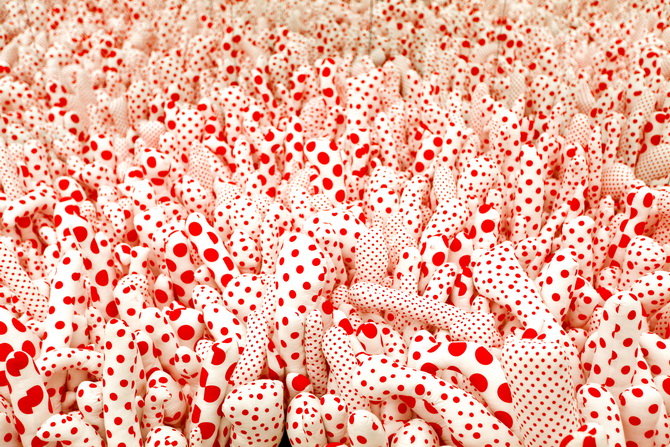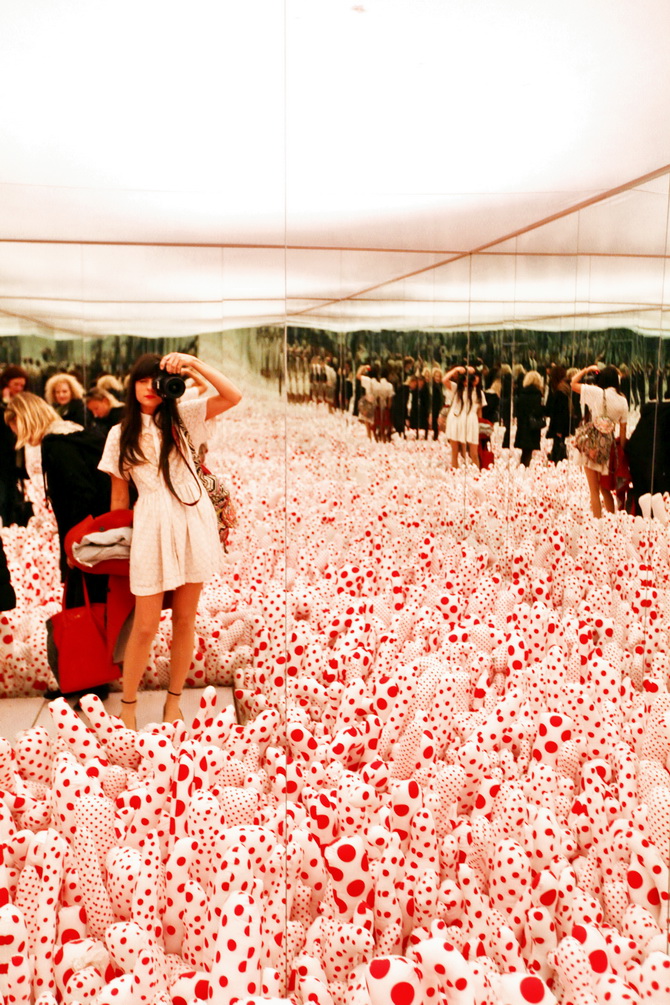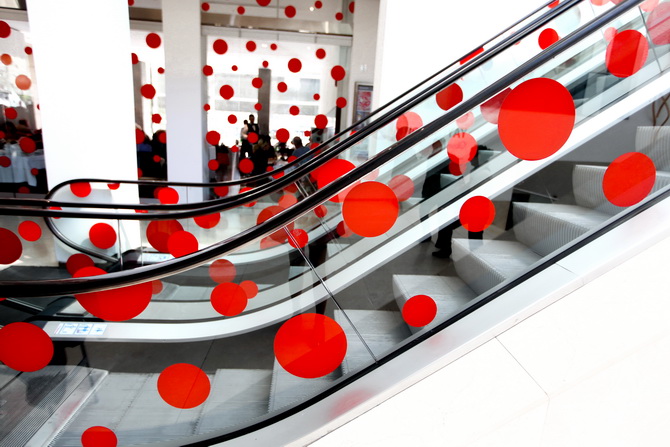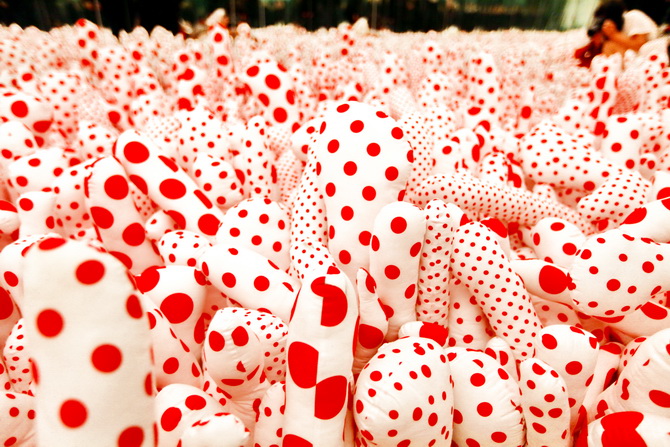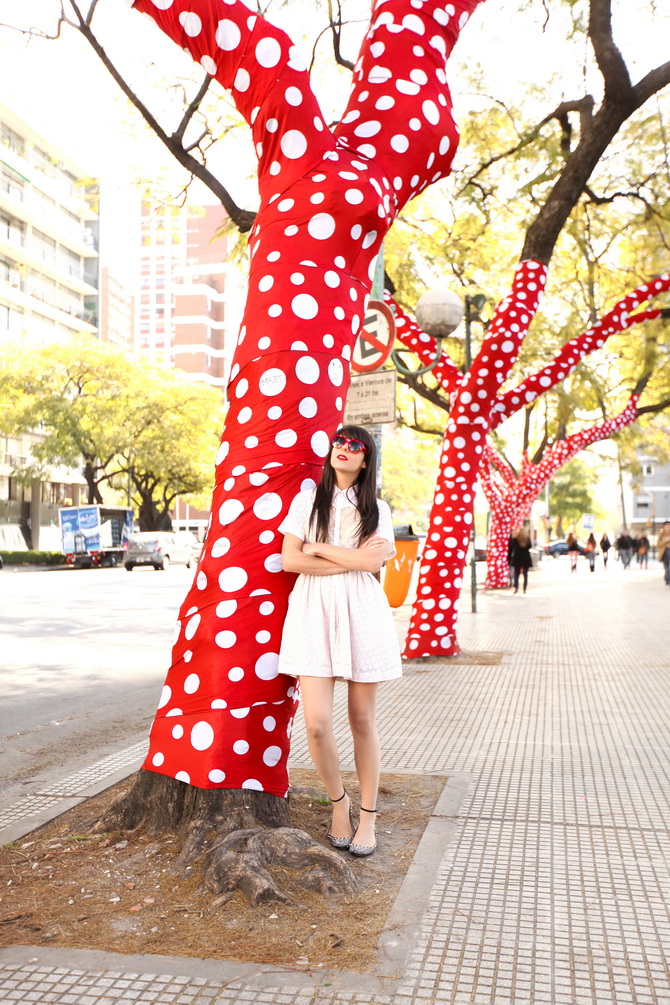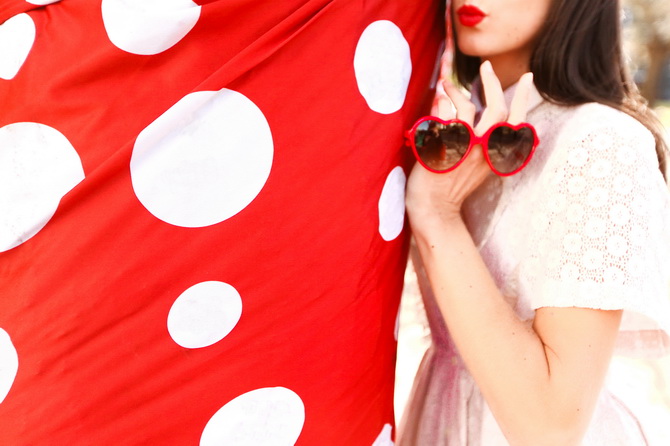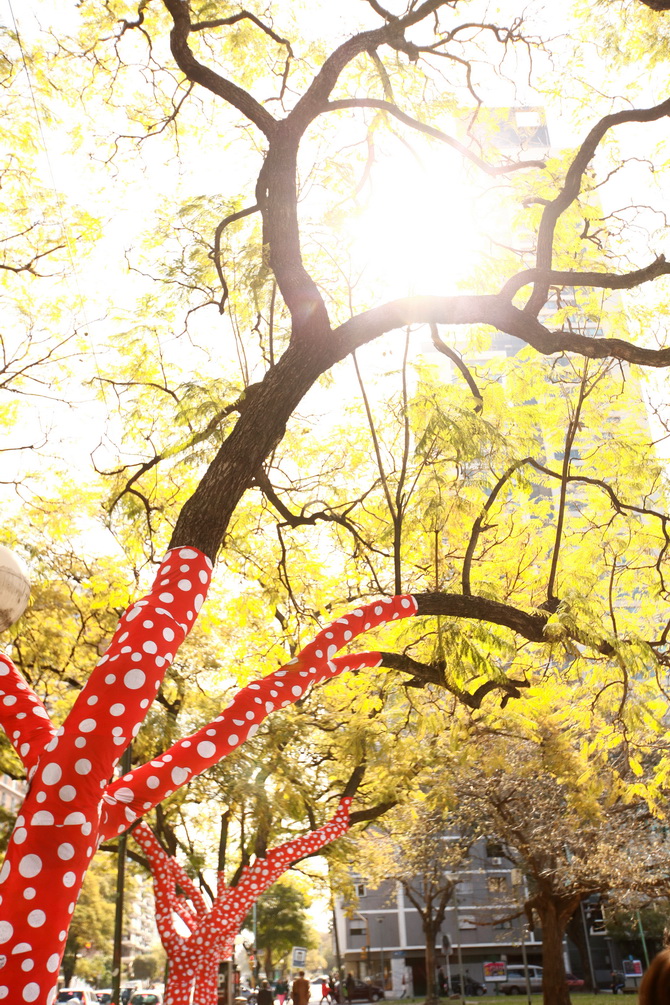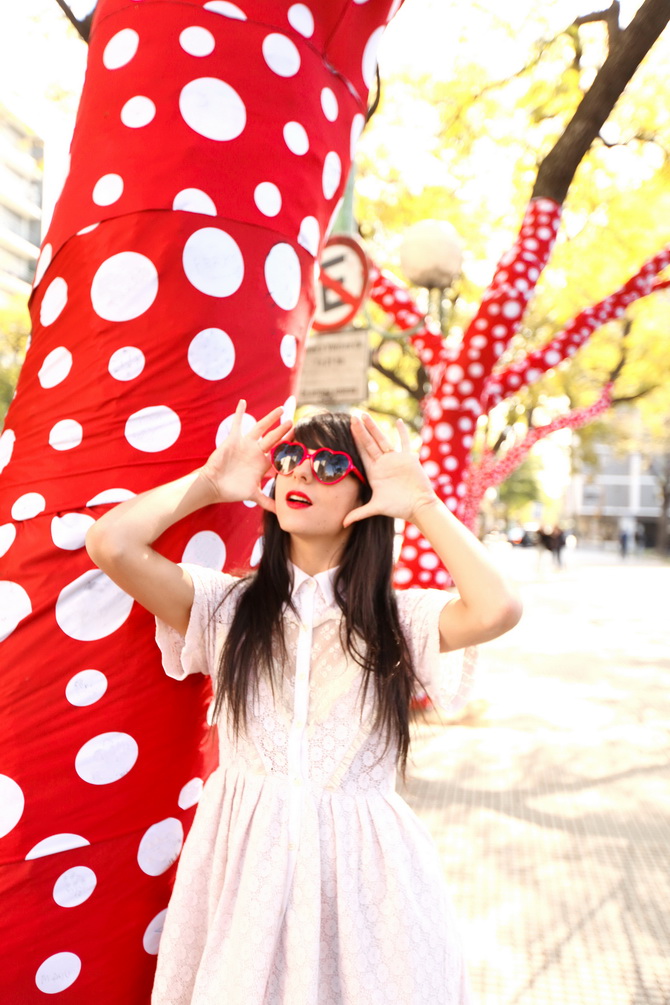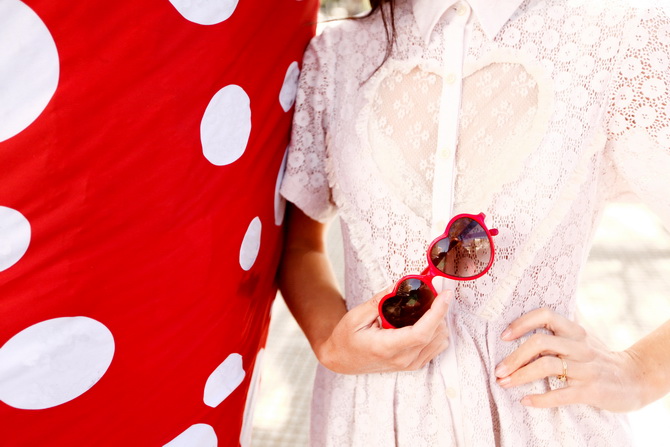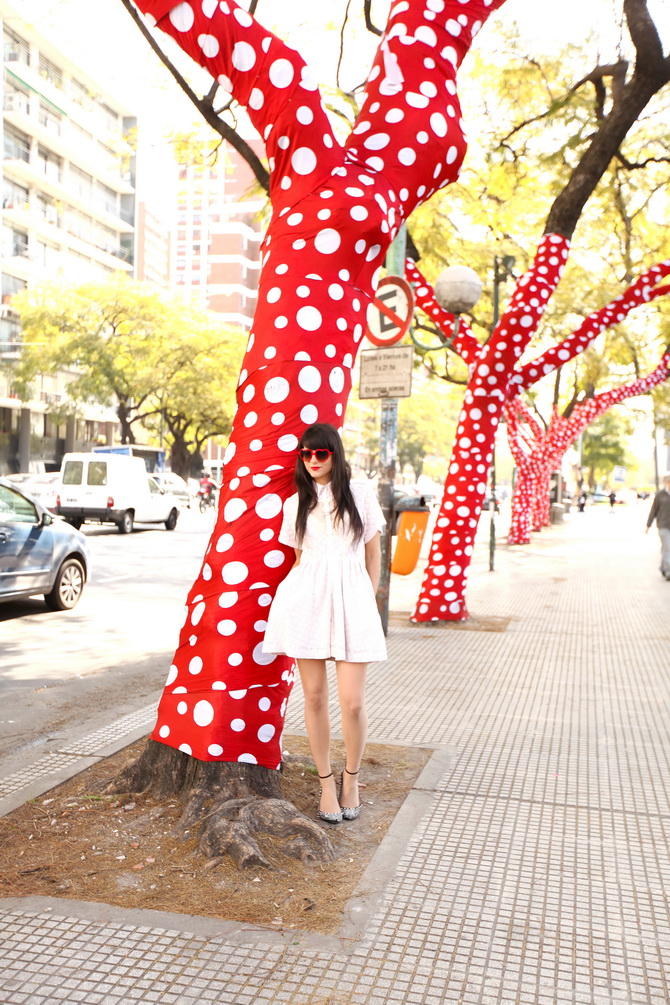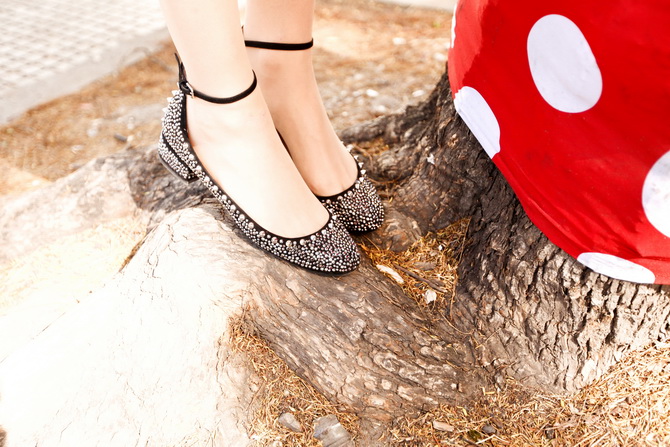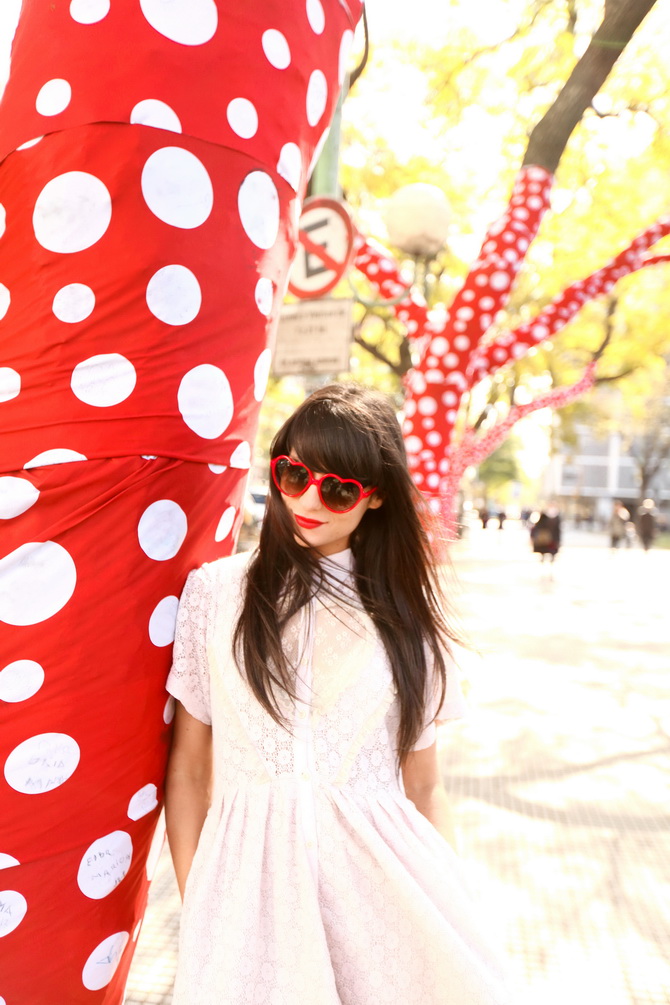 -
-
Robe / Dress : Sretsis
Chaussures / Shoes : Zara
Rouge à lèvre : The Cherry Blossom Girl x Galeries Lafayette
Lunettes / Sunglasses : Vintage
-
-
-