-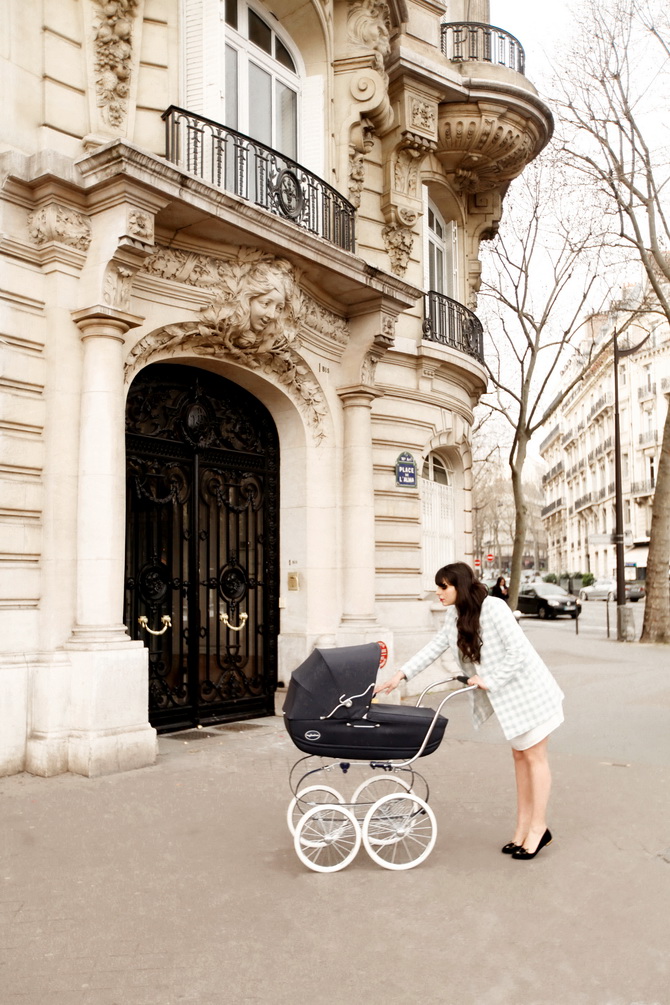 -
-
La nostalgie de jouer à la poupée peut-être, j'ai toujours été fascinée par les landaus.
Ma mère nous a baladé mon frère et mes soeurs chacun à notre tour dans un modèle Bonnichon, puis en grandissant, j'ai sans doute été sensibilisée par des scènes dans Hook et Rosemary's baby.
Et puis il y a eu cet éditorial qui m'a très fortement marqué dans Vogue Paris.
Intitulé "No Smoking", où Lily Donaldson avec son ventre rond, jouait le rôle d'une future maman avant l'heure avec toute la panoplie pour bébé, et bien sûr … un landau!
C'était en 2009, j'avais trouvé ça tellement original et amusant !
Du coup je me suis dit pourquoi ne pas sortir ma Inglesina Classica juste le temps de faire quelques photos ?
Aujourd'hui c'est clair, je me retrouve un peu dans le même cas loufoque que Lily dans Vogue !
-
-
♫ ♪ The Shirelles – Foolish Little Girl
-
-
The nostalgia of playing with dolls maybe, I have always been fascinated by old school looking prams.
My mother owned a Bonnichon one, which she used for my brother and sisters. Then growing up, I guess viewing scenes in movies such as Hook and Rosemary's baby probably  caught my interest.
And then there was this editorial in Vogue Paris entitled "No Smoking" : a round belly Lily Donaldson was playing the role of a future mother, with all the ( not born yet ) baby's equipment and of course … a pram !
It was in 2009, and I remember thinking how fun and original it was when it was released !
So I recently thought why not taking my Inglesina Classica out just the time to take a few pictures ?
Today something is sure, I find myself in the kind of same crazy situation as Lily in Vogue !
-
-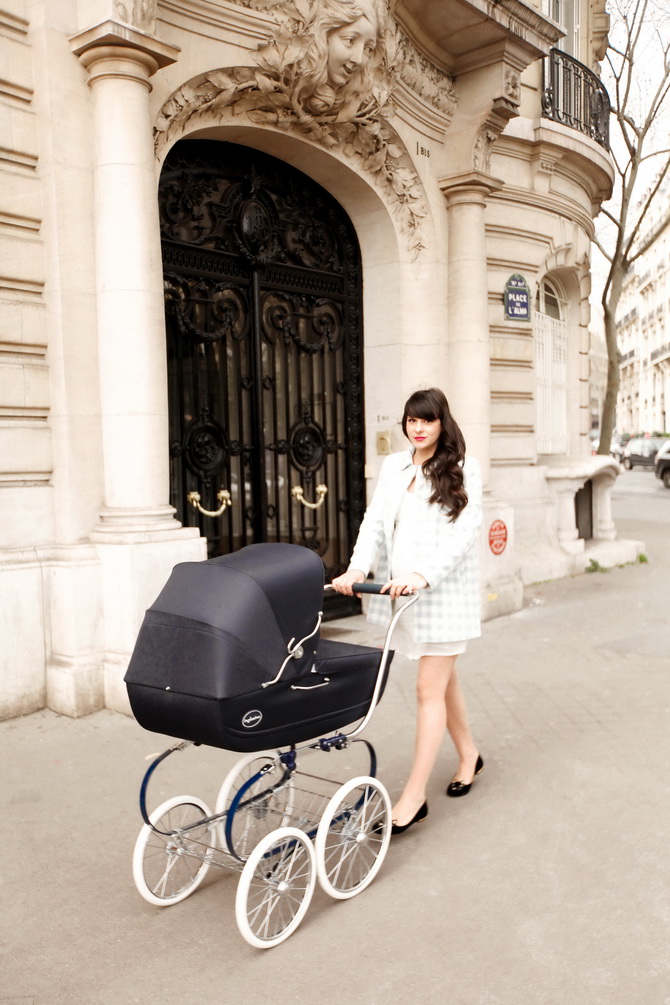 Manteau / Coat : ASOS
Chaussures / Flats : Charlotte Olympia
Landau / Pram : Inglesina Classica
-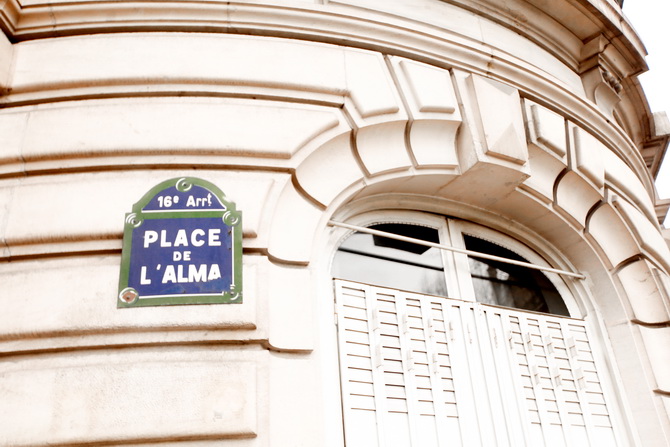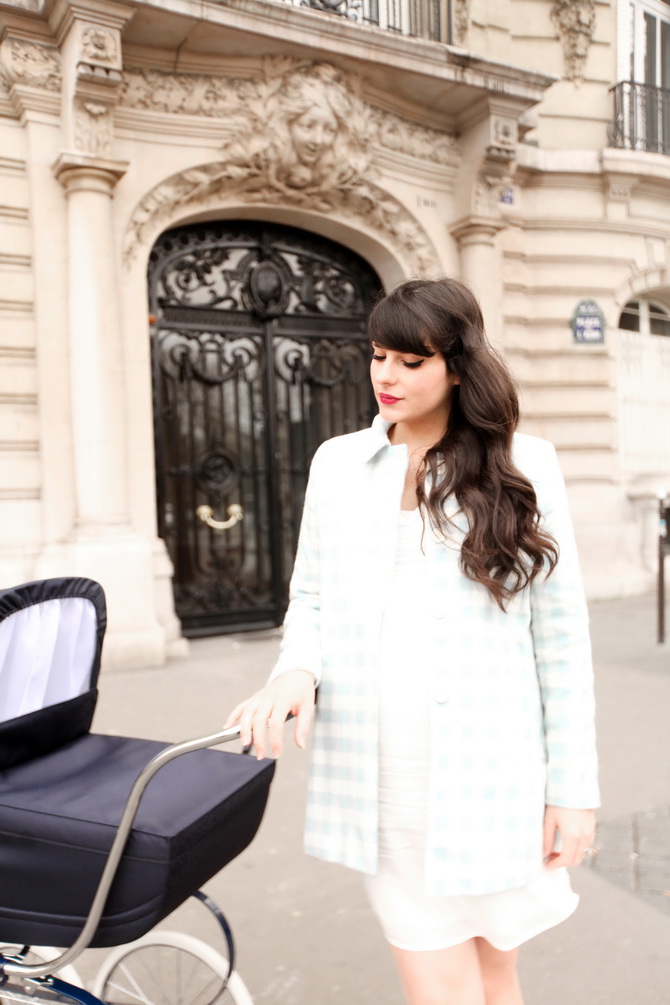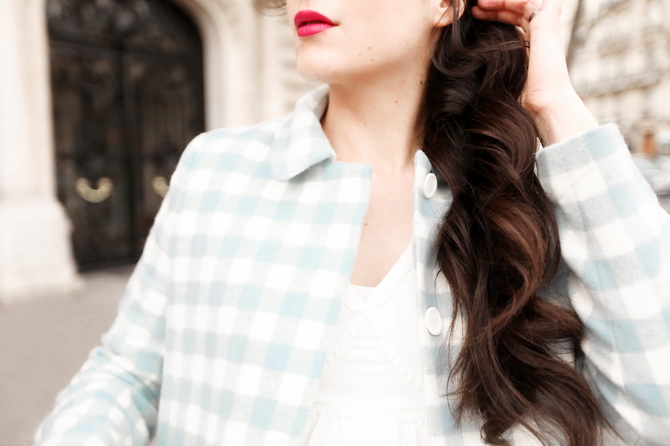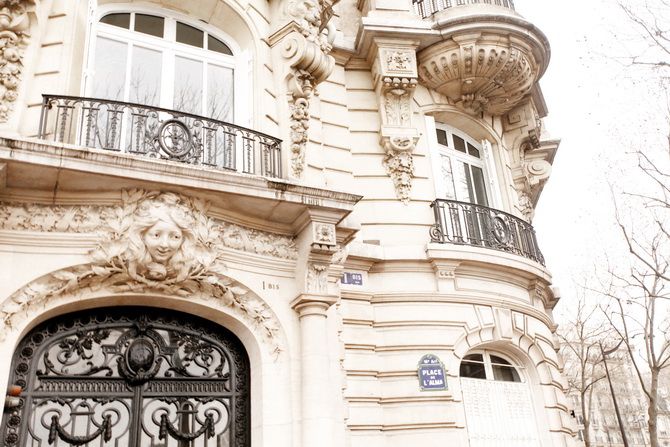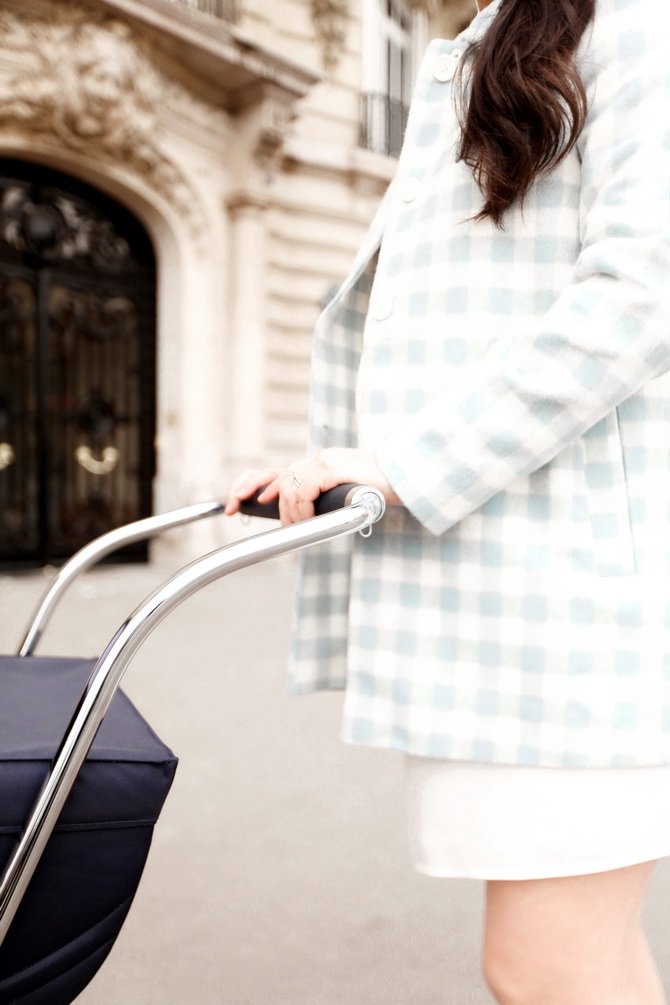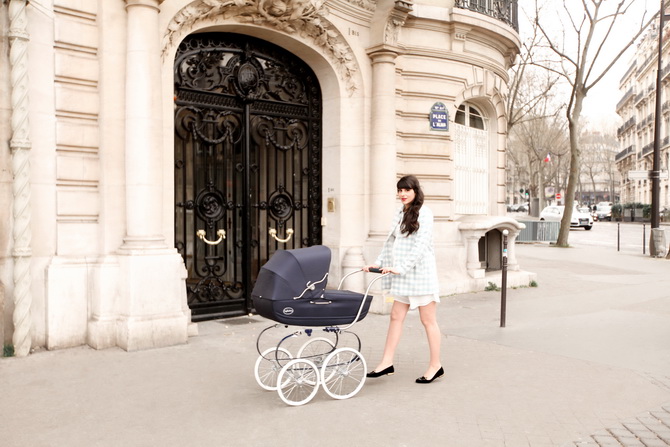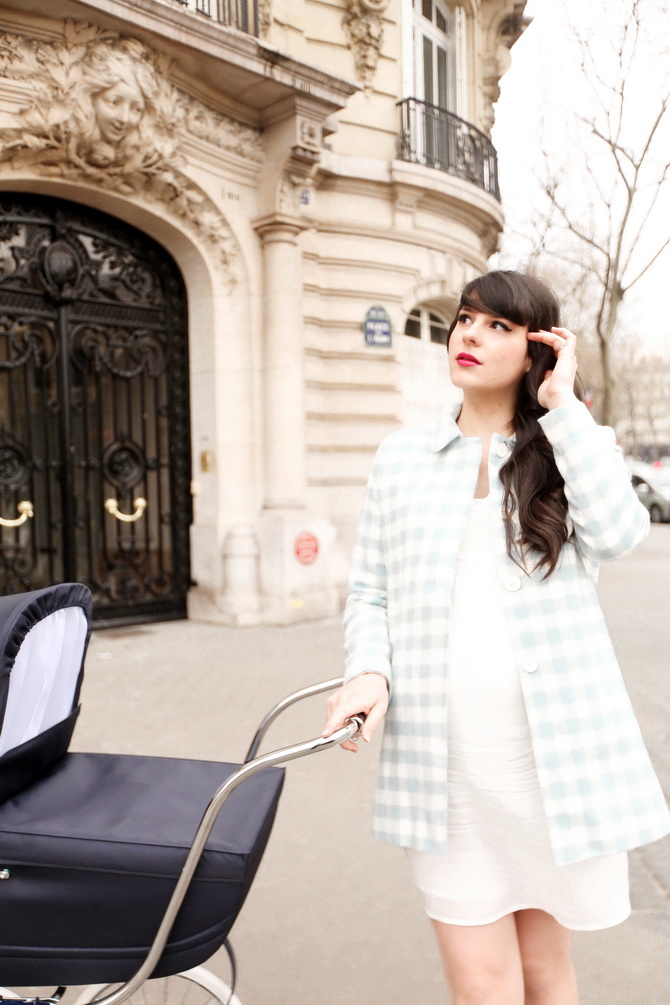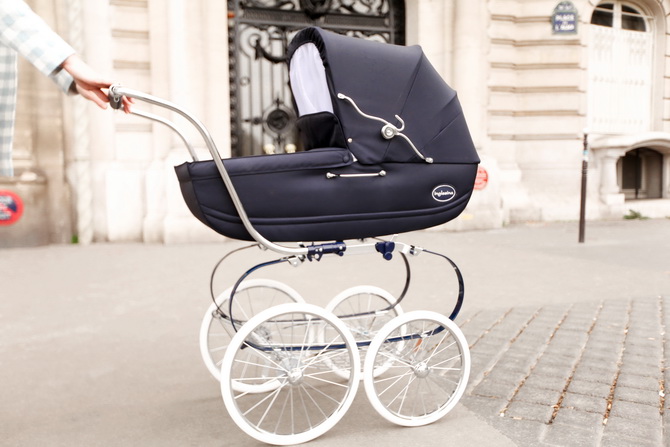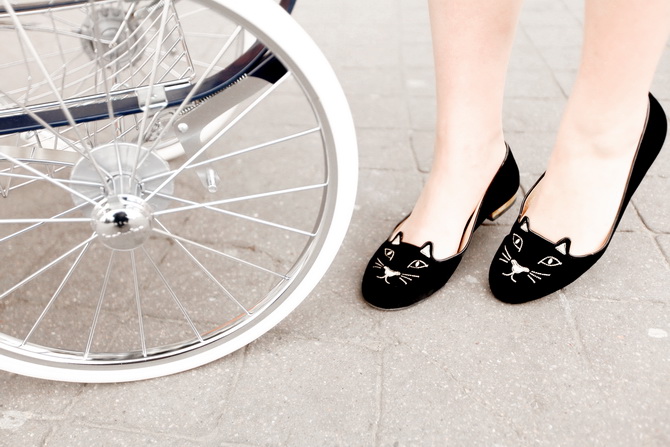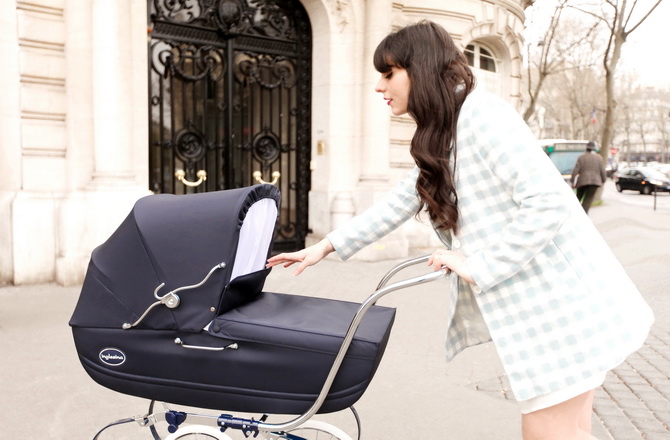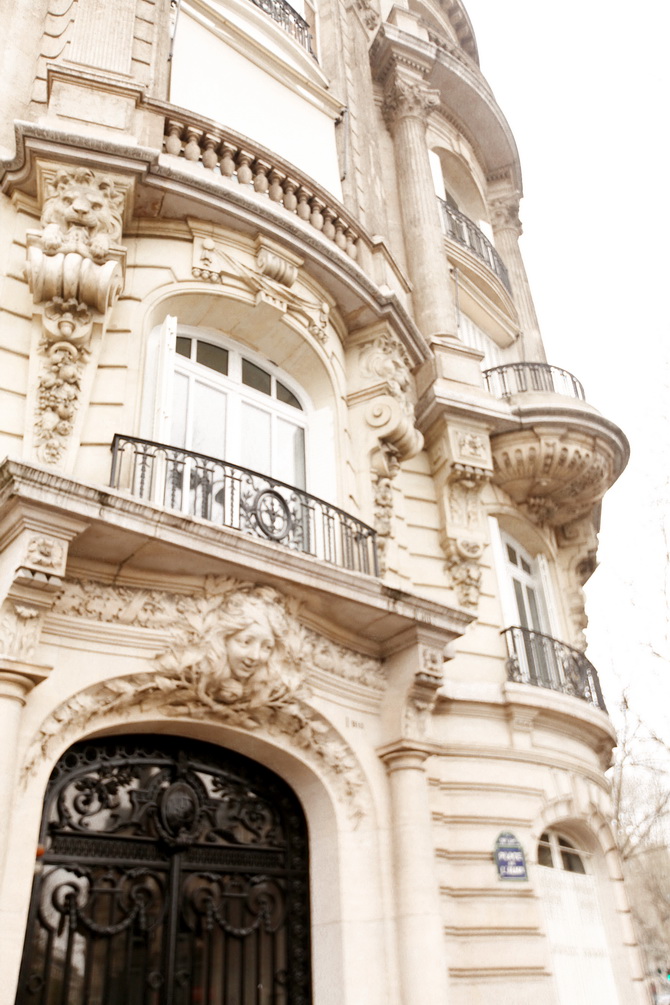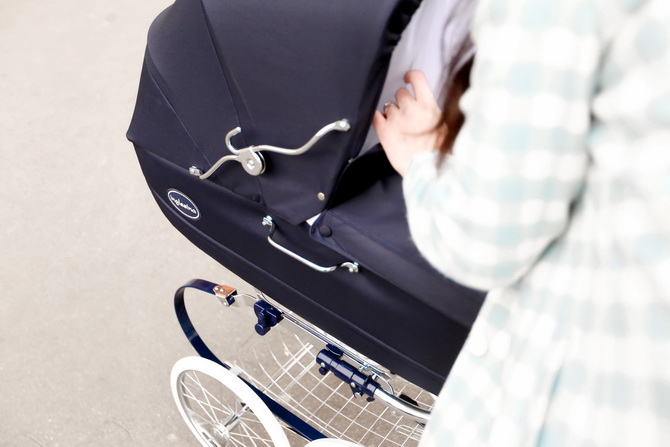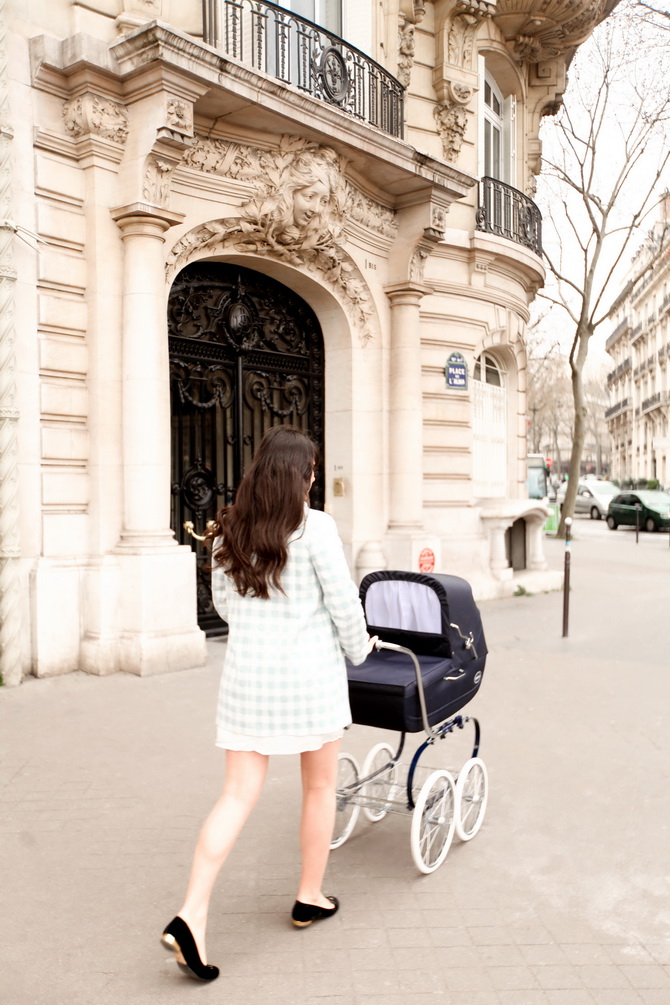 -
-
Manteau / Coat : ASOS
Chaussures / Flats : Charlotte Olympia
Landau / Pram : Inglesina Classica
-
-
-
-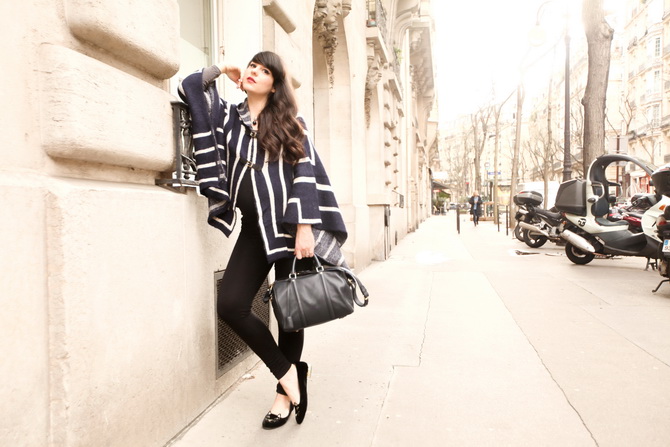 -
-
Petit look Parisien, avant de vous parler de l'expo Mary Blair à San Francisco.
Malgré la pluie, c'est agréable de pouvoir enfin enlever des couches, même si ça devient plus compliqué de m'habiller avec mon ventre de plus en plus gros !
Je sors souvent en panoplie leggings / cape qui permettent une liberté de mouvement et un confort absolu.
Ma cape Lacoste d'il y a quelques années s'avère extrêmement utile, et j'ai également choisi une bleue marine en tricot chez Asap Paris.
Un look légèrement inspiré par Sofia, même si pour être tout à fait raccord avec elle je devrais upgrader mon PM en version croco !
-
-
♫ ♪ Chemical Brothers – The State We're In
-
-
A little Parisian outfit, before talking about the Mary Blair Exhibition in San Francisco.
Despite the rain, the temperatures are warmer now and it feels so good to dress up a little lighter, even if my growing belly gets more and more complicated to dress up !
my everyday uniform these days are the leggings + cape combo, which allows me to move easily and feel very confortable and cosy.
My Lacoste cape from a few years back is the most usefull thing right now, and I also picked a navy blue one at Asap Paris.
A look slightly inspired by Sofia, even though to be completely " à la page ", I should upgrade my PM bag to the croco version !
-
-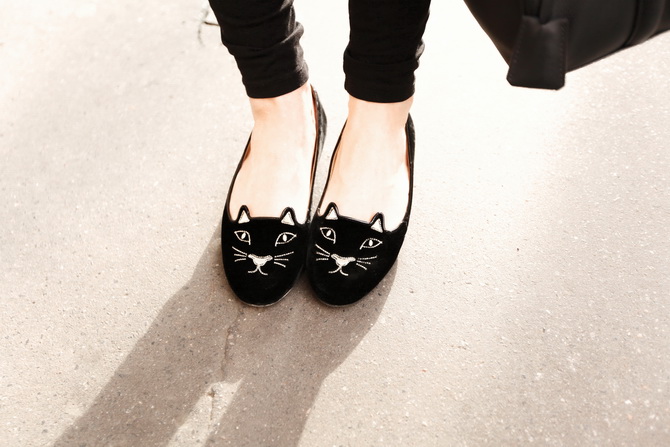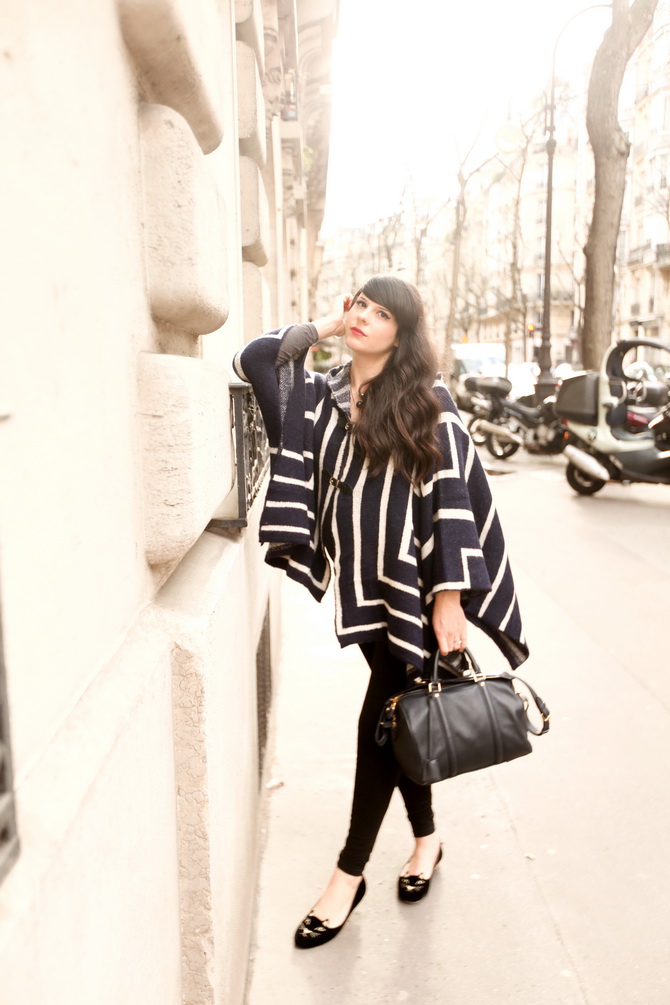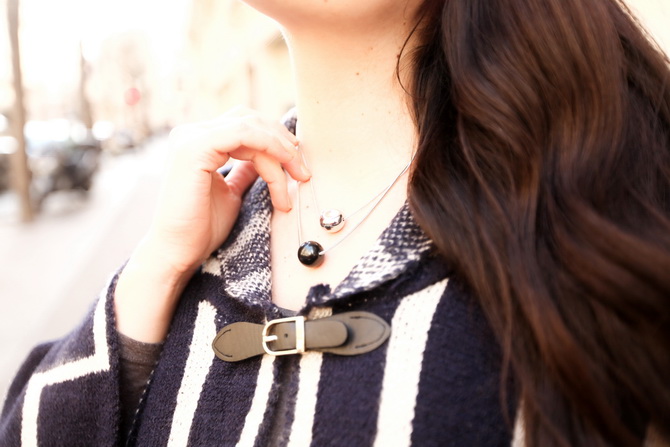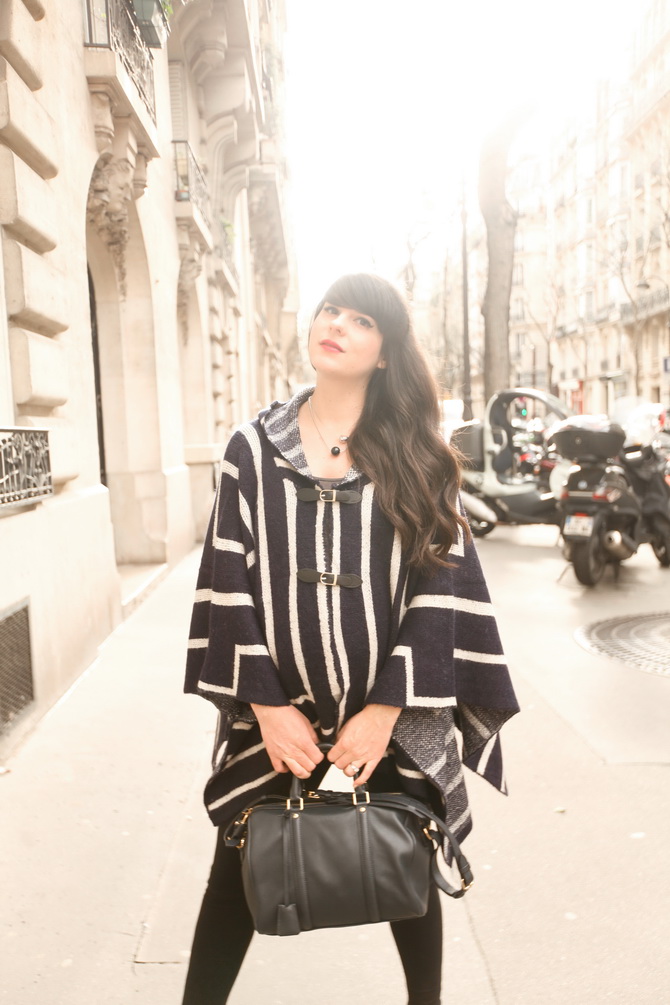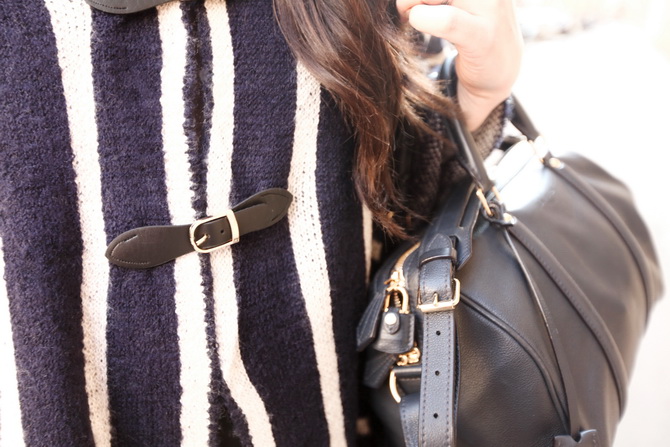 -
Cape : Asap Paris ( version rouge / Red version )
Collier / Necklace : Asap Paris
Chaussures / Shoes : Charlotte Olympia
Sac / Bag : PM Sofia Coppola
Leggings : H&M Maternity
-
-
-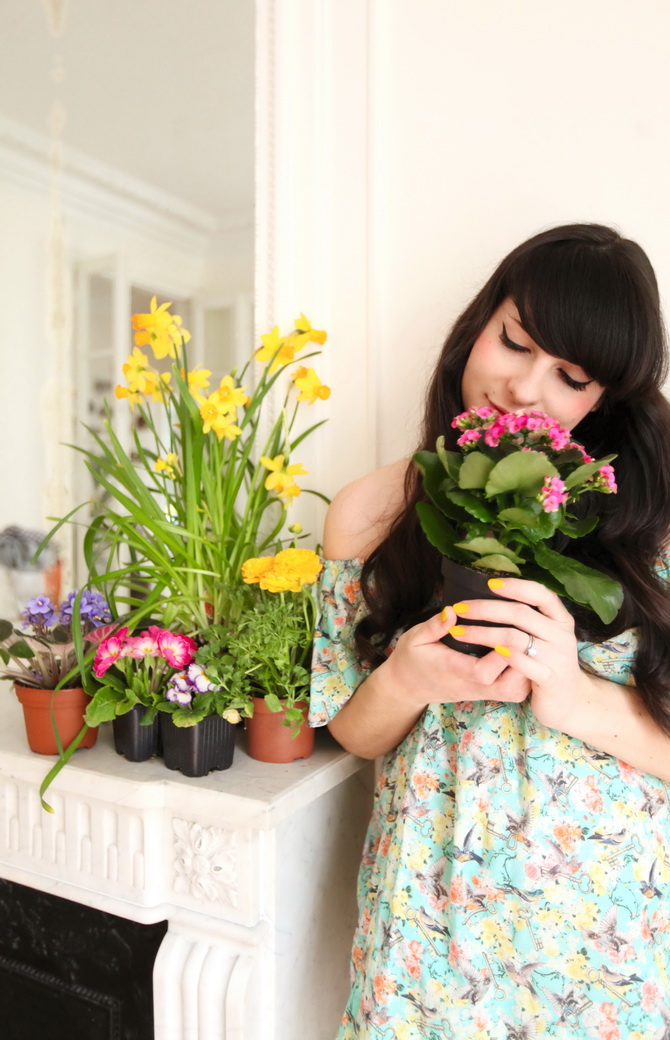 -
-
Et voilà, nous voici en Mars, le printemps arrive à grands pas !
Mais qui dit Mars dit giboulée de Mars, et ce tout début de mois n'a pas failli à sa réputation.
Une occasion rêvée pour vous présenter mes photos réalisées pour la collaboration Paul & Joe x Aigle:
J'ai réalisé un shooting avec mes pièces préférées de la collection capsule: bottes, parka et imprimés fleuris.
Avec ce temps mi-pluvieux mi-ensoleillé, le thème "jardin anglais" ne pouvait pas mieux tomber !
Paul & Joe est une marque que j'affectionne beaucoup, et Aigle est toujours mon meilleur allié quand il s'agit de braver vent et intempéries avec style.
Ça a donc été un vrai plaisir de travailler avec ces deux grandes marques françaises, qui dans cette jolie collection mélangent et associent leur style avec succès !
-
-
♫ ♪  The Move – Flowers in the Rain
-
-
Here we are in March, spring will be there soon !
And as the French say, who says March says "giboulée de Mars" ( March rain ). Judging by these two past days wet weather, I must say it couldn't be more true !
A perfect timing to introduce my photos made for the collaboration between Paul & Joe X Aigle !
I shot my favorite pieces from their new capsule collection: rain boots, parka and flowery prints.
With this mid-rainy mid-sunny weather in France right now, this "English garden" mood looks perfectly well suited.
Paul & Joe is a brand I absolutely adore, and Aigle is always my best ally when it comes to brave windy and rainy weather with style.
For that reason it's been a real pleasure to work for these two major french brands, who matched and combined their styles successfully in this pretty collection !
-
-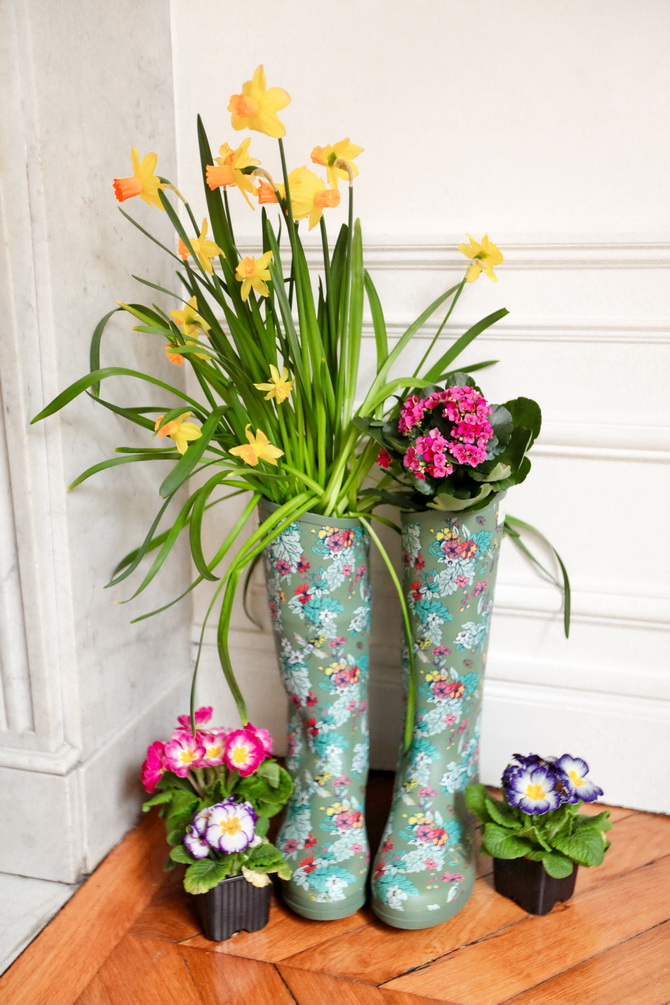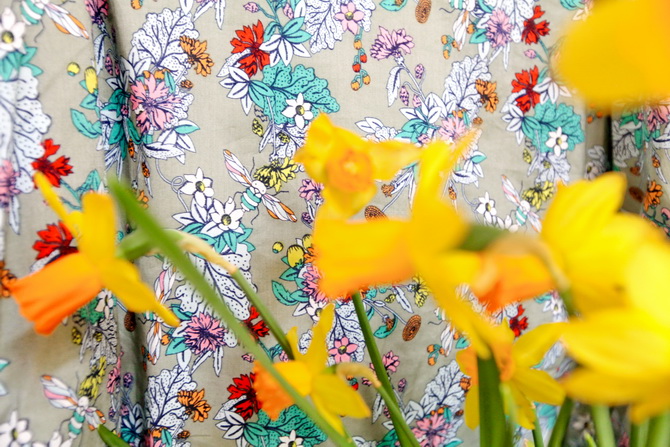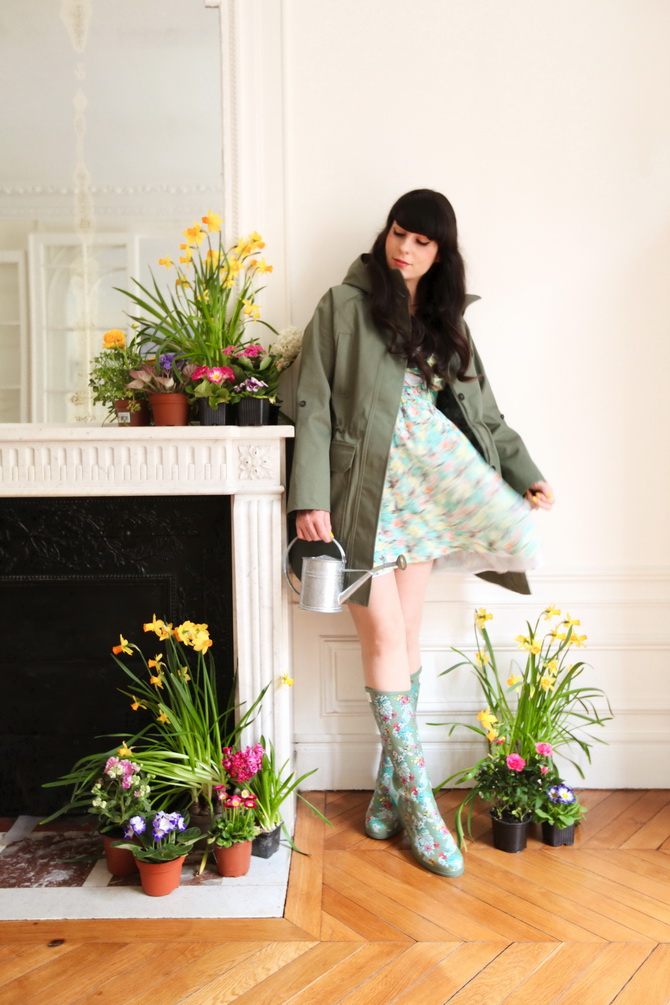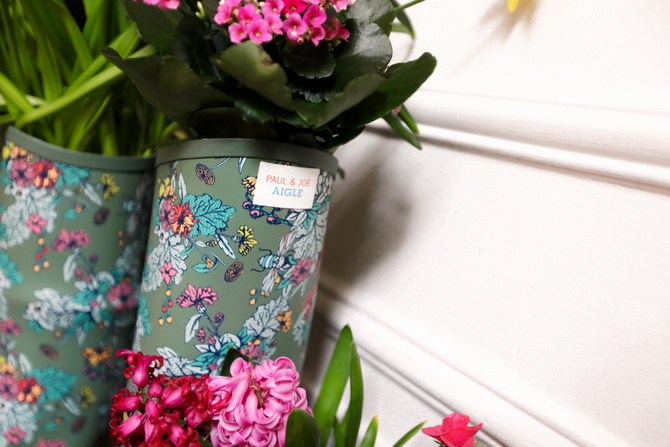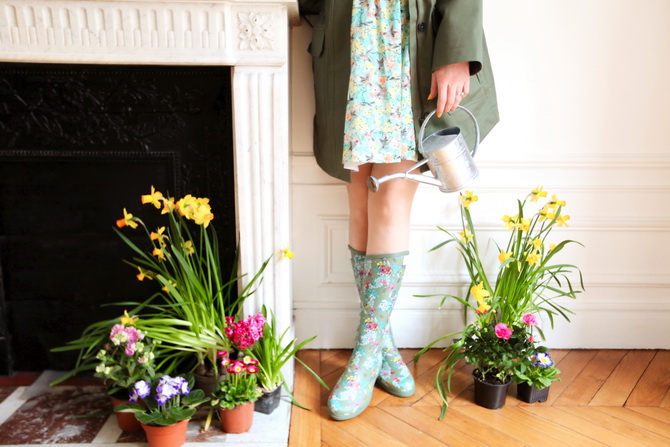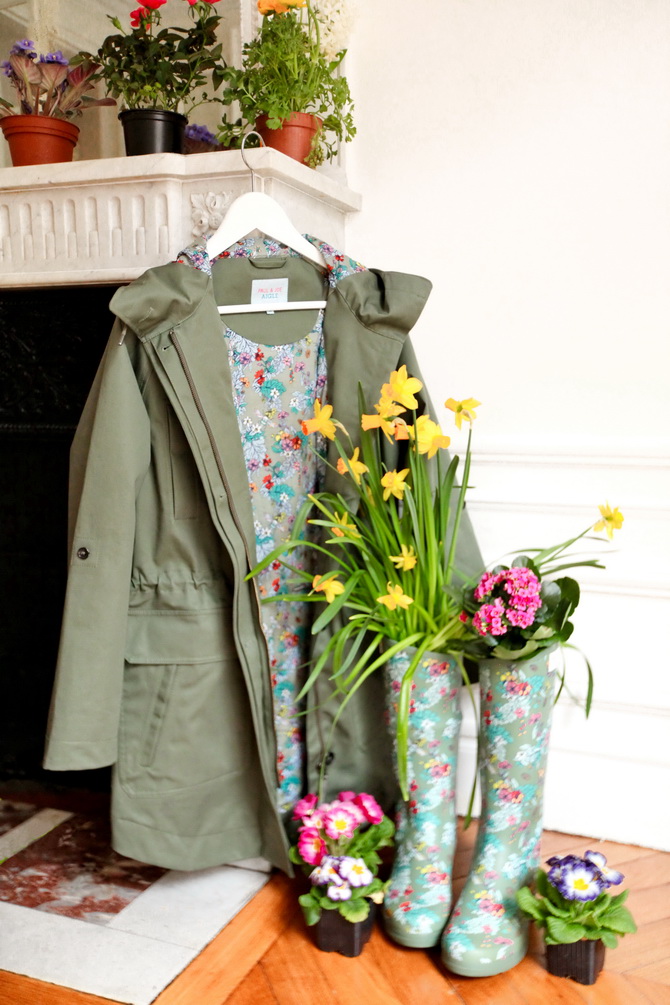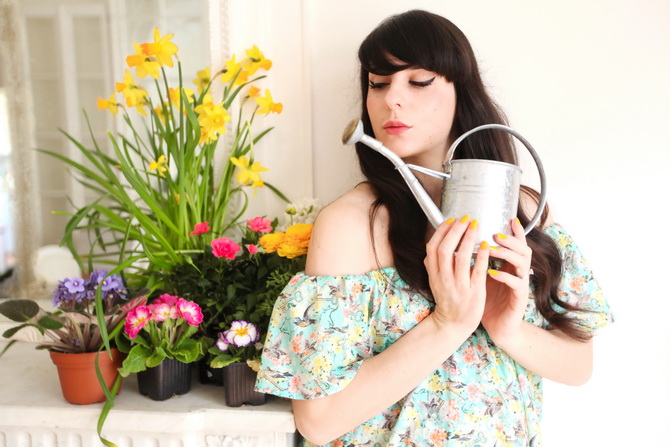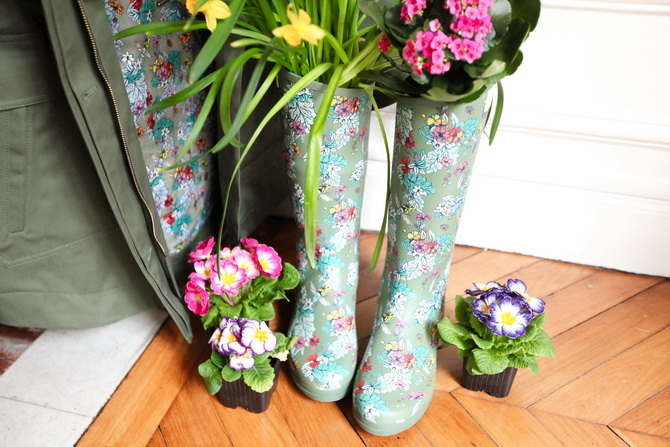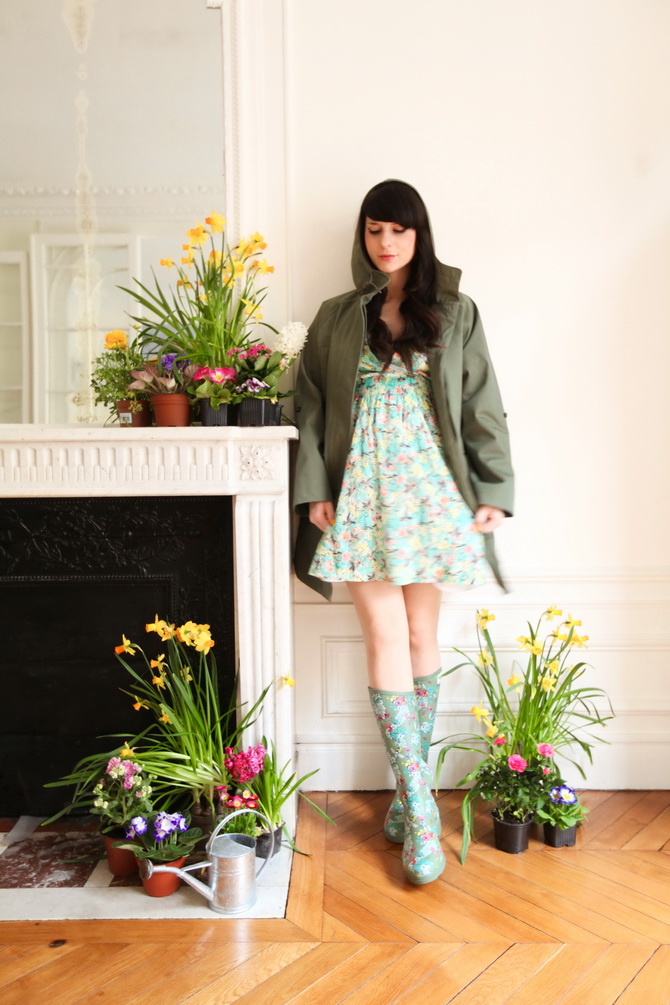 -
-
Bottes / Boots : Paul & Joe X Aigle
Parka : Paul & Joe X Aigle
Robe / Dress: Paul & Joe X Aigle
Blouse: Paul & Joe X Aigle
Vernis à Ongle / Nailpolish: Dior 118 Acapulco
-
-
Ce samedi 7 Mars, Aigle et Paul & Joe fêteront le lancement de la collection dans leurs boutiques respectives de Saint-Germain-des-Près à partir de 15h:
Un thé à l'Anglaise chez Paul & Joe, et un bar à fleur chez Aigle.
Il y aura également un concours organisé ce jour là en boutique, avec la chance de gagner des pièces de la collection #PaulAndJoeXAigle.
-
-
-