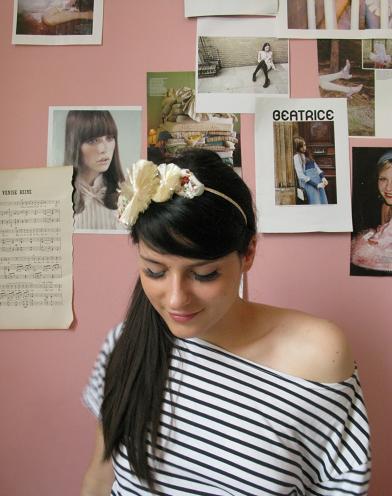 1
-
Le chapeau est, à mon sens, l'accessoire qui donne ce petit plus à une tenue, cette touche particulière qui rend un look abouti et fort en caractère, même si je dois avouer ne pas suffisamment assumer moi même pour en porter tous les jours.
La saison des couvre chef en laine et autres cache oreilles étant -enfin- révolue, je ressens toutefois un certain plaisir à orner ma chevelure d'une coquette parure crânienne. Serre tête, couronnes ou nœuds étant des termes plus appropriés dans le cas de cet article, présentant mes quatre favoris du moments, du bandeau à motif fleuri jusqu'au chapeau de dandy.
-
music: Maurice Chevalier – Hello Beautiful
-
In my opinion, the hat is the accessory that can make or break any outfit. They have that certain something to make a look fierce and complete, even though I must admit, I don't always take it upon myself to wear one everyday.
Although the days of knit hats and earmuffs are finally behind us, I nevertheless get something out of decorating my crown with a cute headpiece. Headbands, tiaras, and bows are, admittedly, better words for describing what's touched upon in this article, so without further ado, I give you my four current favourites, including a flower print headband and a very dandy hat.
-
Un serre tête réalisé de mes petites mains ( present également sur la première photo ). A headband which I made with my own two little hands (also shown in photo #1).
-
Le melon à la Charlie chaplin. A Charlie Chaplin style derby hat.
-
Un bandeau en fleurs brodées pour un look façon hippie. A headband made of embroidered flowers makes for a hippie look.
-
1- 4: serre tête fabriqué moi même - homemade headband
2 – 7: bandeau vintage – vintage headband
3- 6: nœud fabriqué moi même – homemade bow
5 – 8: melon vintage – vintage derby hat
-
Marinière Vintage – vintage stripped tee shirt
Chemise blanche COS – COS white shirt
-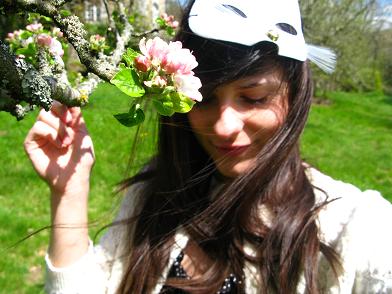 -
Pas de doute le printemps est bien là !
C'est vêtue d'une robe en coton léger et d'un petit pull en maille fine que j'ai profité du jardin ensoleillé, au sol recouvert d'une épaisse et moelleuse couche d'herbe verte.
Un cadre parfait pour passer sa journée à gambader sous un ciel radieux, profiter des dernières fleurs sur les arbres avant que des cerises apparaissent, et se laisser aller à la gourmandise visuelle d'une nature pleinement épanouie.
-
There's no doubt about it: spring is here!
I was wearing a light cotton dress and a loosely knit cardigan when I decided to go out and enjoy the sunny garden, its ground covered with a soft blanket of green grass.
It was the perfect setting for a day spent frolicking beneath a radiant sky, embracing the beauty of the last tree blossoms before the cherries appear, engulfed in the eye candy that is nature in full bloom.
-
-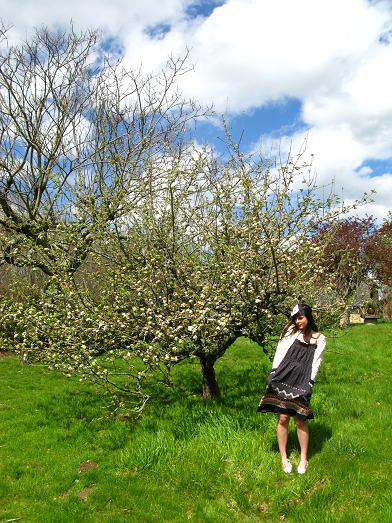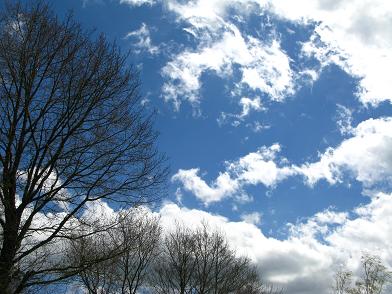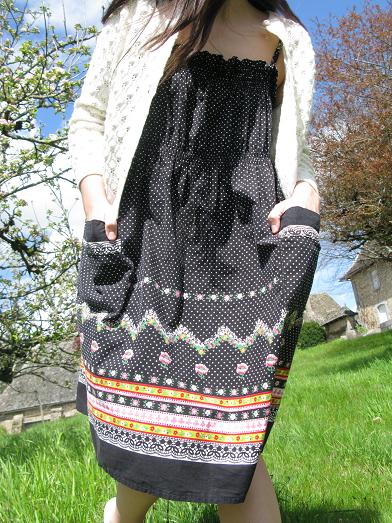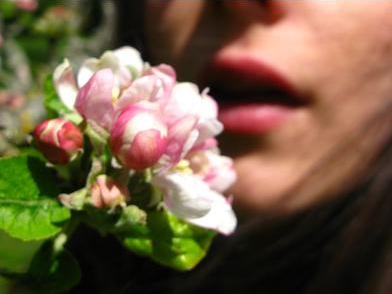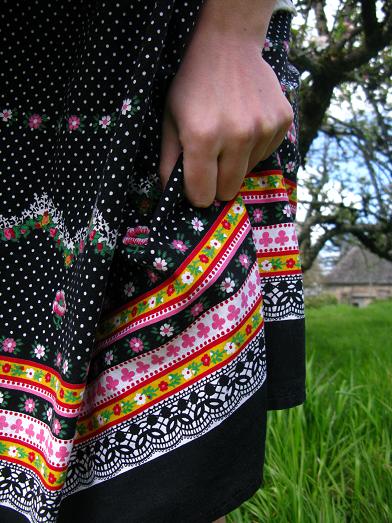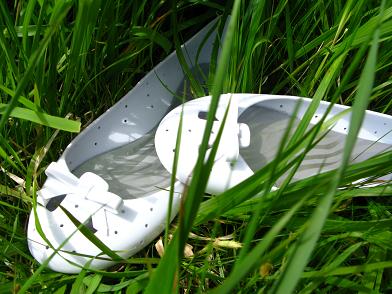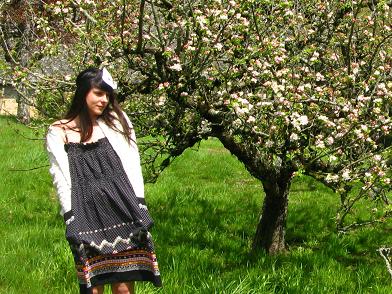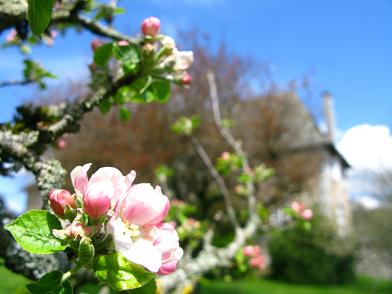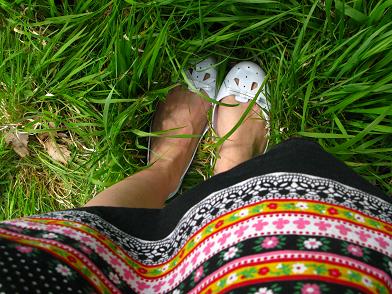 -
robe vintage
chaussures princesse tam tam
gilet vintage
-
_Lula magazine_________Luella ss 2008_________Marie Antoinette
-
Agée de quelques jours, j'étais déjà coquettement dotée d'une belle touffe brune sur le sommet de mon crâne.
Bien évidemment la couleur n'a pas changée depuis, et bien que je rêve parfois d'une belle chevelure rousse, la peur de rater la coloration et surtout la flemmardise face à l'entretien que cela représente me conforte dans l'idée que finalement, les cheveux bruns, c'est très bien.
Oui, les cheveux bruns, c'est joli, mais les cheveux roses, c'est encore mieux!
Je m'explique : je suis une fanatique du rose en ce moment. Alors après les murs de ma chambre, les robes rose bonbon, me voila en train de faire une fixette sur la belle tignasse couleur barbe papa qui pourrait être la mienne. L'article dans le dernier Lula n'a rien arrangé, le défilé Luella encore moins et ne parlons même pas de la séquence Dans Marie Antoinette où notre héroïne arbore une chevelure rose poudré des plus désirable.
Je veux à présent des cheveux shamallow, juste le temps d'une après midi, pour voir la vie sous un jour plus sucré
-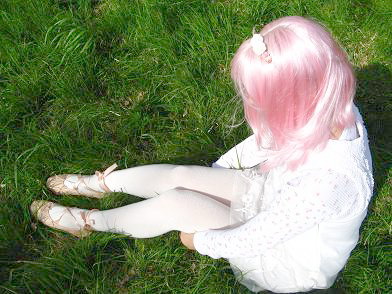 1
-
When I was but a few days old, a cute tuft of brown hair already adorned the top of my head.
As you might have guessed, that colour has not changed over the years, and although I sometimes dream of being a redhead, the fear of a bad dye job and the daunting aspect of the upkeep helps me to come to terms with the colour I was born with. All in all, there is nothing wrong with having brown hair. And while there is nothing wrong with having brown hair, having pink hair would be even better.
Allow me to explain: I am wild about pink these days. So now, after having painted the walls of my room and after having acquired so many candy-coloured dresses, I have become obsessed with the idea that a beautiful cotton-candy-coloured mane could one day be mine. If the article in the last Lula didn't help, the Luella show made things even worse, and don't even mention the scene in Marie Antoinette where Kirsten Dunst sports a most coveted powder-pink head of hair.
I now want marshmallow hair, just for an afternoon… Life would seem so much sweeter then!
-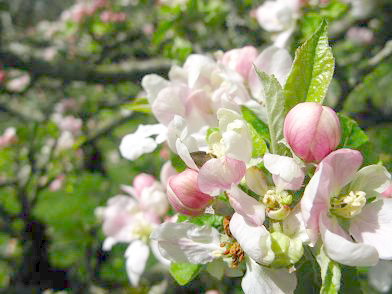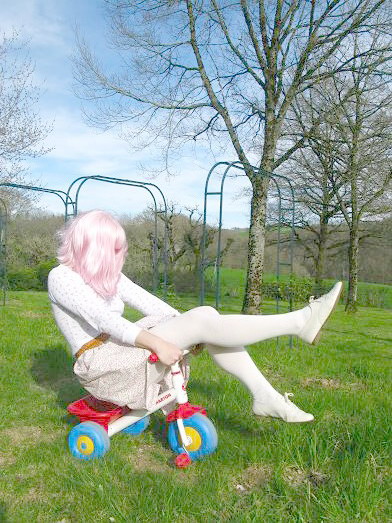 3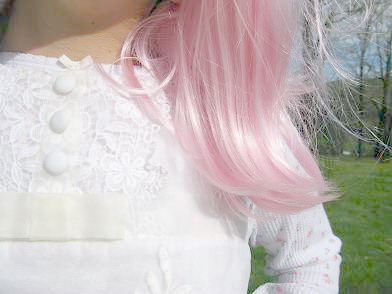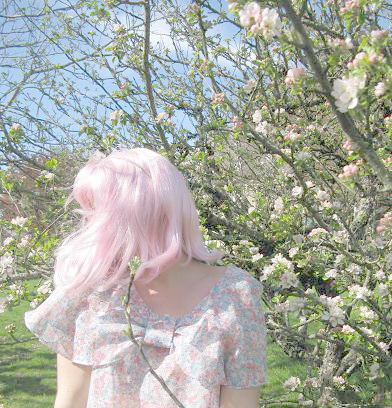 4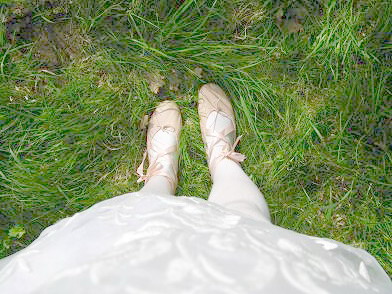 5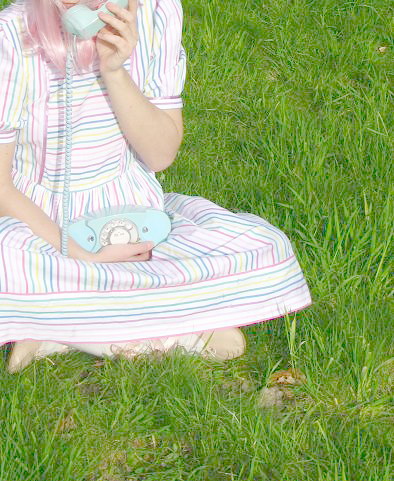 6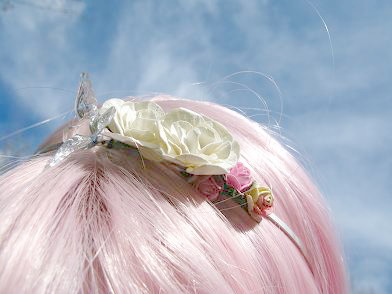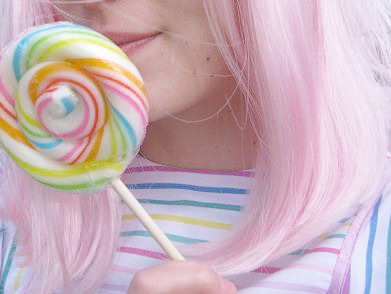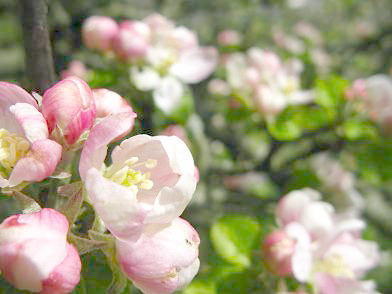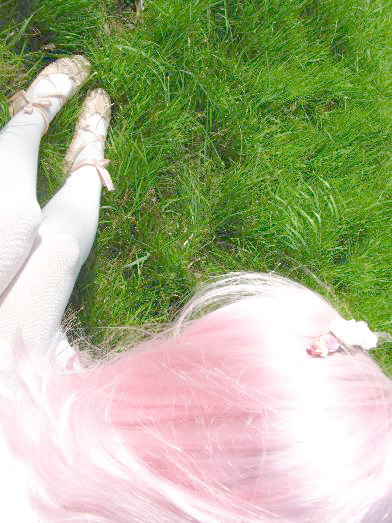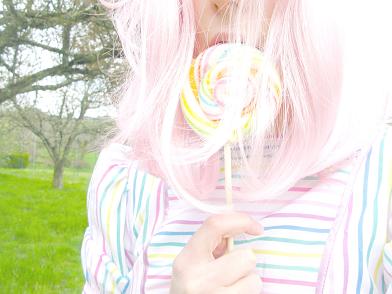 1: robe h&m, ballerines repetto
2: lunettes cœurs ramenées du Japon
3: tee shirt et ceinture vintage, jupe fabriquée moi même, chaussures repetto
4: robe vintage
5: ballerines repetto
6: robe et telephone vintage
7: serre tête Buddug
8: robe h&m, chaussures topshop
-