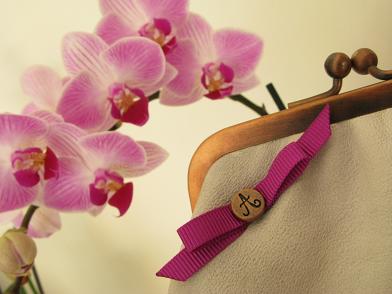 -
Elba, Tangiers, Alexandria, des noms qui font penser à des villes lointaines, et pour cause, c'est justement de voyages que les deux créatrices de la marque Ariadné s'inspirent pour créer leurs jolis sacs.
J'avais au tout début découvert leurs créations en tombant sur leur site internet, puis m'est venue l'irrésistible envie de toucher et de voir les sacs en vrai. Giulia et Synneve m'ont donc reçue avec beaucoup de gentillesse dans leur studio-boutique.
Résultat: la visite en a vraiment value la peine !
La collection printemps été est aussi alléchante qu'attirante: des formes sophistiquées tout en restant épurées, intemporelles, des détails raffinés, de jolies doublures ainsi que des finitions parfaites, le tout dans des matières soigneusement sélectionnés, et des tissus désignés de leurs petites mains. Cerise sur le gâteau, tous les sacs sont fabriqués à Paris par un artisan, ce qui garanti une qualité irréprochables !
Petit tour dans leur boutique regorgeant de milles et un trésors.
***

Elba, Tangiers, Alexandria; all these names are reminiscent of cities from far away, and travel just happens to be where the minds behind Ariadné turn to for inspiration.
I first discovered their creations when I fell upon their website, and the irresistible urge to see these bags in the flesh shortly followed. Giulia and Synneve were nice enough to give me a very warm welcome into their studio/boutique, and the result was a very fruitful expedition!
The spring/winter collection is as mouthwatering as it is attractive: sophisticated yet classic shapes, finely detailed, gorgeous linings, perfectly executed with carefully selected materials and hand printed fabrics. To top it off, all bags are handcrafted in Paris, which guarantees utmost quality.
A little tour of their treasure-filled boutique:
***
Les différents modèles de la collection se déclinent en de nombreux coloris, marron, violet, blanc, gris. The collection's various models come in many colours, including burgundy, violet, white, gray…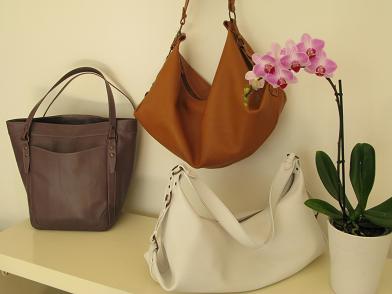 -
Le modèle "Elba" en violet ( mon préféré ) ainsi que le modèle "Alexandria" en gris accompagné du porte monnaie " first place". The violet "Elba" model (my favourite) along with the gray "Alexandria" paired with the "first place" change purse.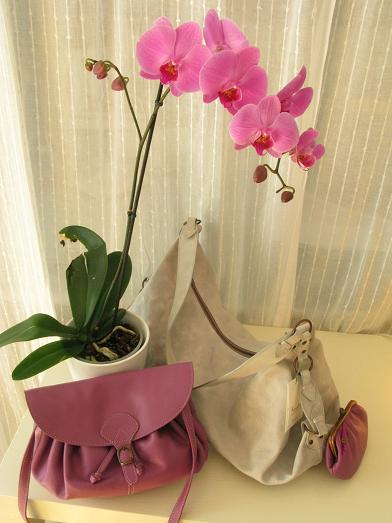 -
Tous les sacs possèdent une doublure dans un joli tissus imprimé. Every bag sports a pretty print fabric lining: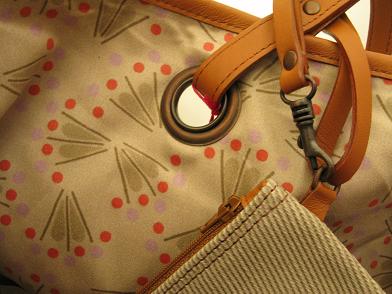 -
Le modèle Tangiers en blanc, c'est le shopping bag rêvé pour partir en virée ! The white Tangiers model is the perfect shopping bag to take along for a spin!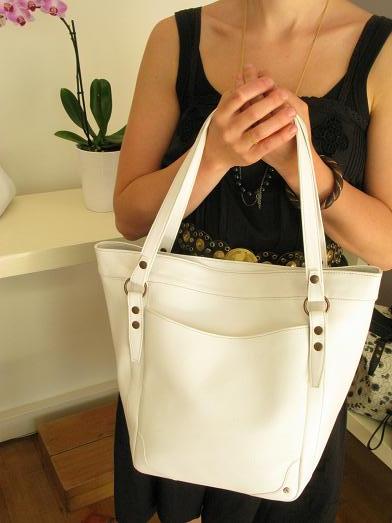 -
Juste ce qu'il faut de détail: Fronce, jolie boucle, pastille et ruban. Just enough detail: some gathering, a pretty bow, and a ribbon fastened with a copper pin: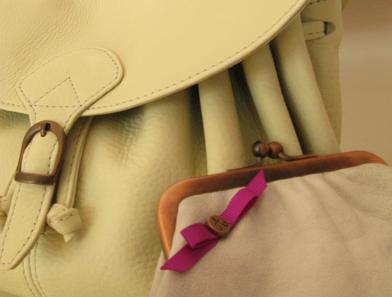 -
Qui n'aurait pas envie d'un si joli petit porte monnaie ? Who wouldn't want such a cute little change purse?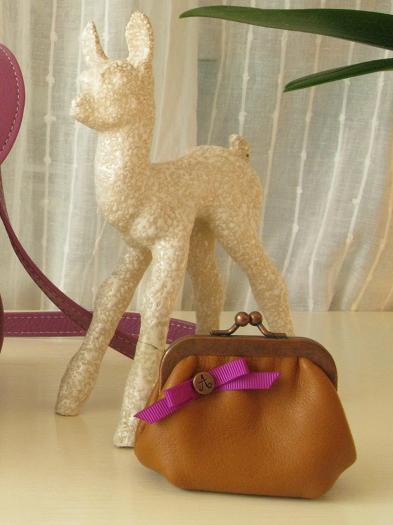 -
Détail d'une boucle du sac " Alexandria". The detailed buckle of the "Alexandria" bag: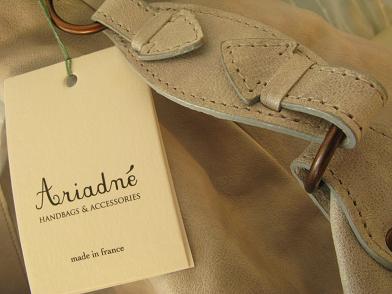 -
De grands sacs de voyage, parfait pour trimballer toutes ses petites affaires. These big travel bags are perfect for carrying around all of your little things.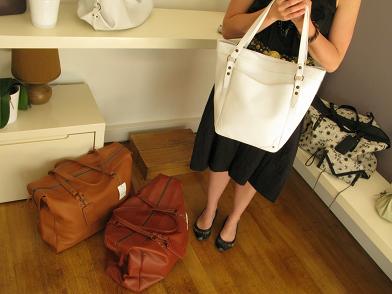 -
fermoir du modèle "vik", dans un très beau cuir marron. The clasp of the beautiful burgundy "Vik" bag: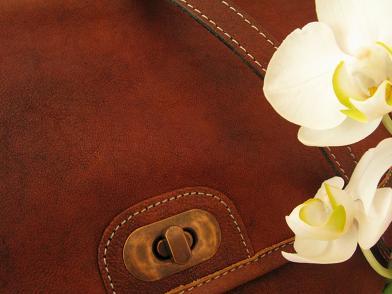 -
Un grand sac impimé et sa pochette assortie. A big flower print bag and matching clutch.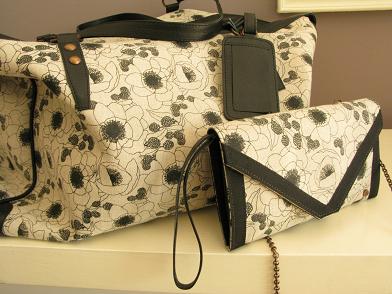 -
Le modèle "Alexandria" dans un coloris violet, je le fantasme déjà porté avec une robe blanche ! The "Alexandria" bag in violet; I can already see myself wearing it as the perfect accessory to a white dress!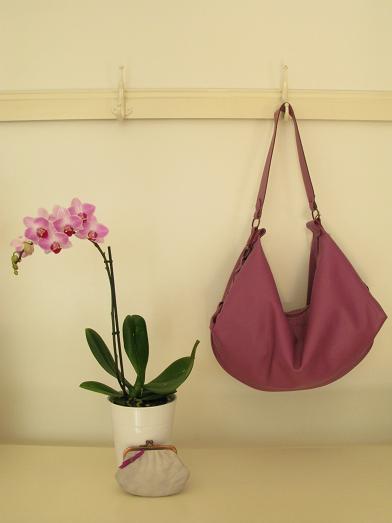 -

-
Horaires et contact ici
-
Petit Aparté: les créatrices viennent de m'informer que les lectrices peuvent bénéficier d'une réduction de – 35 % en se présentant à la boutique de ma part.
-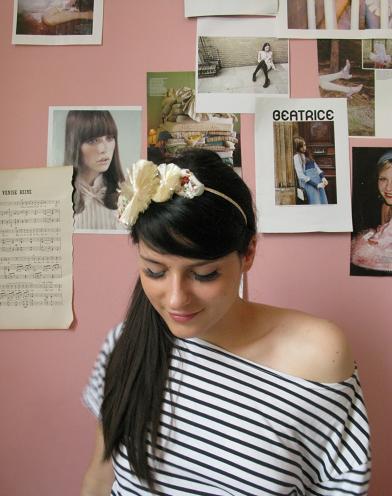 1
-
Le chapeau est, à mon sens, l'accessoire qui donne ce petit plus à une tenue, cette touche particulière qui rend un look abouti et fort en caractère, même si je dois avouer ne pas suffisamment assumer moi même pour en porter tous les jours.
La saison des couvre chef en laine et autres cache oreilles étant -enfin- révolue, je ressens toutefois un certain plaisir à orner ma chevelure d'une coquette parure crânienne. Serre tête, couronnes ou nœuds étant des termes plus appropriés dans le cas de cet article, présentant mes quatre favoris du moments, du bandeau à motif fleuri jusqu'au chapeau de dandy.
-
music: Maurice Chevalier – Hello Beautiful
-
In my opinion, the hat is the accessory that can make or break any outfit. They have that certain something to make a look fierce and complete, even though I must admit, I don't always take it upon myself to wear one everyday.
Although the days of knit hats and earmuffs are finally behind us, I nevertheless get something out of decorating my crown with a cute headpiece. Headbands, tiaras, and bows are, admittedly, better words for describing what's touched upon in this article, so without further ado, I give you my four current favourites, including a flower print headband and a very dandy hat.
-
Un serre tête réalisé de mes petites mains ( present également sur la première photo ). A headband which I made with my own two little hands (also shown in photo #1).
-
Le melon à la Charlie chaplin. A Charlie Chaplin style derby hat.
-
Un bandeau en fleurs brodées pour un look façon hippie. A headband made of embroidered flowers makes for a hippie look.
-
1- 4: serre tête fabriqué moi même - homemade headband
2 – 7: bandeau vintage – vintage headband
3- 6: nœud fabriqué moi même – homemade bow
5 – 8: melon vintage – vintage derby hat
-
Marinière Vintage – vintage stripped tee shirt
Chemise blanche COS – COS white shirt
-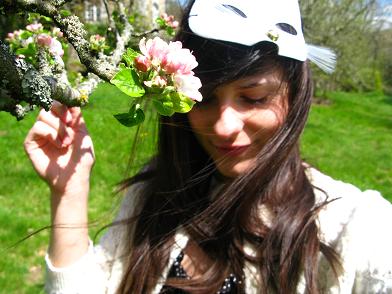 -
Pas de doute le printemps est bien là !
C'est vêtue d'une robe en coton léger et d'un petit pull en maille fine que j'ai profité du jardin ensoleillé, au sol recouvert d'une épaisse et moelleuse couche d'herbe verte.
Un cadre parfait pour passer sa journée à gambader sous un ciel radieux, profiter des dernières fleurs sur les arbres avant que des cerises apparaissent, et se laisser aller à la gourmandise visuelle d'une nature pleinement épanouie.
-
There's no doubt about it: spring is here!
I was wearing a light cotton dress and a loosely knit cardigan when I decided to go out and enjoy the sunny garden, its ground covered with a soft blanket of green grass.
It was the perfect setting for a day spent frolicking beneath a radiant sky, embracing the beauty of the last tree blossoms before the cherries appear, engulfed in the eye candy that is nature in full bloom.
-
-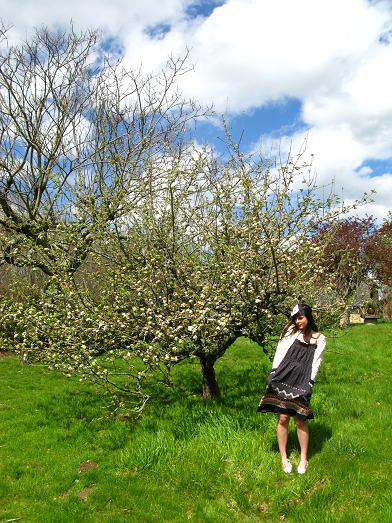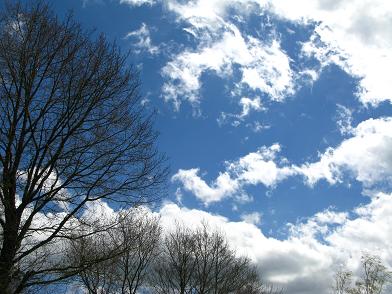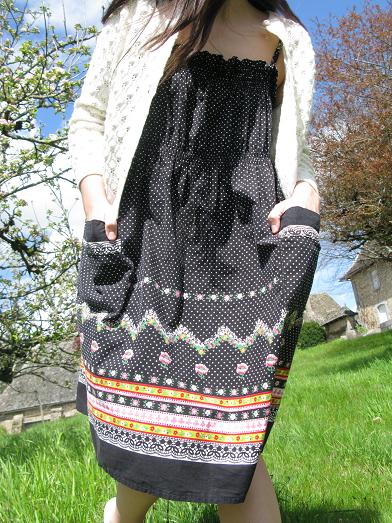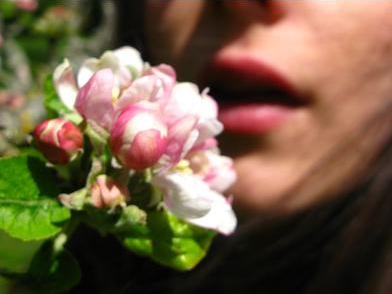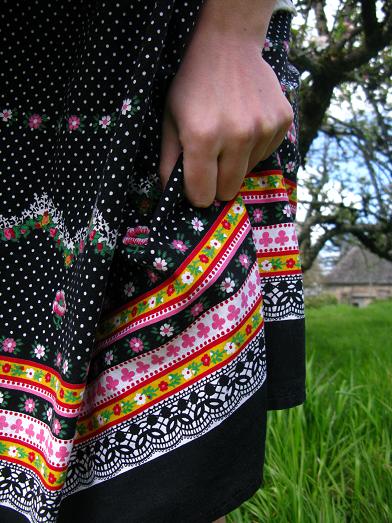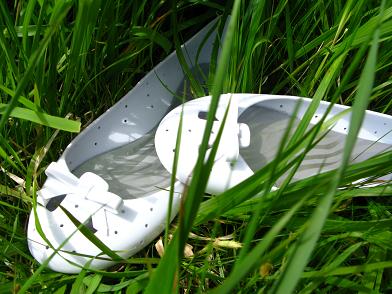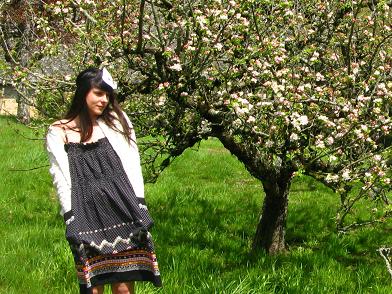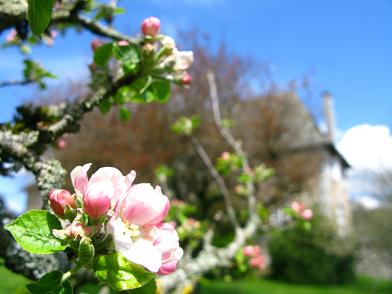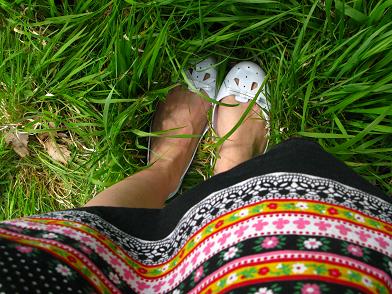 -
robe vintage
chaussures princesse tam tam
gilet vintage
-