Je n'ai pas pour habitude de créer un article simplement pour poster une vidéo, mais je pense que celle d'Erin Fetherston, qui collabore une nouvelle fois avec Ellen Von Unwerth, en vaut vraiment la peine.
Tout comme le précédent court métrage, Wendybird, la poésie et le rêve sont au rendez vous.
8 minutes de film mettant en scène Zooey Deschanel entouré de nymphes, le tout baignant dans une lumière poudré très hamiltonienne. Une ambiance des plus féérique, qui ne nous étonne pas venant de la créatrice, mais ne cesse de nous ravir !
[kml_flashembed movie="http://youtube.com/v/wtLUW8Sl--o" width="425" height="350" wmode="transparent" /]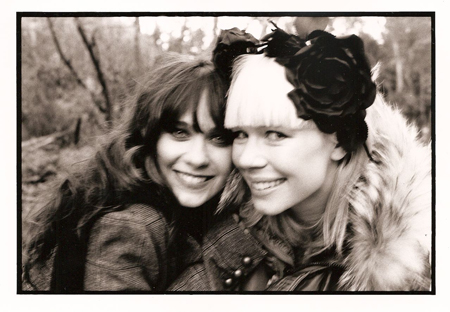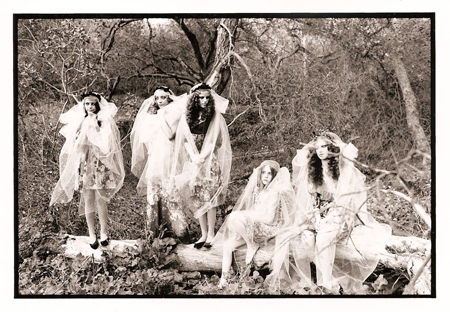 Sinon rien à voir, mais je tenais à faire part de ma déception concernant la tea gallery Mad Vicky's créé par Bianca Casady, une des sœurs du groupe Cocorosie. En arrivant rue Nicolet, le lieu à l'air tout simplement fermé, et la pièce que l'on aperçoit à travers la vitre dans l'obscurité me semble des plus hostile ( je ne vais pas dans les détails, mais le lit défait, le bordel environnant, les baskets qui trainent ainsi que les objets recouverts de sacs plastique devraient suffire a se donner une idée) . A en juger par ces quelques éléments de décoration, je pense que soit le lieu a fait (rapidement) faillite, soit il s'agit d'une galerie d'art extrêmement conceptuelle dans son genre. Moi qui m'attendais à prendre un thé dans un endroit cosy, me voila bien déçue, complètement à côté de la plaque, et soumise à redescendre de mon petit nuage…
Edit 00:10 : La mad vicky's tea gallery est bien ouverte, mais l'installation quelque peu particulière de ce mois ci, le "twin bed" de Bradley et Eliza Shaw m'a fait penser le contraire. Je crois qu'il va encore me falloir un peu de temps avant de m'habituer à l'art conceptuel…et surtout m'informer à l'avance du programme et des horaires.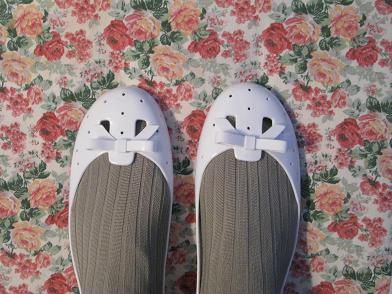 Princesse Tam Tam, une marque à priori plutôt de petites culottes.
C'est pourtant dans l'une des boutiques de cette enseigne que j'ai trouvé de ravissantes petites chaussures, toutes simples avec juste ce qu'il faut de détails pour rendre le modèle plein de charme.
Une certaine ressemblance avec le modèle jelly de Marc jacobs n'est sans doute pas fortuite… mais je peux tout de même dire que je préfère grandement celles que j'ai actuellement au bout des pieds.
***
When one thinks Princesse Tam Tam, one usually thinks lingerie.
Yet that's where I picked up these ravishing shoes; a simple yet charming number thanks to some subdued detail. Although they do bear a certain resemblance to the Marc Jacobs Jelly design, I must say that I greatly prefer the shoes that currently grace my feet.
Music: Acid House Kings – Sleeping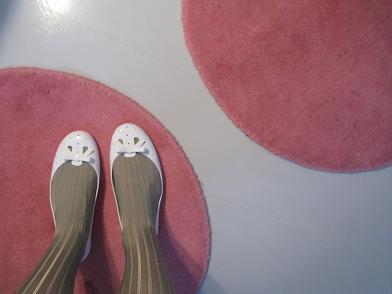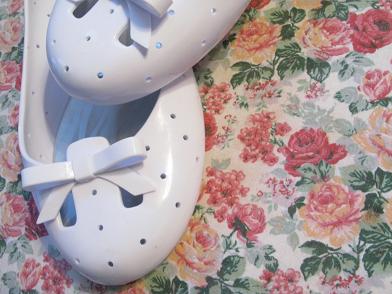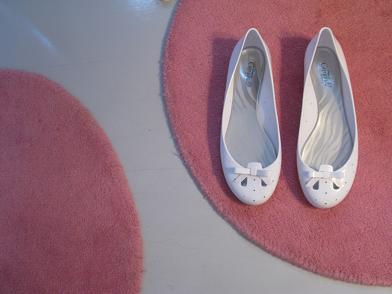 Ballerines chez princesse Tam Tam / Princesse Tam Tam ballet flats
Existe en blanc et en noir / available in white or black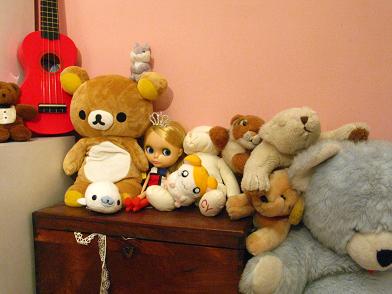 Lorsque je suis absente de chez moi, je suis persuadé que les objets qui s'y trouvent prennent vie.
Je retrouve parfois un collier ou un chaussure qui ont été déplacé.
Et si les peluches et poupées de ma chambre s'avéraient aussi coquettes que moi, et faisaient la fête quand je ne suis pas là ?
***
I am convinced that my belongings come alive when I'm away.
Sometimes I come home to find a misplaced necklace or shoe.
What if all of my plushies and dolls were as coquettish as me, and had parties when I was away?
Music: Wishbone – Architecture in Helsinki
Gérard le nounours met son public en transe avec son Ukulélé et ses lunettes cœur ramenés du Japon. Gerry the teddy wins over his audience with a ukulele and heart-shaped Japanese shades.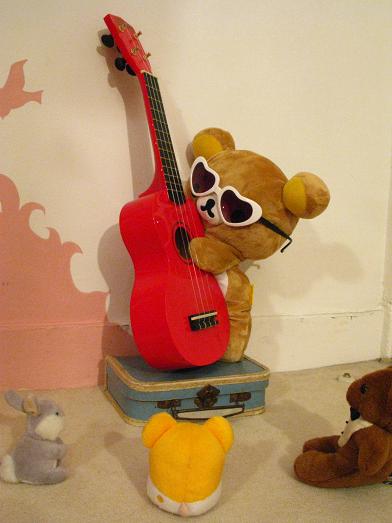 Blythe porte une couronne Claire's. Blythe in her Claire's tiara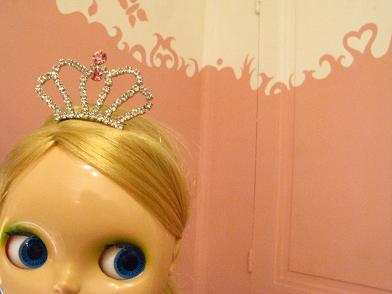 Lapinou m'a piqué ma bague acheté à Tokyo, et ne veux plus la lâcher. Bunnybear stole my Tokyo ring, and won't give it back.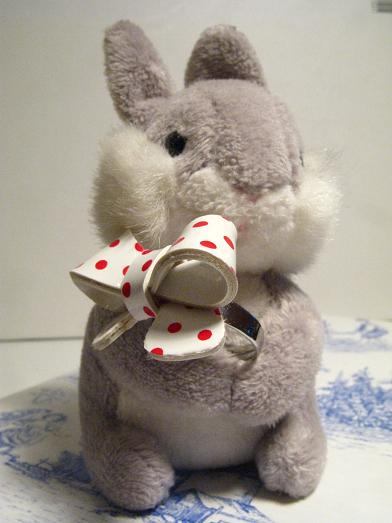 Ce chemisier h&m va encore mieux à nounours qu'a moi ! This H&M top looks even better on Teddy than it does on me!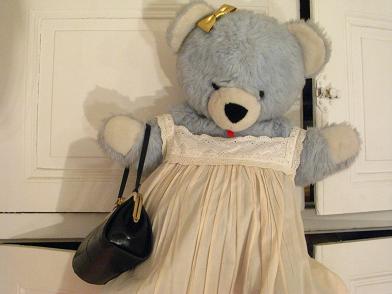 les trois inséparables ne quittent plus leurs accessoires préférés: une montre vintage, une broche vintage, et un collier cassette the french factory.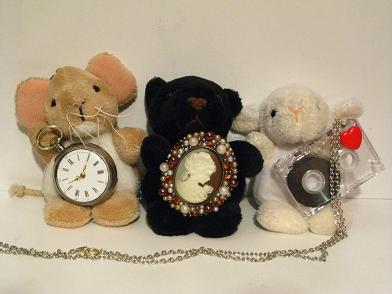 Rien de mieux qu'un appareil photo the french factory pour immortaliser tout ça ! There's nothing like than a French Factory camera to immortalize it all!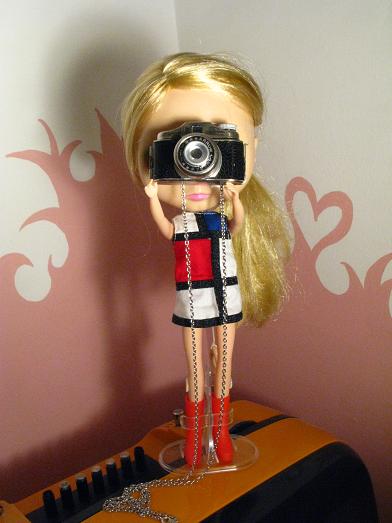 Tigrou aime le luxe, un collier de perles accompagné d'un bon petit thé. Tigger is posh; she loves her string of pearls and a nice cup of tea.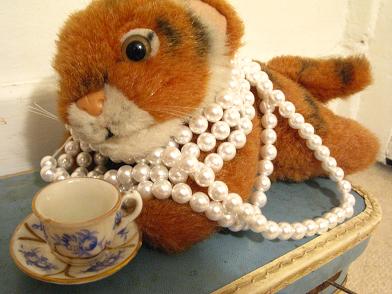 Whoufi se prend pour un super héros dans son vaisseau spatial au milieu de mes chaussures. Woofie thinks she's a superhero in a makeshift spaceship among my shoes.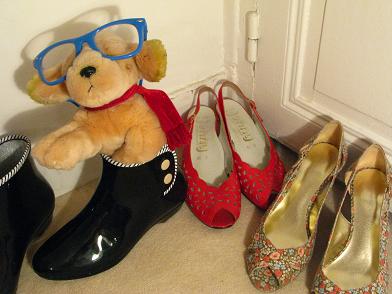 Bon c'est pas tout, mais dès que je reviens, il va falloir tout ranger ! I can't control what you do when I'm away, but you'd better put everything back before I get home!