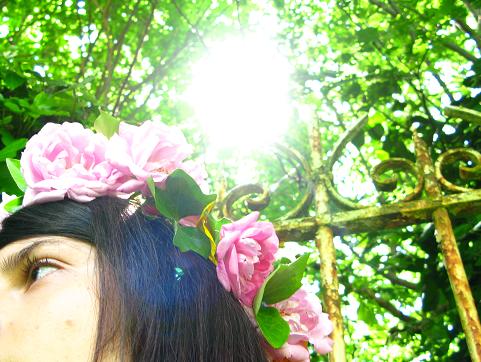 -
Certains coins de campagne française cachent bien souvent des lieux d'une beauté insoupçonnée, des écrins de verdure à l'état presque sauvage. C'est le cas d'un très bel endroit situé en Auvergne où je passe souvent quelques jours par mois.
Il n'y est pas rare de croiser au détour d'un chemin un cheval dans un près, ou d'impressionnantes cascades nichées au creux de la forêt.
Un décor comme figé dans le temps, semblable à un jardin d'éden, où l'on pourrait imaginer des nymphes vêtues de longues robes fluides et couronnes de fleurs, en harmonie avec la nature environnante.
-
Music: Françoise Hardy – Mon amie la rose
-
The French countryside is full of areas of unsuspected beauty; little corners of greenery that are verging on wild. Such is the case for a particular spot in Auvergne, where I often spend a few days a month.
There, it is not uncommon to encounter a horse walking across a meadow or impressive waterfalls gushing down a corner in the depths of the forest.
Immersed in such a setting, it is difficult not to feel frozen in time, as if in a Garden of Eden of sorts… Can't you just imagine a circle of nymphs dancing around in long flowing dresses with crowns made of flowers on top of their heads, in perfect harmony with the nature around them?
-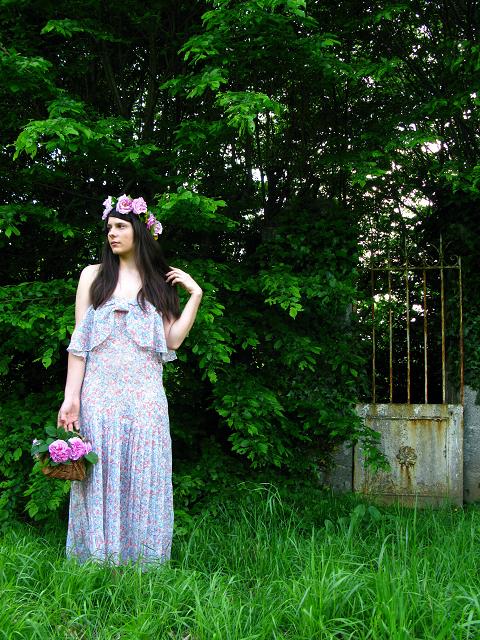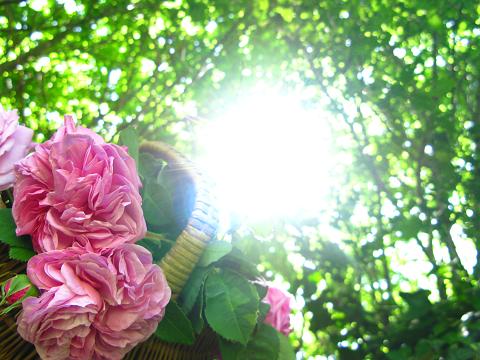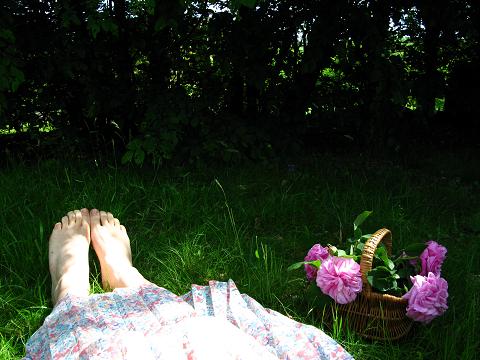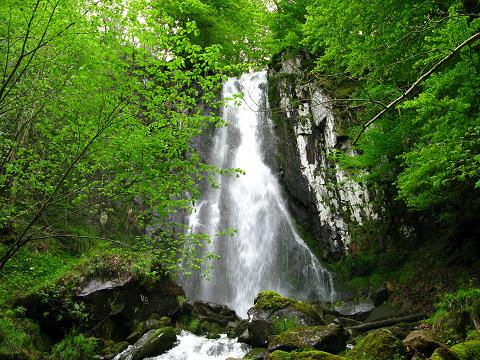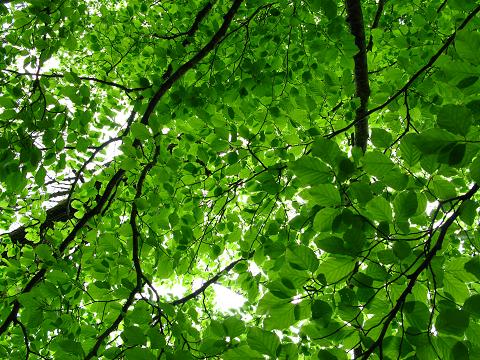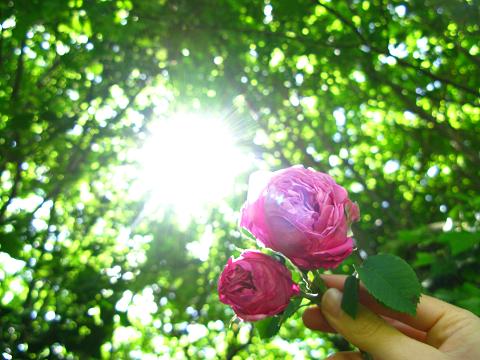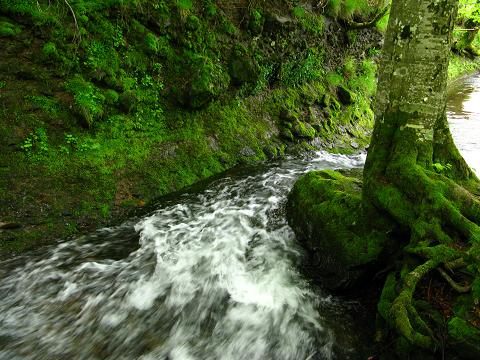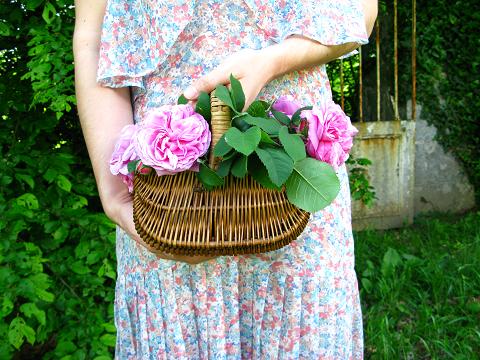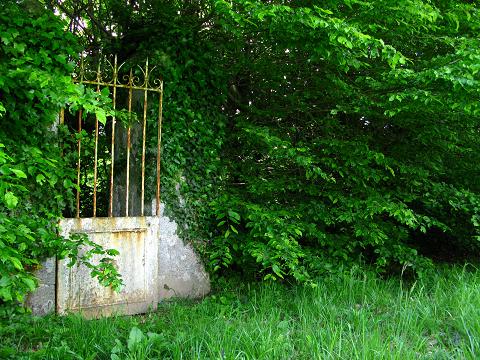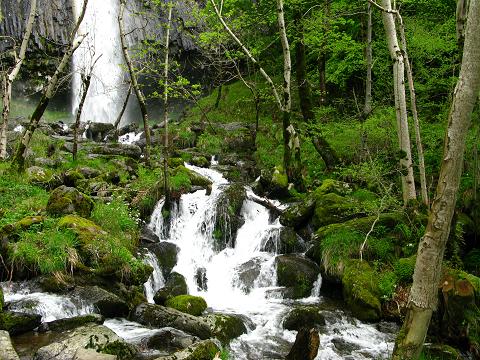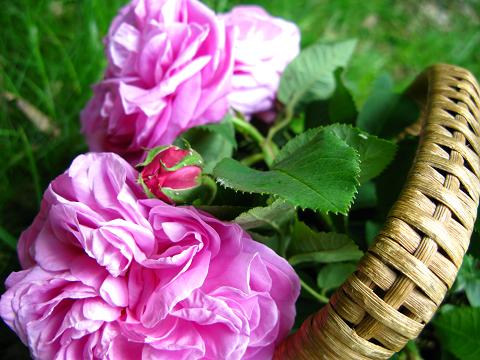 -
Robe ( Nikita jade ) portée façon bustier et panier tressé vintage
Couronne de roses et lauriers fabriquée moi même
-
Photos prises en Auvergne
-
Une brise marine souffle dans ma penderie et des pétales de rose s'envolent lorsque j'en ouvre la porte.
C'est sans doute dû à mes envies du moment, trois styles vestimentaire que je m'imagine déjà porter cet été:
Le look marin pour voguer sur un voilier, celui d'un blanc immaculé pour pic niquer à la campagne, ou encore celui composé d'étoffes aux imprimés fleuris pour se balader à travers champs.
Après un plongeon dans les remous mouvementés de ma penderie, croulant sous une végétation dense de vêtements divers et variés, voici les pièces qui m'ont paru être en accord avec les trois différents thèmes. Il n'y a finalement plus qu'a choisir au grès de son humeur et de ses envies.
-
Music: Beirut – Postcards from Italy
-
A sea breeze has been blowing through my wardrobe and rose petals have been flying out every time I open the closet door.
This probably has something to do with my current favourites, most of which pertain to three clothing styles that I will probably be wearing all summer long:
The sailor-look for sailing upstream, immaculate white for countryside picnics, and flower print materials for strolling through the fields. After diving headfirst into my closet and rummaging through a grass heap full of all sorts of clothes, here are the pieces that I feel best represent each of the three themes… Leaving the rest up to mood and desire.
-
Fleur des champs // Wildflowers
La grande tendance de cet été, et personne ne l'aura manqué, c'est l'imprimé fleuri: folk, hippie, rétro ou liberty, ma préférence va aux motifs style toile de jouy, esprit année 50 ou papier peint anglais.
Undeniably, one of this year's major trends is the flower print: folk, hippie, retro, or Liberty; I have a particular soft spot for 1950s toile de Jouy patterns and English wallpaper.
-
_Robe vintage, ( salvage life )_________Jupe fabriquée moi même
vintage dress_____________________Self made skirt

-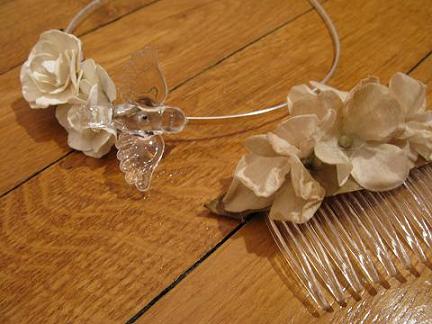 Serre tête Buddug, et broche Liebe marlene vintage
Buddug Headband, Libemarlene Vintage broach
-
___Robe vintage ( nikita jade )________________Robe h&m__
_______________Vintage dress_____________________h&m dress________
-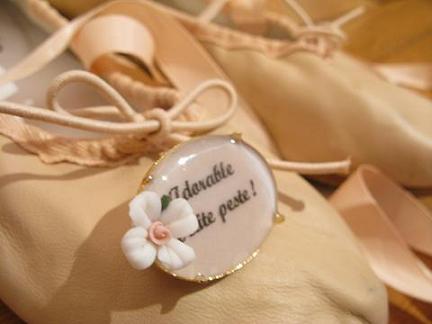 broche the french Factory
the french factory broach
-
Petit matelot // little sailor

Veste de capitaine, marinière de petit mousse, chaussure de pinup et pantalon à pont se déclinent dans des tons bleu marine, blanc et rouge pour des looks rafraichissants faisant rêver de bord de mer.
Captain's jacket, striped sailor shirt, pinup shoes, fall front trousers; all in hues of red, white, and navy blue for a refreshing look to make you feel like you're always by the seaside.
-
Robe ferever 21__________________veste Topshop__
Forever 21 dress_________________Topshop blazer___
-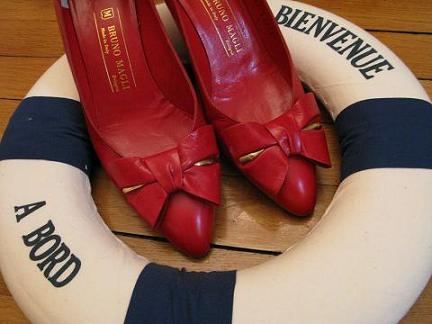 Chaussures vintage, Vintage shoes
-
Pantalon vintage_________________Marinière vintage
_Vintage trousers_______________vintage sailor shirt
-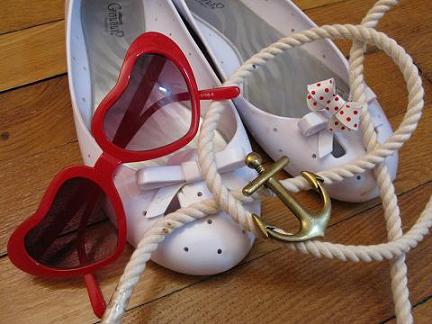 Lunettes et bague nœud ramenées du japon, chaussures princesse tam tam, broche ancre topshop
Sunglasses and bow ring brought back from Japan, Princesse Tam Tam shoes, Topshop broach and anchor.
-
Le beau linge // nice clothes

Du blanc, de la dentelle, des volumes amples dans de jolis cotons, le tout accessoirisé de sacs et paniers tressés, montre et bottines, pour une allure hanging rockienne, pure et romantique à souhait.
Some white, some lace, ample amounts of pretty cotton fabrics accessorized with bags, braided baskets, a watch and some ankle boots for a picnic at hanging rock look; pure and romantic to the heart's content.
-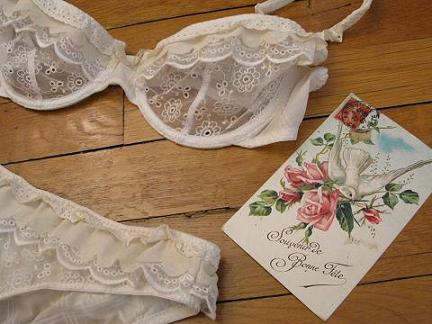 Soutien gorge et culotte Princesse Tam Tam, carte postale vintage
Princesse Tam Tam bra and panty set, vintage postcard

-
débardeur vintage____________________jupe zara____
Vintage camisole____________________Zara skirt____
-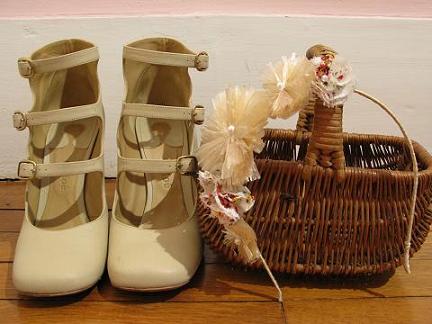 chaussures Chloé, serre tête fabriqué moi même, panier vintage
Chloé shoes, Self made headband, Vintage basket
-
Robe vintage ( salvage life )____________chemisier Topshop____
_Vintage dress_____________________topshop shirt_
-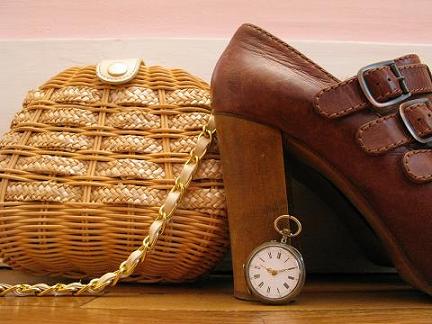 Besace tressé h&m, montre vintage ( puces de Vanves ), chaussures Chloé
H&M braided beggar's bag, Vintage watch ( puces de vanves ), Chloé shoes
-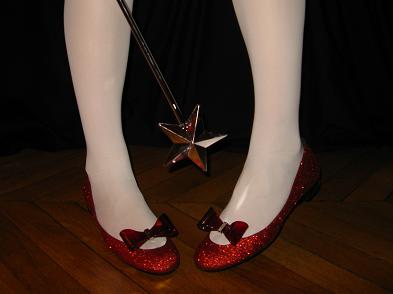 -
L'histoire du magicien d'Oz m'a toujours captivée.
Dans ce film, les scintillants souliers rouges qu'arborait Dorothy m'avaient immédiatement tapé dans l'œil, et très vite je me suis lancée à la recherche, non pas du palais d'émeraudes, mais de ces fameuses chaussures.
Tout comme la route de briques jaunes, ma quête pour les souliers de rubis s'est révélée sinueuse et semée d'embûches, jusqu'à ce qu'une bonne fée me rappelle l'existence d'un certain magicien.
Et c'est ainsi que les ayant désormais aux pieds, bien malgré moi je ne peux m'empêcher de fermer les yeux, taper mes talons l'un contre l'autre et murmurer "ravie de vous avoir enfin trouvés".
-
Music: The Lullabye League
-
I've always been fascinated with the Wizard of Oz.
In the movie, Dorothy's shimmering red shoes immediately caught my eye, compelling me to embark upon on a search not for The Emerald City, but for the ruby slippers themselves.
Just like the yellow brick road was paved with obstacles, my quest for these shoes was far from easy; at least until a good witch reminded that a certain wizard might be able to lend a hand… And now that I've got them on my feet, I can't help but close my eyes, tap my heels together, and say, "welcome home".
-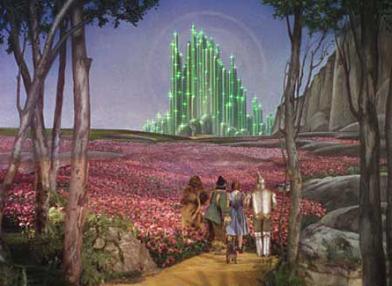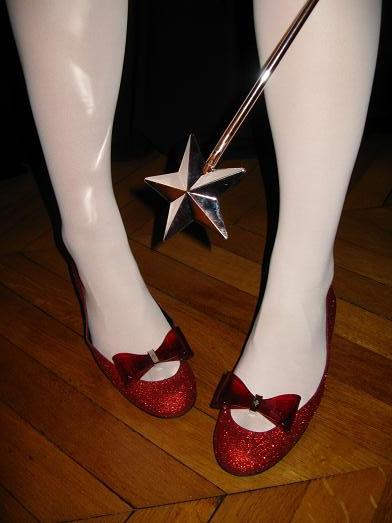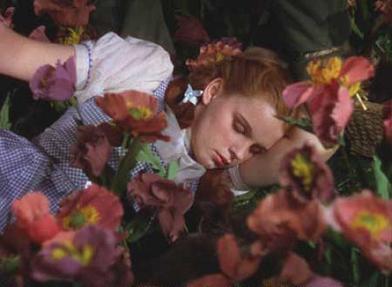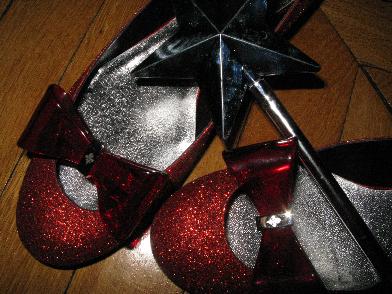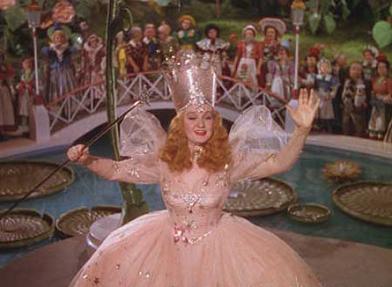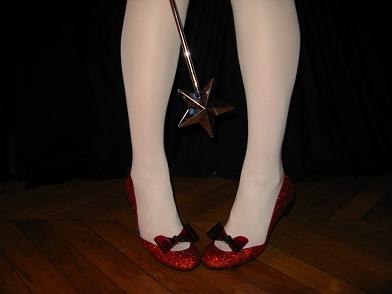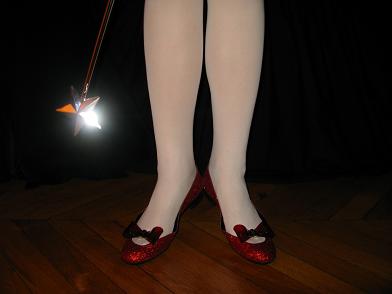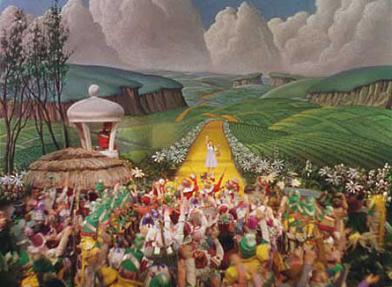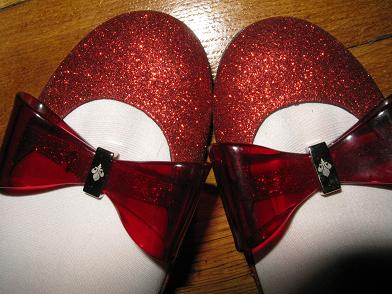 -
Ballerines Patrick Cox
-