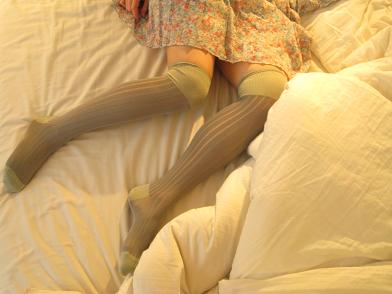 _
Du thé à la rose, une cuisinette aux couleurs acidulées, quelques films de Fred Astaire, des robes rayées et fleuries, des macarons au gout fruité…tous les bons ingrédients pour passer une agréable après midi avec une très bonne amie, parler chiffon, cinéma, et pourquoi pas sauter sur le lit !
_
Music: Marine Girls: Honey
_
rose tea, a candy coloured kitchenette, a few Fred Astaire movies, a striped dress and a flower print one, some fruity macarons…Everything needed for spending a lovely afternoon with a very good friend; talking about clothes and movies and jumping on the bed!
_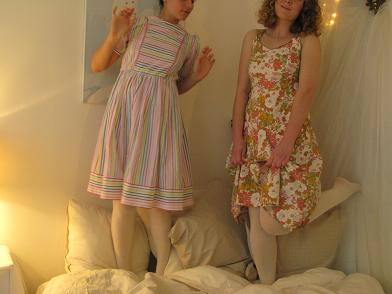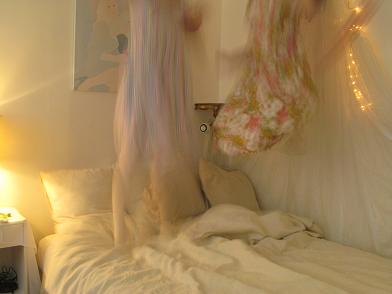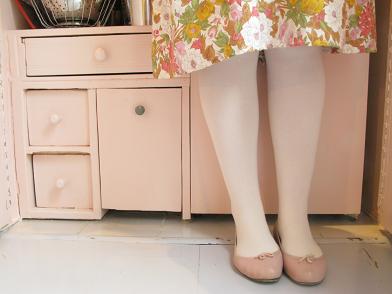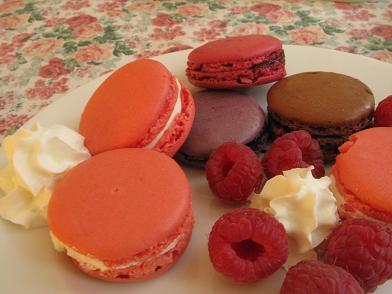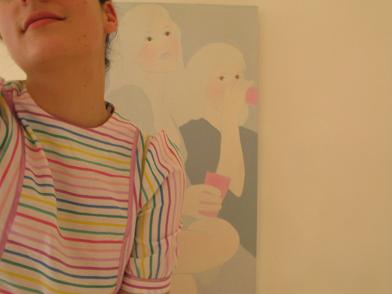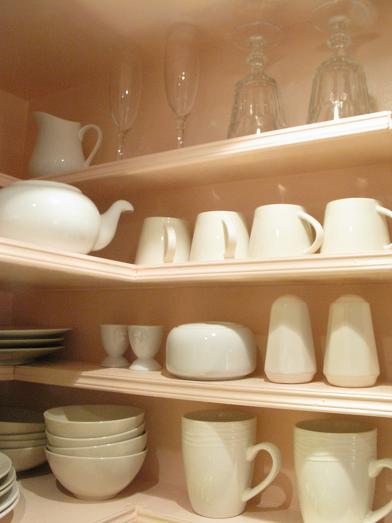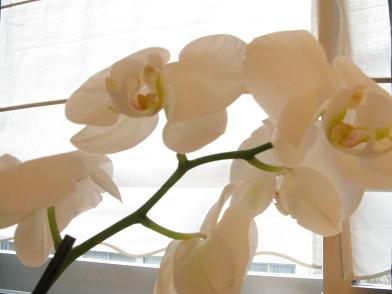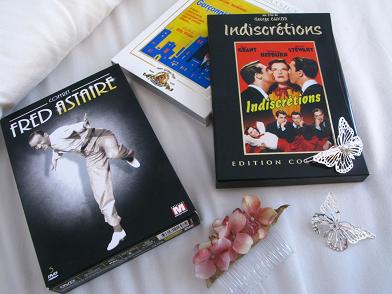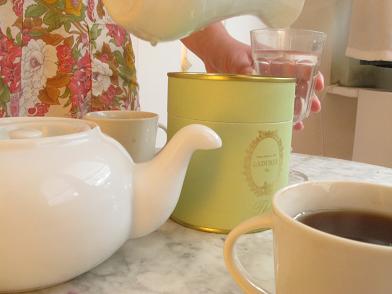 Lila: robe vintage, ballerines roses repetto
Alix: robe vintage, chaussettes vert d'eau h&m
-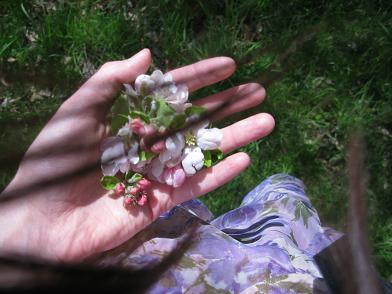 Les friperies Parisiennes me lassent un peu ces temps-ci.
Mis à part quelques boutiques que j'ai découvertes récemment, les enseignes comme Free'p'star me semblent d'un ennui mortel. Je me suis donc concentrée sur les boutiques vintage en ligne. Il y en existe un bon nombre sur Ebay bien sûr, mais également sur Etsy où la qualité et la présentation des vêtements me semblent nettement supérieures.
J'ai ainsi déniché une très belle robe datant des années 50 chez Salvage life. J'aime beaucoup son imprimé rétro, les découpes du buste, ainsi que les plissés à la taille. Paraissant un peu trop longue et pas assez cintrée lorsque je l'ai reçue, quelques modifications à la machine à coudre ont suffi à lui insuffler une nouvelle vie. La preuve en est qu'en s'en donnant la peine, redonner un coup de neuf à un vêtement ancien est tout à fait possible.
Music: The Hollis – The Air That I Breathe
I haven't been too impressed with Paris second hand clothing shops lately. Other than a few stores that I've recently discovered, signs such as Free'p'star have been boring me to death. As a result, I've turned to online vintage clothing shops. Obviously, there are a bunch of these on Ebay, but there's also Etsy, where quality and layout are blatantly superior. That's where I got this very beautiful 1950s dress from Salvage Life. I love the retro print, its bust darts, and its pleated waist. While it seemed a little bit long and misshapen at first, I was able to breathe new life into it thanks to my sewing machine. This just goes to show that with a little effort, it is possible to make an old piece of clothing look new again.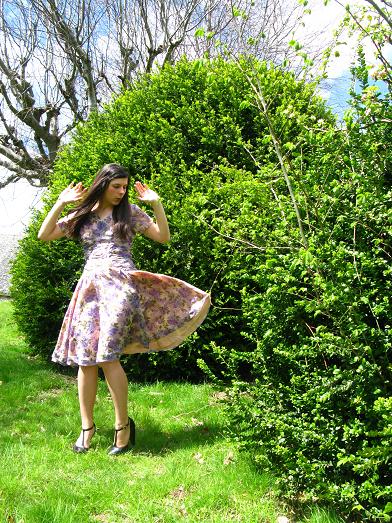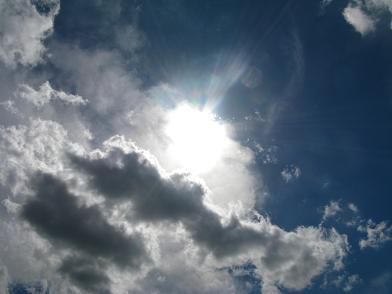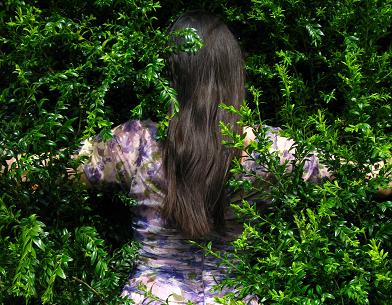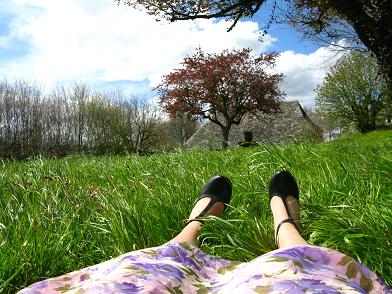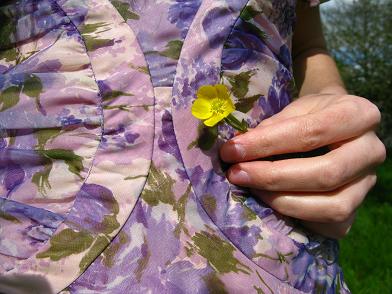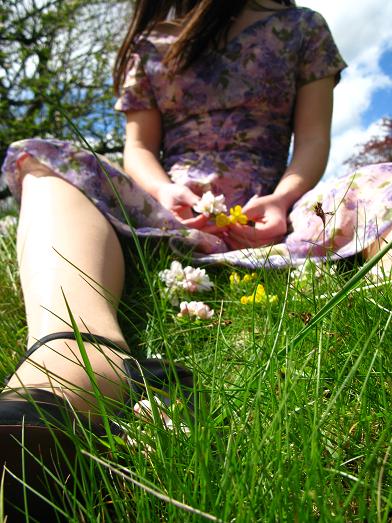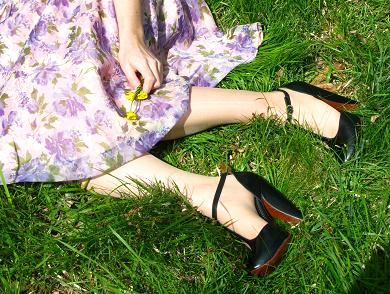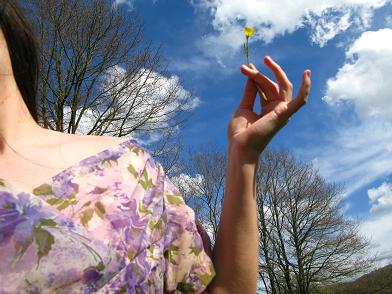 robe vintage / vintage dress
chaussures Marc Jacobs /Marc Jacobs heels
photos prises en Auvergne / Pictures taken in Auvergne
* photo 8 inspiré par Anna Gaskell_______Petit apparté: Balibulle est de retour !

Après Peau d'âne, la nouvelle héroïne que j'ai choisi de relooker n'a rien à voir avec une princesse de conte de fée.
Il s'agit d'un personnage créé par Luc besson dans le film "Léon" qui fait d'ailleurs partie de l'un de mes films préféré.
j'ai du voir ce film vers mes 10 ans je crois, et le personnage de Mathilda, avec un age presque similaire au mien, m'avait énormément marqué. J'adorais sa démarche, ses collants kitchs, son collier de chien, ses bottes et surtout sa coupe !
près de 12 ans plus tard, elle me plait toujours autant, ( j'ai d'ailleurs fini par adopter sa coiffure il y a 3 ans ) et c'est pour cela que j'ai choisi de la mettre à l'honneur aujourd'hui.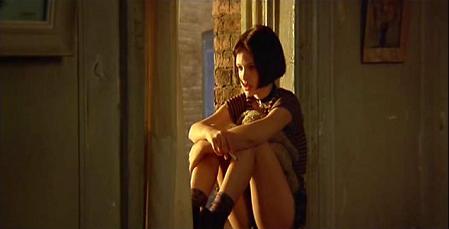 Today's heroine has nothing to do with princesses or fairy tale characters.
No, today's character was created by Luc Besson in the movie "Léon", which happens to be a favourite of mine.
I think I must have seen this movie when I was about 10, and I remember being particularly fond of Mathilda, who was pretty much the same age as me. I loved her demeanor, her kitschy tights, her dog collar, her boots, and especially her haircut! Almost 12 years later, I still love her (I even went so far as to get her haircut 3 years ago), and that's why I decided to create this ode to her today.
[kml_flashembed movie="http://youtube.com/v/fOjfp2oE4MA" width="212" height="175" wmode="transparent" /]
Petit retour sur image de notre héroïne: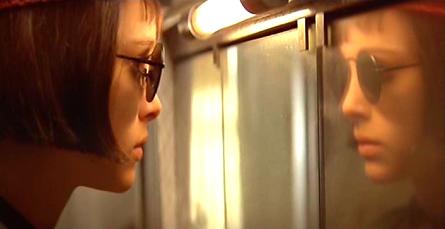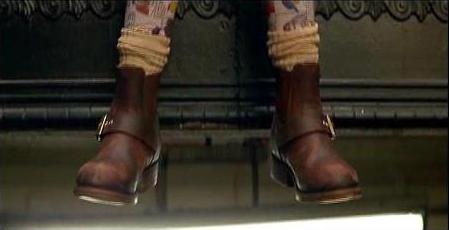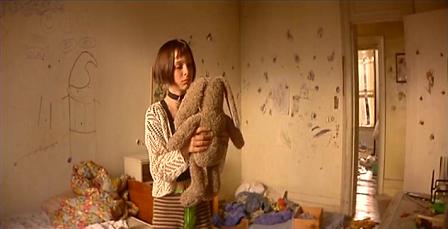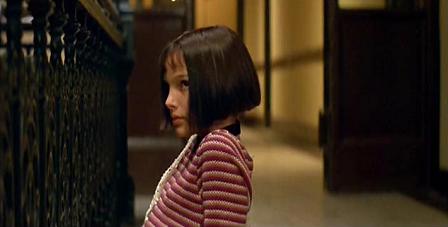 Pour recréer le look de Mathilda, voici les différents vêtements et accessoires dénichés sur des sites de vente en ligne:
To get Mathilda's look, here are some clothes and accessories that I found on various online shopping sites.
tout d'abord, les lunettes façon John Lennon, Pour rester incognito même avec un sac rempli d'armes en tout genre. First of all, these John Lennon type glasses help to go unnoticed, even when you are carrying a bag full of weapons.
lunettes sur anysunglasses.com
Un petit pull rayé, tout simple. Mathilda assemble des pièces assez quelconques, en obtenant toujours un résultat original. This striped shirt is simple, but Mathilda always manages to wind up with an original look by mixing and matching various pieces.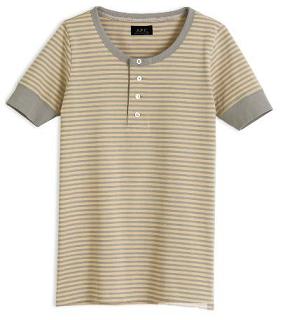 Tee shirt a.p.c
Un short, très court, comme la plupart des autres vêtements de sa garde robe. These shorts are very short indeed; not unlike much of her wardrobe.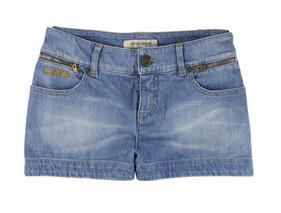 Short see by Chloé
plutôt que porter un vrai gun dans sa poche, autant en porter en bijoux? Why carry a pistol when you can wear one in jewellery form?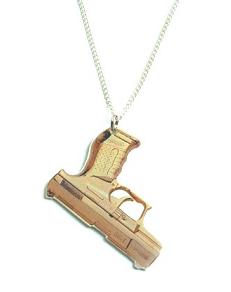 collier pistolet etsy
jLes boots de motard, plus chic et luxe, avec de beaux talons. These biker boots are chic and luxurious, with beautiful heels.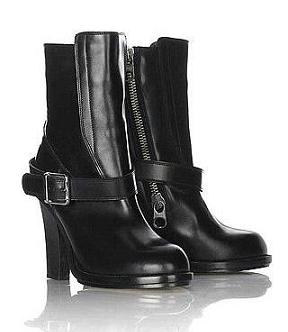 Chaussures Chloé
Et la peluche, qui nous rappelle qu'avant tout, Mathilda est une enfant !( Je sais qu'en vrai c'est un lapin, mais on ne peut pas tout avoir) . And finally, this stuffed toy reminds us that Mathilda is first and foremost, a child! (I realised this should be a bunny, but you can't have it all.)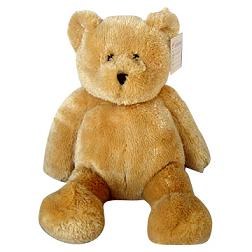 Dans la série des relooking des héroïnes de notre enfance: Peau d'âne, Alice au pays des merveilles, maria dans la mélodie du bonheur, mary poppins, Dorothy dans la magicien d'Oz.