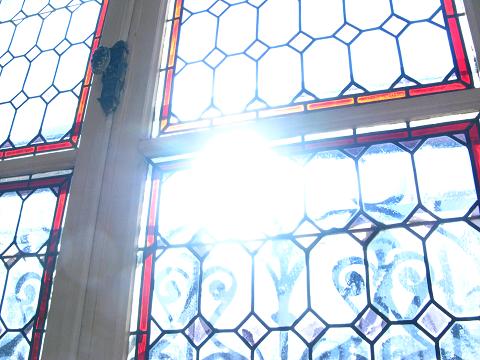 S'il y a une chose que j'apprécie beaucoup sur la blogoshère, c'est la solidarité entre blogeuses et la capacité de se donner des petits coups de pouce ou tout simplement de partager de bonnes adresses.
J'ai ainsi, grâce à Ilda ( que j'aurais mis en lien si son blog n'avait pas subitement disparu!) découvert il y a peu un petit blog, proposant de manière simple quelques vêtements vintages et autres robes issues de marques de prêt à porter connues.
Je me suis laissé tenter par une petite robe blanche, qui, dû à mon impatience et mon envie de tenue printanière, n'attendra pas les beaux jours pour sortir son coton léger dehors.
Afin de ne pas afficher un look trop décalé en ce mois de février encore frisquet, je l'ai associé à de simples collants noirs, un béret rouge et des escarpins du même ton. De quoi réchauffer le tout, et surtout garder la santé!
***
The thing I like most about blogging is the solidarity between bloggers and our ability to help each other out, even when this is reduced to simply sharing a few good links. Thanks to Ilda (whose blog I would have linked to if it hadn't suddenly disappeared!), I recently discovered les jolies robes, which showcases simple vintage pieces as well as popular brand ready-to-wear dresses.
I treated myself to a white mini dress, and despite its light cotton fabric, I just couldn't wait for spring to wear it out of the house.
For fear of being too dressed-down for frigid February, I paired it with simple black tights, a red beret, and matching red shoes… To keep warm, and to keep from getting sick!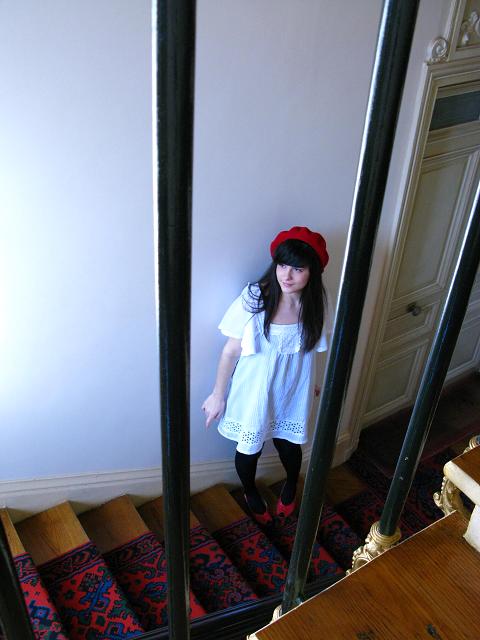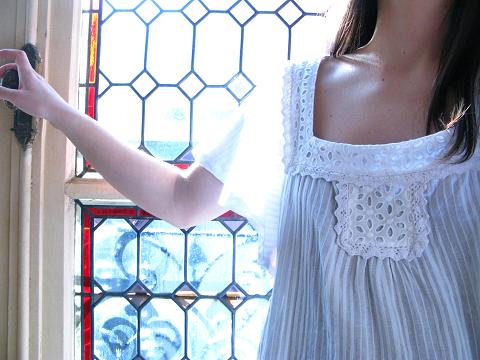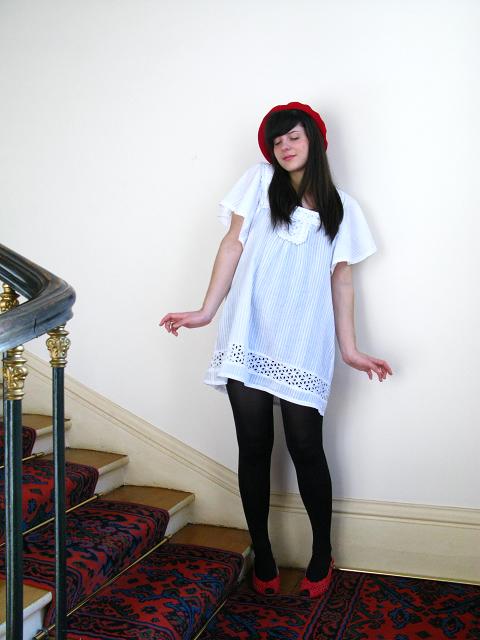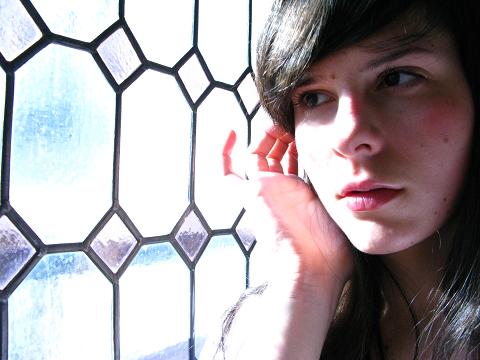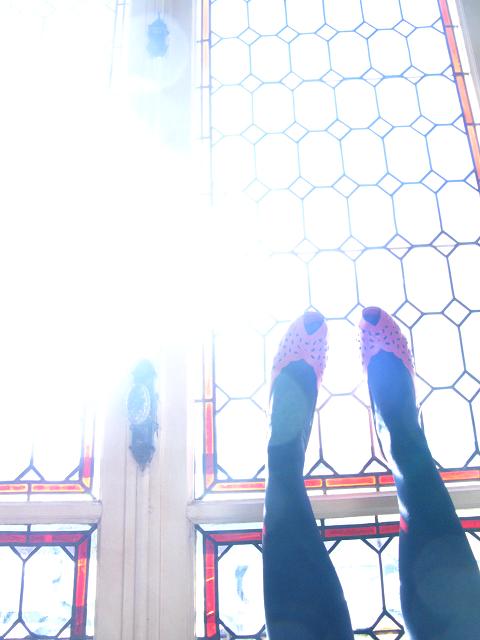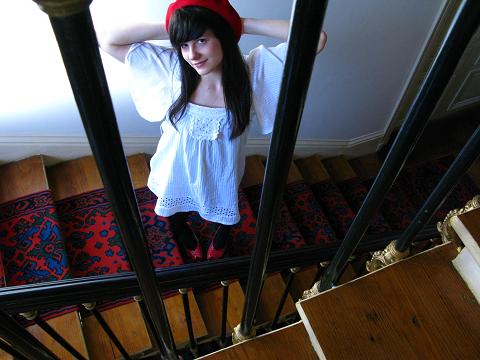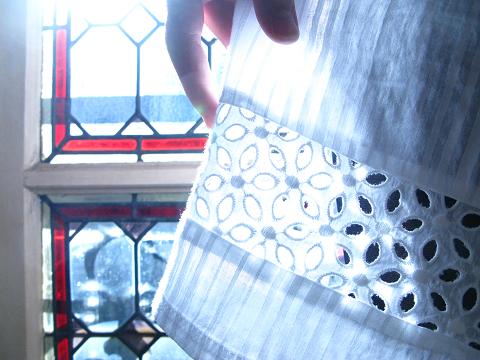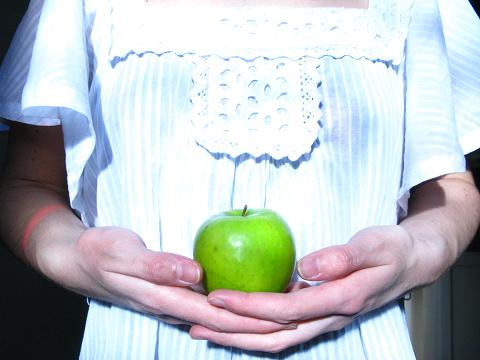 Robe vintage trouvé chez les jolies robes
béret printemps
Chaussures vintage
Révélé Par Géraldine ce matin, je poste ce bref article pour vous informer à mon tour que dans le supplément mode du figaro d'aujourd'hui figure un substantiel article sur les blogs de mode.

Si je vous en parle ce n'est pas seulement parce que je figure dedans, mais parce que je juge que c'est un papier intéressant de part la richesse de ses informations, des photos en couleurs, et surtout de la recherche approfondie loin des clichés et des idées reçues que d'autres journalistes peuvent avoir sur la blogosphère.
figurent dans l'article : Café mode, Garance, the sartorialist, punky b, tendances de mode, baisers volés, fashion eye, nizzagirl… et moi même.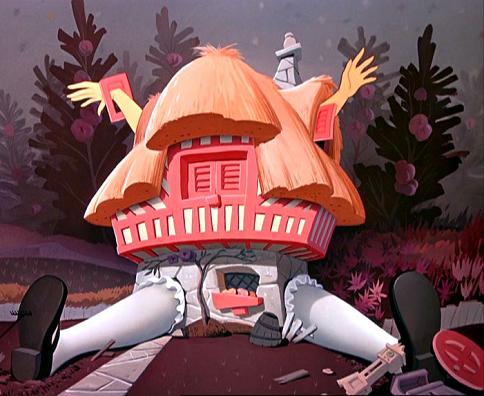 Je vous avais demandé dans un précédent article de la catégorie "relookage des héroïnes de notre enfance" quel personnage vous souhaiteriez se voir refaire sa penderie.
Mille merci pour avoir été si nombreuses à donner vos idées, parmi vos propositions, j'ai retenu pour cette fois ci le personnage d'Alice au pays des merveilles.
Celle ci inaugure donc les héroïnes de dessin animé, et dans un sens, on ne pouvait pas rêver mieux!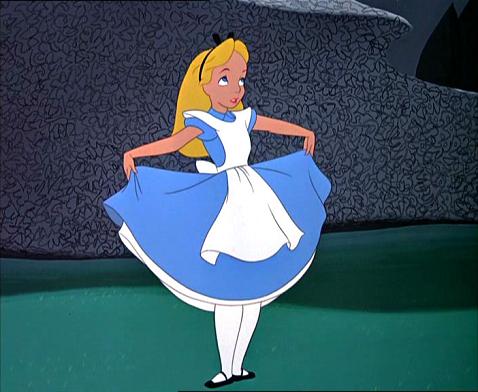 Une robe bleue, un tablier blanc, des petites babies blanches, un nœud emblématique dans les cheveux , le look d'Alice est connu de tous, mais à besoin néanmoins d'être réactualisé et rafraichi de manière à être plus en harmonie avec l'air du temps
[kml_flashembed movie="http://www.youtube.com/v/lWUG1YFrffE" width="425" height="350" wmode="transparent" /]
Voici donc les vêtements et accessoires que j'ai choisi afin de recréer une Alice version 2008: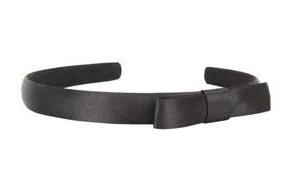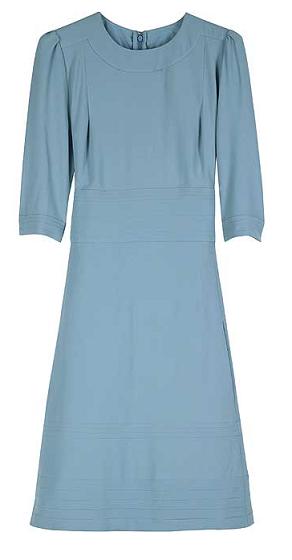 Robe Chloé sur net a porter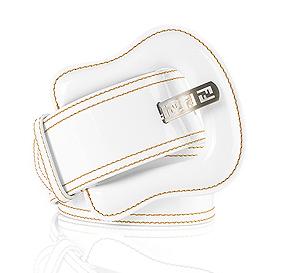 Ceinture Fendi sur net a porter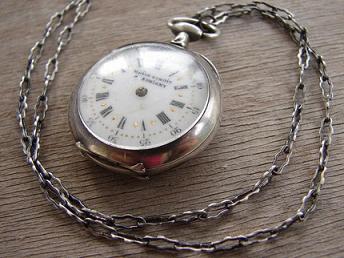 Montre vintage sur etsy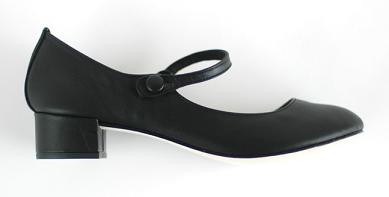 chaussures Repetto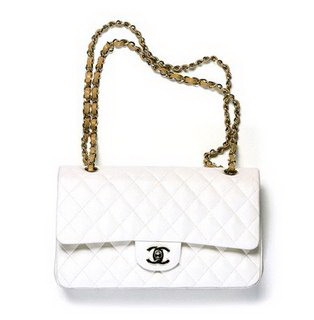 Sac Chanel
précédemment dans les relooking des héroïnes de notre enfance:
- Fraulein Maria dans la mélodie du bonheur
- Dorothy dans le magicien d'oz
Photos du dessin animé: alice-in-wonderland.net