Comme vous me l'avez demandé, je vais essayer de réaliser des dessins plus souvent. Mais je dois avouer que je ne le fait pas sans ressentir une certaine gêne, car niveau belles illustrations, on est déjà très bien servi.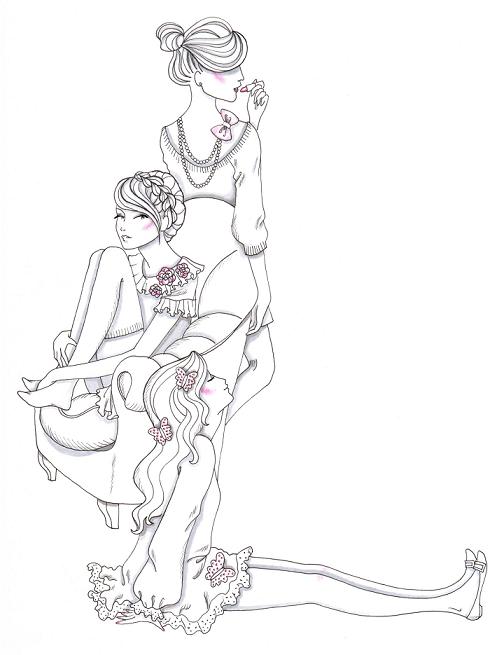 Bien au chaud dans le creux d'un fauteuil moelleux, je me peins les ongles d'un air studieux et concentré.
C'est un de ces petits plaisirs que je m'offre dans la soirée, sorte de récompense pour décompresser après une journée bien remplie.
C'est d'ailleurs dans ces moments là que je réalise à quel point être une fille, et bien c'est pas mal du tout.
Cette introduction peut sembler faire l'éloge de la superficialité dans toute sa splendeur, mais que nenni. L'idée n'est pas de s'engluer dans tous ces préjugés vaseux si répandus, mais plutôt de faire une liste, nommer toutes ces petites choses si agréables et "tellement fille" dont on peut, en tant que créatures gracieuses, avoir le plaisir de profiter.
Ces jours ci, il me semble d'ailleurs avoir atteint le summum de mon attirance pour les choses "très filles" comme les jupes fleuries, les ballerines fines et les cheveux lâchés en cascade sur les épaules.
Je me rend également compte que j'assume tout cela beaucoup plus qu'avant.
Passer une heure dans la salle de bain à se bichonner, aligner soigneusement ses chemisiers dans la penderie ou encore mettre et remettre ses chaussures à n'en plus finir, voila le genre d'activités que je me surprend à faire en plein samedi matin, sans culpabiliser le moins du monde.
Et puis il y a les robes aussi, le rose que l'on s'applique sur le bombé de la joue, la démarche au léger déhanché qui plait tant aux hommes…
Enfin toutes ces choses qui font le charme des donzelles, des nanas, des meufs, des demoiselles !
__________________________*******************
I won't be doing a complete traduction this time, but at least I can explain what this article is about: I'm talking about everything so nice about being a girl. Dresses, shoes, staying a long time in the bathroom…you'r certainly not a total stranger about these things, am I wrong ?
__________________________*******************
Et avant que j'oublie, je suis dans BUST Magazine ce mois ci, première publication dans un magazine étranger, ça fait plaisir !
Article réalisé d'ailleurs par Siri, auteur d'un blog que j'adore.
Certaines savent déjà à quel point j'ai horreur des tags.
Mais je m'exécute tout de même au questionnaire des manies, ou petites choses que je qualifierais de honteuses.
Vu le nombre de fois que j'avais été tagguée, je n'ai pas pu y échapper! ( Diane, la fée, Zess, zoé macaron, la môme de nyc, Amylee …et j'en oublie ! )
Pour changer, j'ai décidé d'y répondre en illustrations. C'est plus amusant, et cela permet au moins d'entretenir un peu mon coup de crayon, sachant que j'ai tendance à fuir la feuille blanche ces derniers temps !
***
Many bloggers asked me to do the Habit / mania questionnaire. So here it is, but with a difference. Instead of only words, I chose to do it with illustrations. I think it's funny, and has the advantage to make me practice my drawing skills.

I'm really bad in mathematics // I like to sleep, way too much! // My favorite food is salad, I've certainly been a rabbit in another life // I'm a bit attracted by shoes // I like to make strange mixes with condiments // I'm pretty sure I've been the ugliest baby on earth !
Ouais, ouais, comme si TOI, tu n'avais rien à cacher !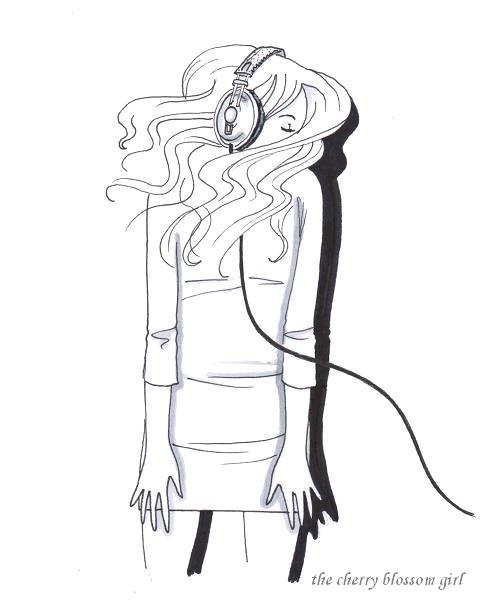 Du matin jusqu'au soir, que ce soit chez moi, dans le métro ou au supermarché, la musique est toujours là pour m'accompagner.
Cela commence avec Air et Au revoir Simone au réveil, puis Cat stevens et arcade fire au petit déj', j'enchaîne ensuite avec daft punk et the divine comedy dans le métro, mon déjeuner prend un touche very british avec the beatles, the turtles et the zombies en fond sonore, l'après midi ne se fait pas sans Belle & Sebastian,The Radio Dept, Architecture in Helsinki, Andrew Bird, Coco Rosie et David Bowie. Confortablement installée devant mon ordi vers 19h, Itunes tourne the velvet underground, Devendra Banhart, keren Ann, Kate bush, Björk et Patrick Watson en boucle. Le ronronnement du micro-onde de la cuisine accompagne les douces voix des marine girls pour le diner. Puis quand vient le moment de se coucher, rien de tel que Mozart et Gabriel Fauré pour s'endormir en toute tranquillité.
La musique c'est une sorte de drogue finalement. Là où certains se shootent à la nicotine ou à la caféine, de mon côté, j'ingurgite autant de notes que mes oreilles peuvent supporter. Celles-ci font alors office d'entonnoirs et avalent les mélodies avec un appétit féroce et immodéré.
Oui, vraiment, la musique ne me quitte pour ainsi dire jamais.
Enfermées, compactées dans un joli boitier blanc, mes chansons préférées rendent les endroits inconnus où je me rend un peu plus familiers et réconfortants.
Afin d'en profiter un maximum, j'ai donc largué les petit écouteurs de merde, et ai opté pour une solution de taille…et de poids aussi.
Un casque: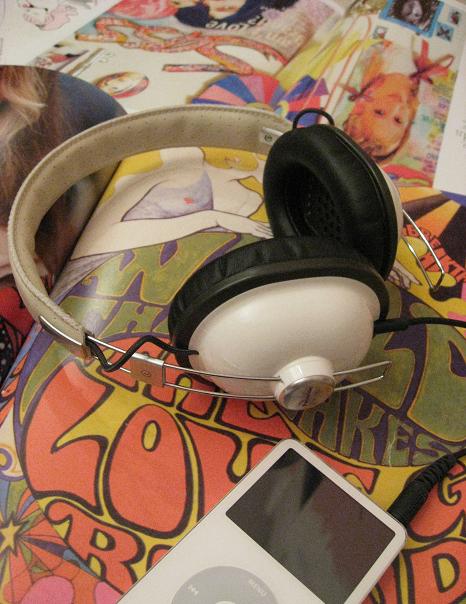 J'ai posé mon dévolu sur celui ci, un look rétro comme j'aime, une isolation excellente (surtout pour couvrir les sons désagréables dans le métro), et en plus, par le plus grand des hasards ( mon œil ) il s'accorde parfaitement avec mon "hypod".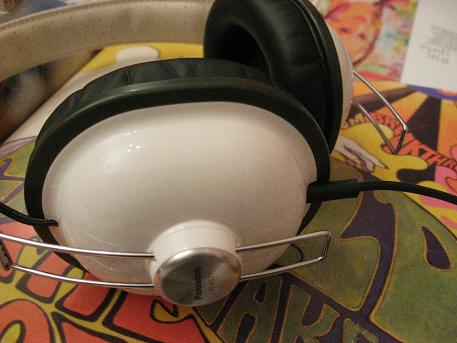 Casque Panasonic
Je pense qu'il n'y a pas de meilleure opportunité que cet article pour vous demander quels artistes vous écoutez, mes oreilles sont avides de nouvelles sonorités, et de groupes intéressants à découvrir !
*Edit 16h15: un grand merci pour toutes vos réponses ! Parmis elles beaucoup de perles, des groupes méritant vraiment un écoute attentive si vous ne les connaissez pas déjà: Peace Orchestra, Kruder Dorfmeister, Sebastien Schuller, Patrick Wolf, Shugo Tokumaru, Shiina Ringo, Stereo Total, Klaxons, Hot chip, Readymade FC et the cramps, Alela Diane, The moldy Peaches, Cat power et Joni Mitchell, Electrelane, Bright Eyes, Death Cab for Cutie, Moriarty, Al Green mr JAmes, Erykah Badu Floetry, Yeasayer, Radiohead, Air, Rem, Cibelle, Morelembaum&Sakamoto, Belle et Sebastian, Coldplay, Smoke City, Elisa(chanteuse italienne), Sharko, Girls in Hawaii, The Do, Dorian Grey (Keep's Smiling), Pauline Croze, Tender Forever, George D'Alessio, Jeanne Moreau, LCD sound system, Artics Monkey/Bloc Party, consor, Feist, joanna newsom, angil, tunng, electrocute, the konki duet, sufjan stevens, bonnie prince billy, wolf parade, iron&wine, regina spektor, Neimo, Stuck in the sound, Ponyponyrunrun, The unicors, Calvin Harris, The do, Hot chip, Music is not fun, Dirty jacket, In the club, Led Zep, Janis Joplin, Cocoon, PJ Harvey, Beirut, Alenia Diane, The Tellers, Elvis Perkins, Elliot Smith, Babyshambles, Scissor sisters, Mika, go go Charlton, Zita Swoon, soft machine, Go-Betweens, the zombies, Jehro, Billy Bragg, Art of noise, Milosh, Sybille Baier, mos def, hoccus pocus, a tribe called quest, Gilles Peterson, DJ Maestro, Stéphane Pompougnac, blonde redhead, thedo, placebo, elodie frege, royksopp, hot chip, erlend oye, amos lee, Archive, Jefferson Airplane, The Byrds, Emilie Simon, Peaches, Portishead, Pink Floyd, The Doors, Dorian Pimpernel, Soft Panic, Truls and the Trees, Hanny, Syd Matters, Seabear, Ratatat, Animal Collective, Final Fantasy ( violoniste canadien), Page France, Camera Obscura, The Stills, Cassius, Kate nash, Arctic Monkeys, M.I.A, Mr Lab, Porcupine Tree, Mud Flow, the hihg llamas, the eggstone, adam green, donna regina, bertrand burgalat, el perro del mar, isobel campbell, les soeurs wincherster, claudine longet, jacqueline taieb, Philip Glass, Busty Duck, Rickie Lee Jones, Fleetwood Mac, Angelo Badalamendi, The Raveonettes, The Supremes, The Beach Boys, Julee Cruise, Blondie, Nouvelle Vague, Aretha Franklin, Jeff Buckley, Astrud Gilberto, Marissa Nadler, Souchon, Lou Reed, Killers, Rufus Wainright, Aimee Mann, Herman Dune, Cali, Iron and wine, Léonard Cohen, The Bird and the Bee, Franz Ferdinand, Soko, Tears for Fears, Rhésus, Interpol, Jon Brion (Eternal Sunshine), los Chicros, The Jesus and Mary Chain, Ella Fitzgerald, BB Brunes, M.Craft, the Notwist, sebastian tellier, peter borjn and john, yeah yeah yeahs, Jamie Cullum, Emilie Loizeau, Noir Désir, The Corrs, Remioromen, Indochine, vampire week end, The editors, Keane , the killers, the servant, the Kooks, Phoenix, Kaiser chiefs, the kooks, the shins, gwayav', yann tiersen, jack johnson, gentleman, jehro, dragonette, kate nash, patrice, marie cherrier, death from above 1979, TTC, metric, maximo park, uffie, yellowcard, The tellers, Beady Belle, Zero 7, Dayvan cowboys, Birdy Nam Nam, Boys Noize, Chromeo, Aril Brikha, Midnight juggernauts, Data, Futurcop, Stacey Kent, La Caution, Muse,
n'hesitez pas à completer la liste !