-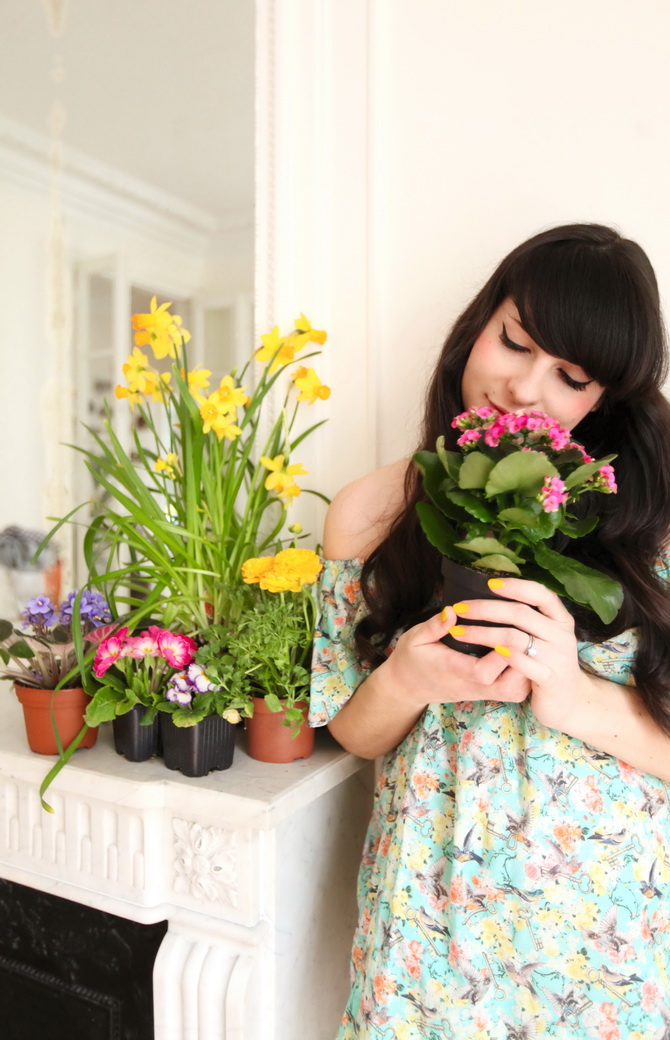 -
-
Et voilà, nous voici en Mars, le printemps arrive à grands pas !
Mais qui dit Mars dit giboulée de Mars, et ce tout début de mois n'a pas failli à sa réputation.
Une occasion rêvée pour vous présenter mes photos réalisées pour la collaboration Paul & Joe x Aigle:
J'ai réalisé un shooting avec mes pièces préférées de la collection capsule: bottes, parka et imprimés fleuris.
Avec ce temps mi-pluvieux mi-ensoleillé, le thème "jardin anglais" ne pouvait pas mieux tomber !
Paul & Joe est une marque que j'affectionne beaucoup, et Aigle est toujours mon meilleur allié quand il s'agit de braver vent et intempéries avec style.
Ça a donc été un vrai plaisir de travailler avec ces deux grandes marques françaises, qui dans cette jolie collection mélangent et associent leur style avec succès !
-
-
♫ ♪  The Move – Flowers in the Rain
-
-
Here we are in March, spring will be there soon !
And as the French say, who says March says "giboulée de Mars" ( March rain ). Judging by these two past days wet weather, I must say it couldn't be more true !
A perfect timing to introduce my photos made for the collaboration between Paul & Joe X Aigle !
I shot my favorite pieces from their new capsule collection: rain boots, parka and flowery prints.
With this mid-rainy mid-sunny weather in France right now, this "English garden" mood looks perfectly well suited.
Paul & Joe is a brand I absolutely adore, and Aigle is always my best ally when it comes to brave windy and rainy weather with style.
For that reason it's been a real pleasure to work for these two major french brands, who matched and combined their styles successfully in this pretty collection !
-
-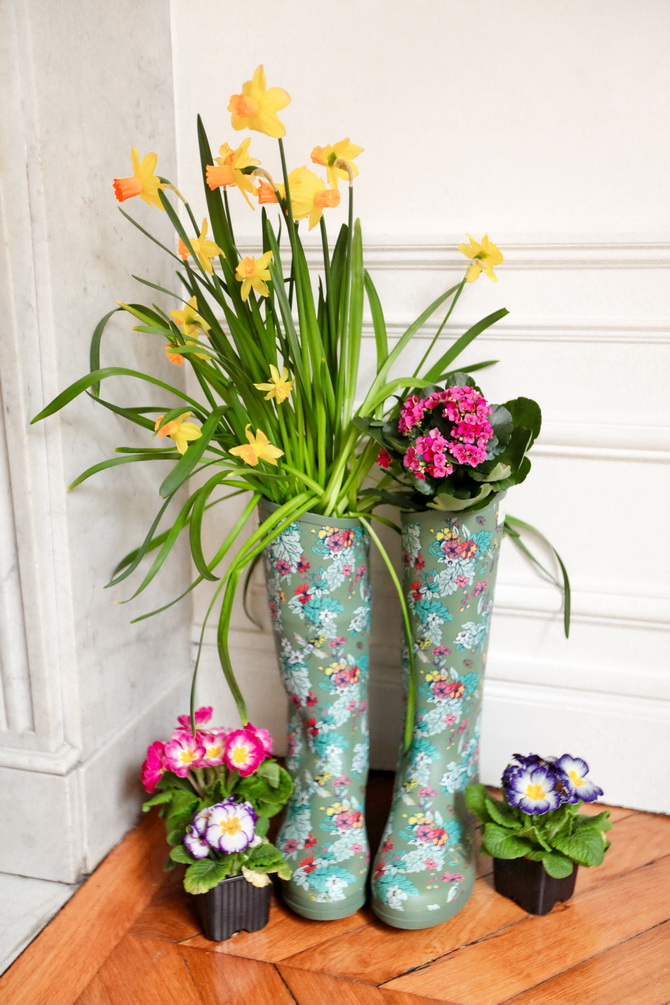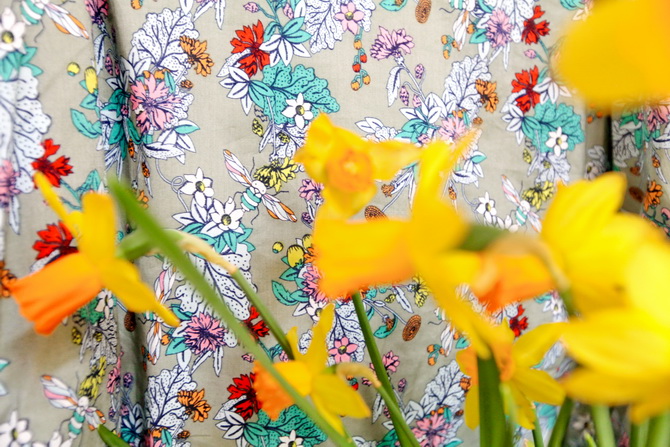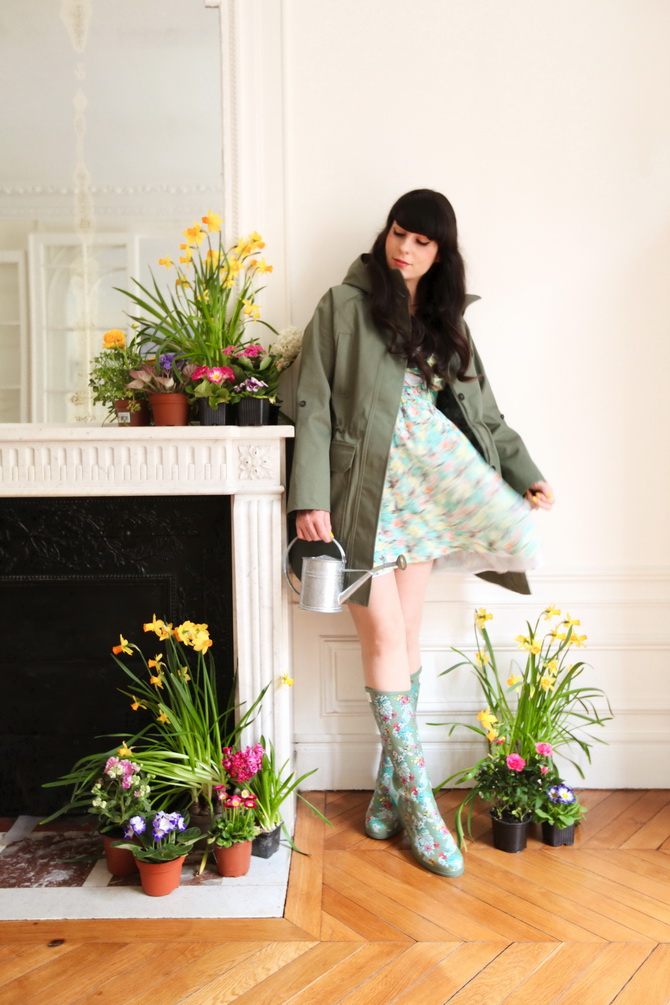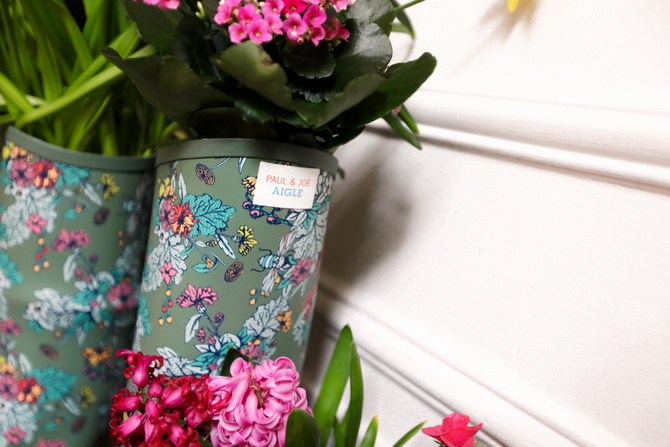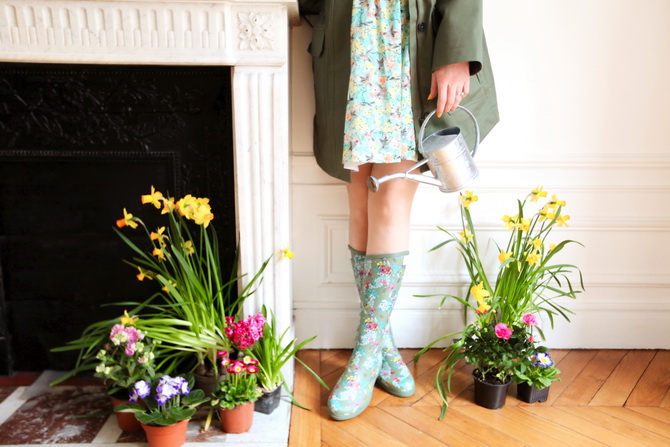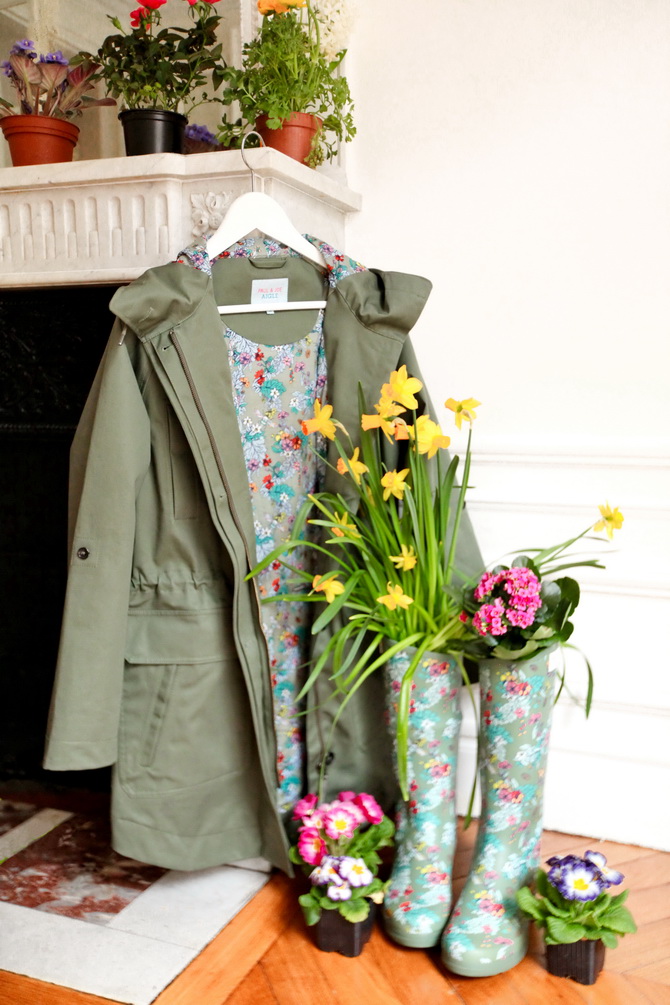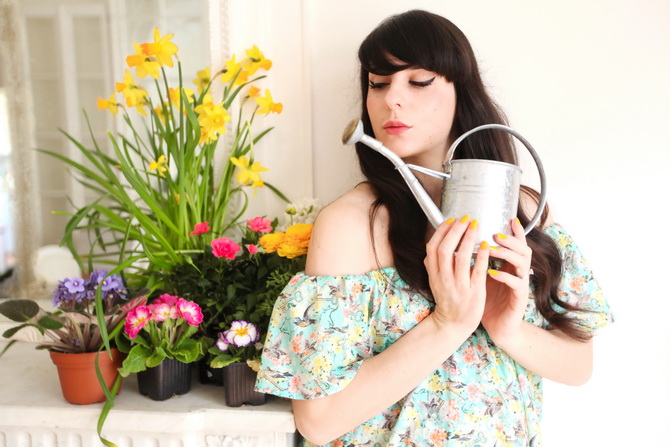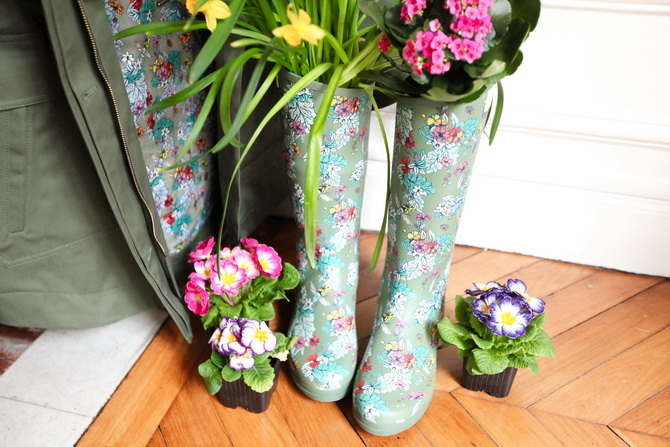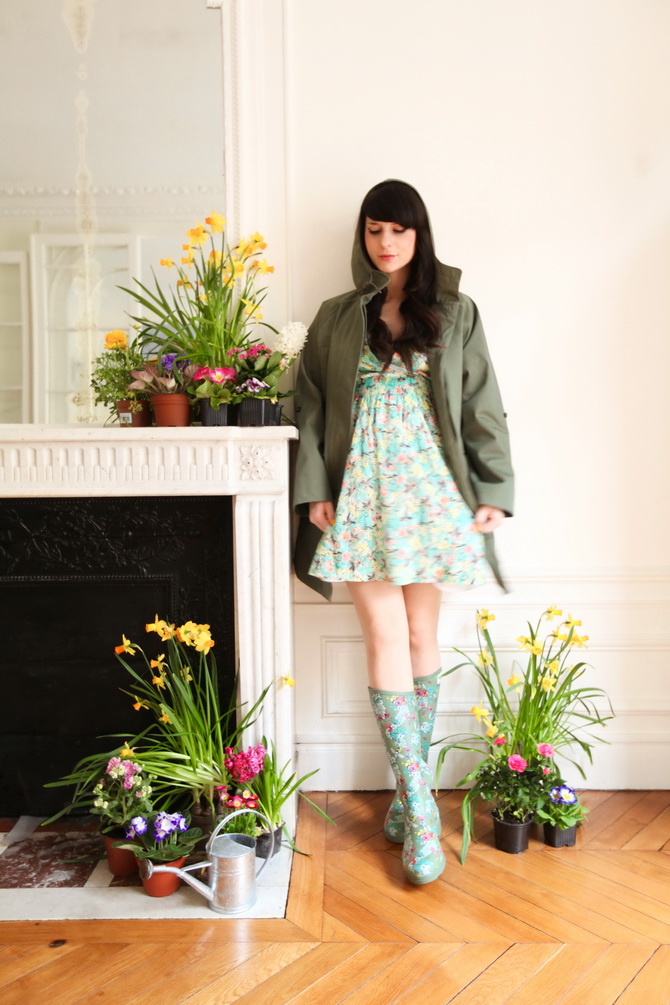 -
-
Bottes / Boots : Paul & Joe X Aigle
Parka : Paul & Joe X Aigle
Robe / Dress: Paul & Joe X Aigle
Blouse: Paul & Joe X Aigle
Vernis à Ongle / Nailpolish: Dior 118 Acapulco
-
-
Ce samedi 7 Mars, Aigle et Paul & Joe fêteront le lancement de la collection dans leurs boutiques respectives de Saint-Germain-des-Près à partir de 15h:
Un thé à l'Anglaise chez Paul & Joe, et un bar à fleur chez Aigle.
Il y aura également un concours organisé ce jour là en boutique, avec la chance de gagner des pièces de la collection #PaulAndJoeXAigle.
-
-
-
-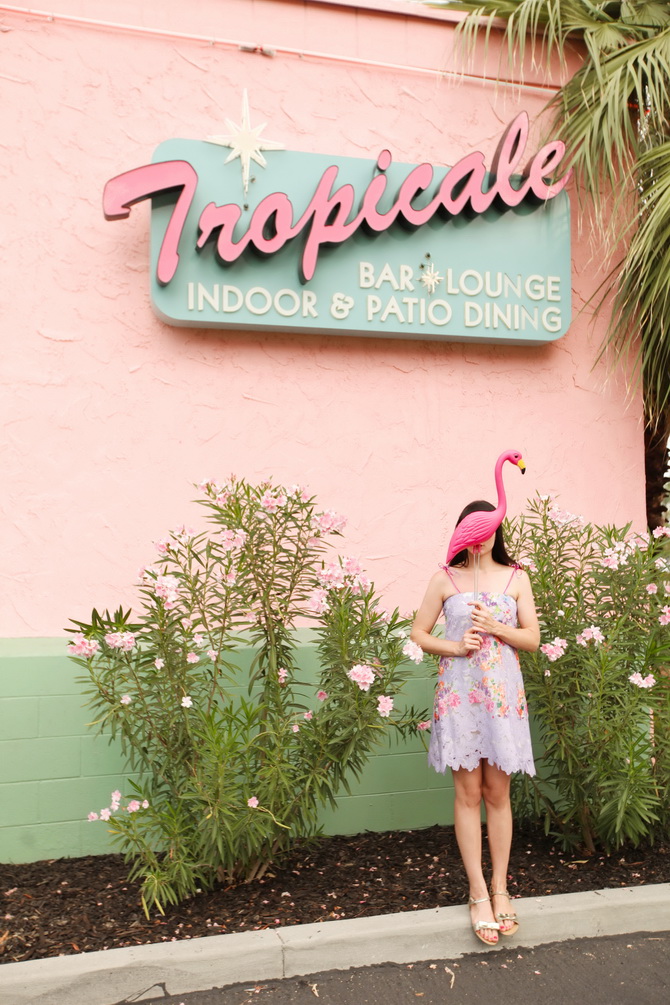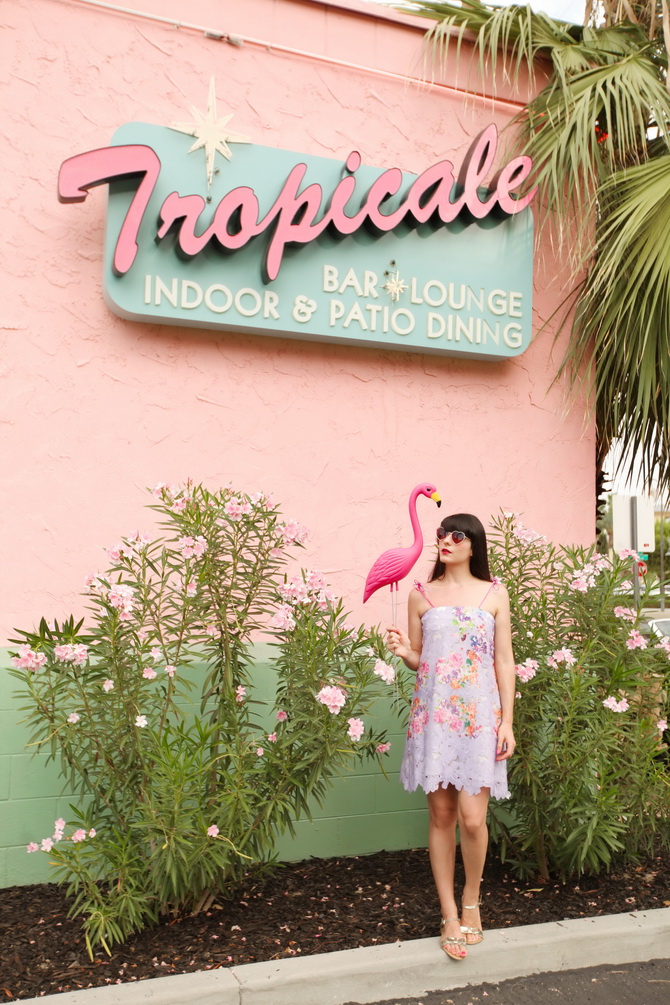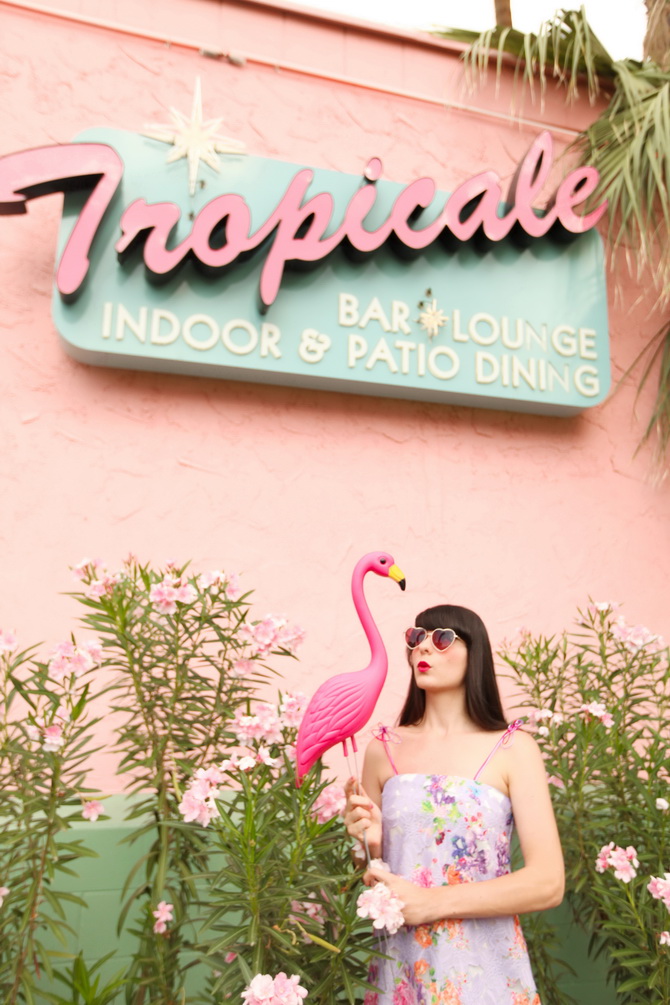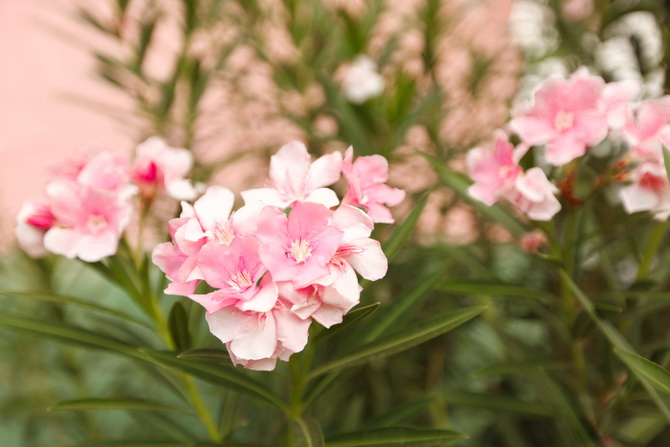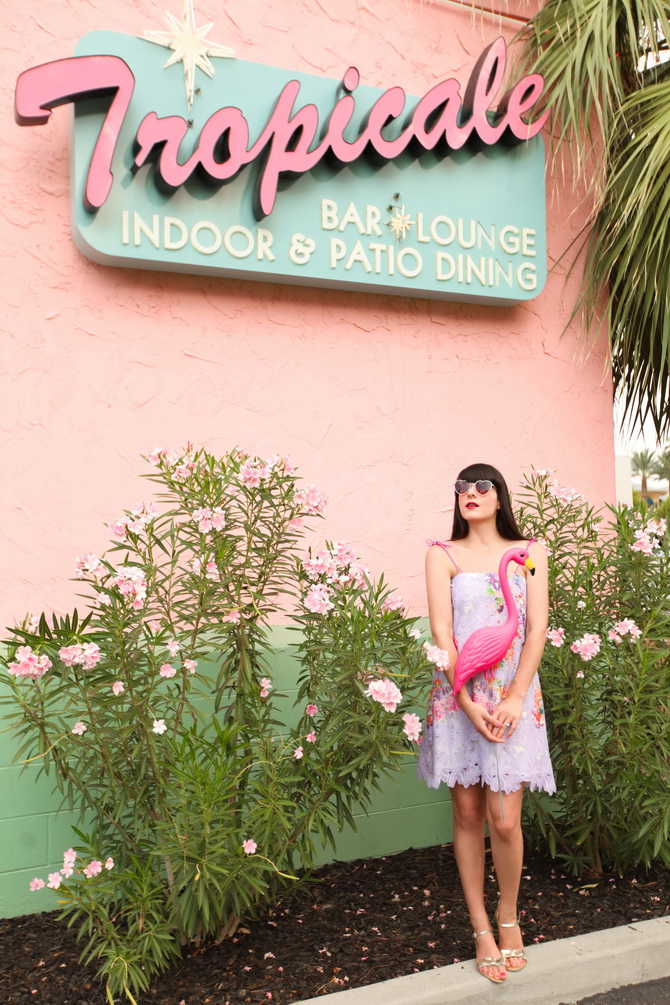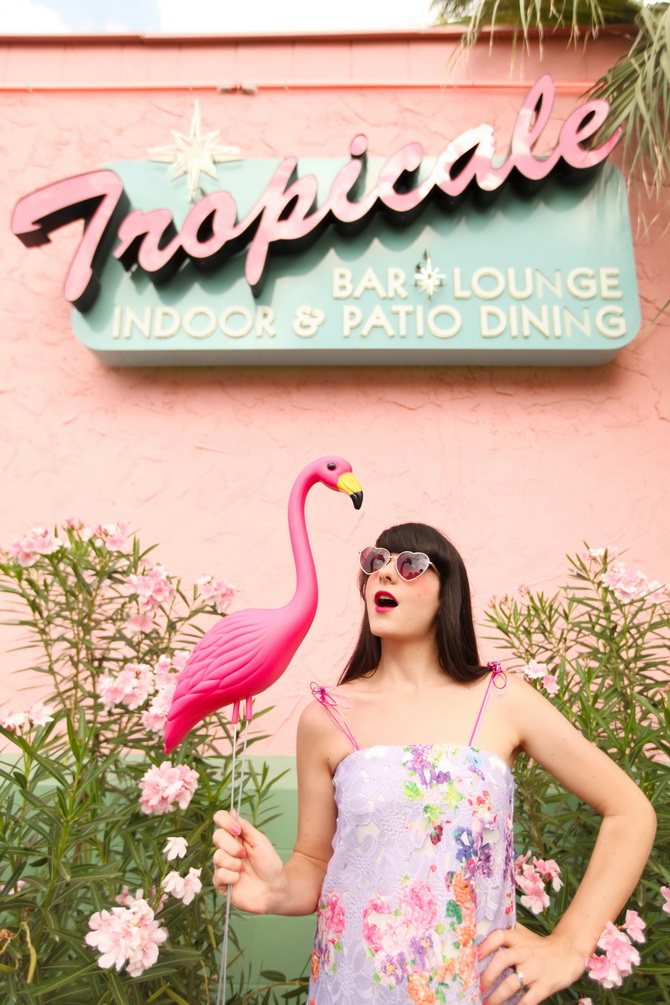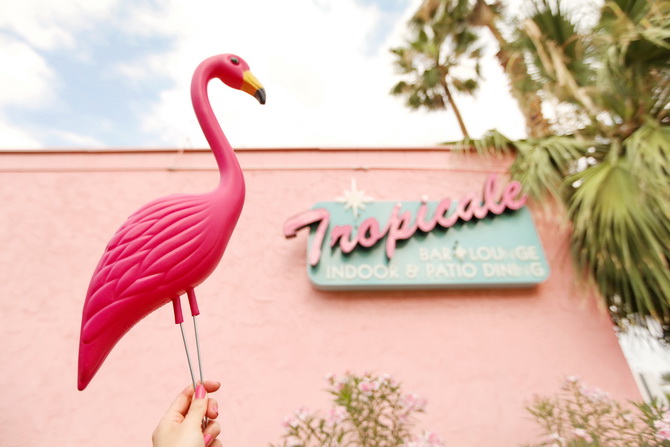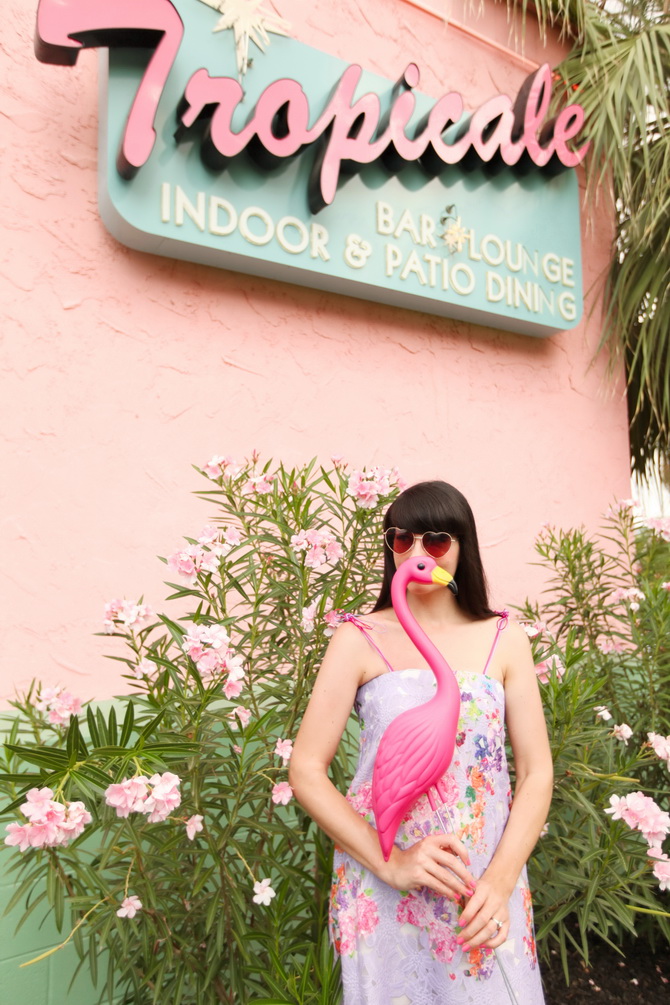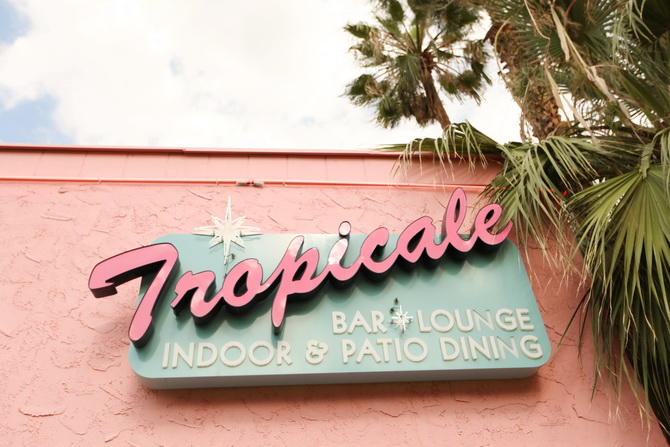 -
-
Robe / Dress : ASOS Salon
Rouge à lèvre : YSL Rouge Pure Couture N°07 Fushia
Sandales / Sandals : Carvela
Lunettes / Sunglasses : Urban Outfitters
-
-
-
-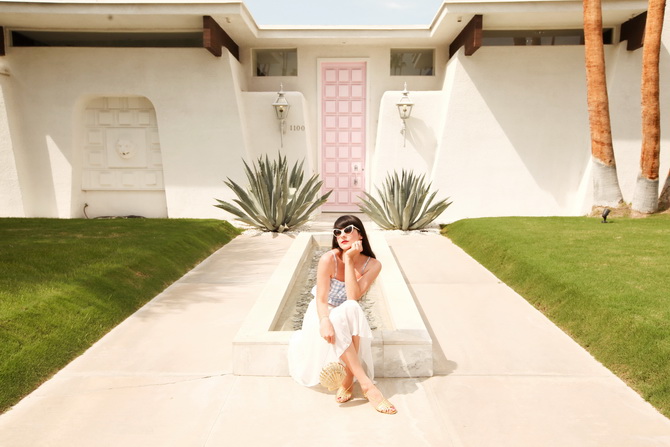 -
-
Ah là là cette maison à la porte rose … du Palm Springs dans toute sa splendeur !
J'avais repéré en avance quelques maisons iconiques à aller voir.
Toutes se trouvent dans le même quartier calme est paisible, bordé de cactus et de palmiers gigantesques.
Le berceau de Palm Springs !
Mais c'est surtout cette maison que j'avais vraiment hâte de voir. La photo de sa façade rénovée et de sa porte fraîchement peinte en rose a déjà fait plusieurs fois le tour du monde.
Si vous passez à Palm Springs, prenez le temps de vous arrêter au 1100 Sierra Way. C'est l'adresse de cette porte magique. Baladez vous également dans les rues alentours, d'autres merveilles méritent d'être découvertes!
Et pour les curieux qui souhaitent jeter un coup d"œil à l'intérieur… entrez par ici !
-
-
♫ ♪ The Crystals – Then he kissed me
-
-
Oooh dear, this house with a pink door … Palms Springs at its best !
Before I got there, I spotted a few iconic houses in the city. All of them are located in the same quiet and peaceful neighborhood with the highest cactus, succulents and palm trees you will ever see. The streets where palms Springs actually began !
But it was this house in particular that I couldn't wait to see. The photo of its renovated facade and freshly painted pink door made it several times around the globe already.
If you go to Palm Springs, take the time to stop at 1100 Sierra Way. It's the address of this magical pink door. And please wander around the surrounding streets, many other treasures are worth being discovered!
If you are curious just like me and wonder what's inside when you cross that pink door … this should satisfy your appetite.
-
-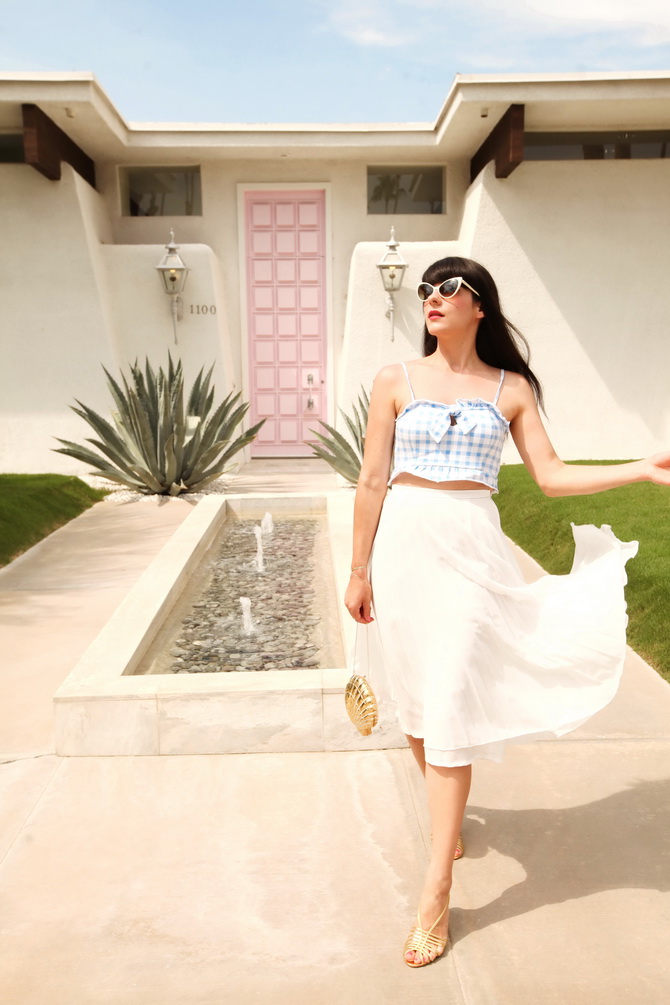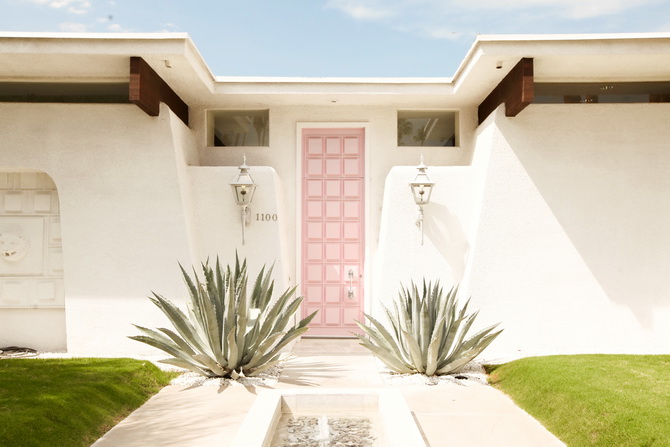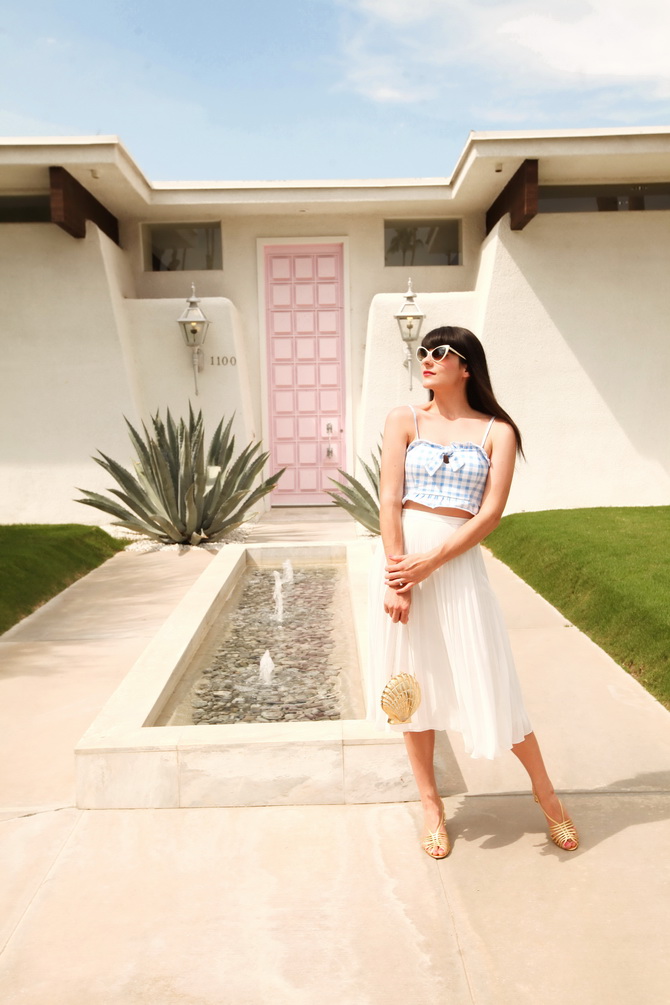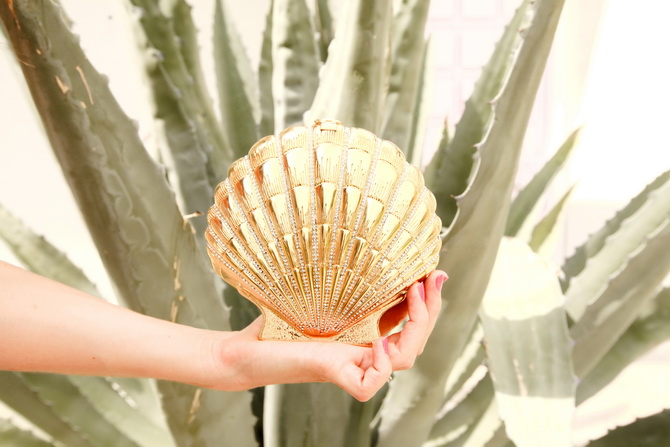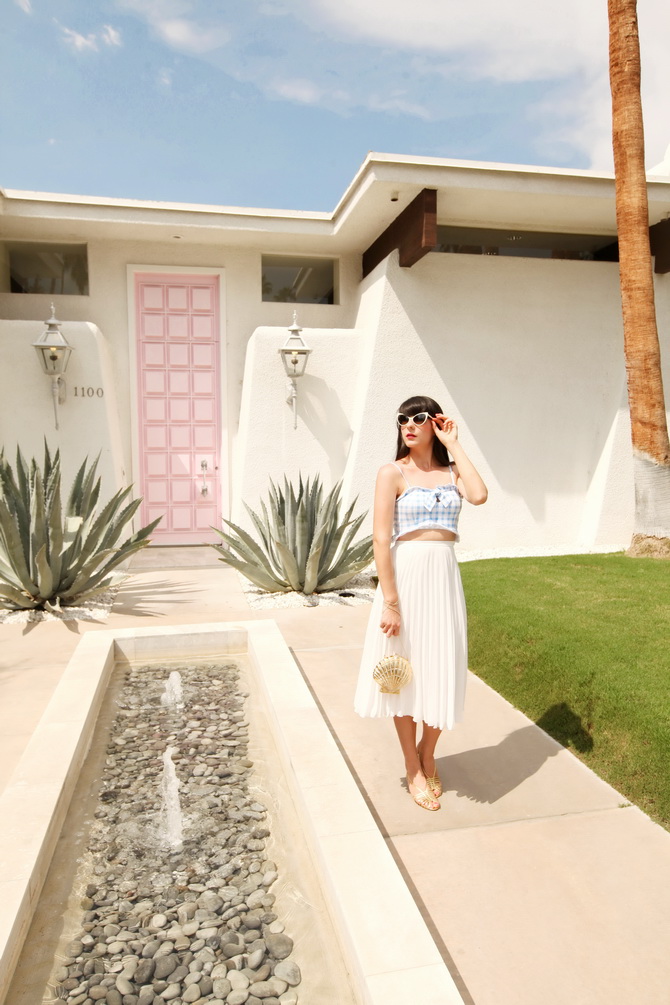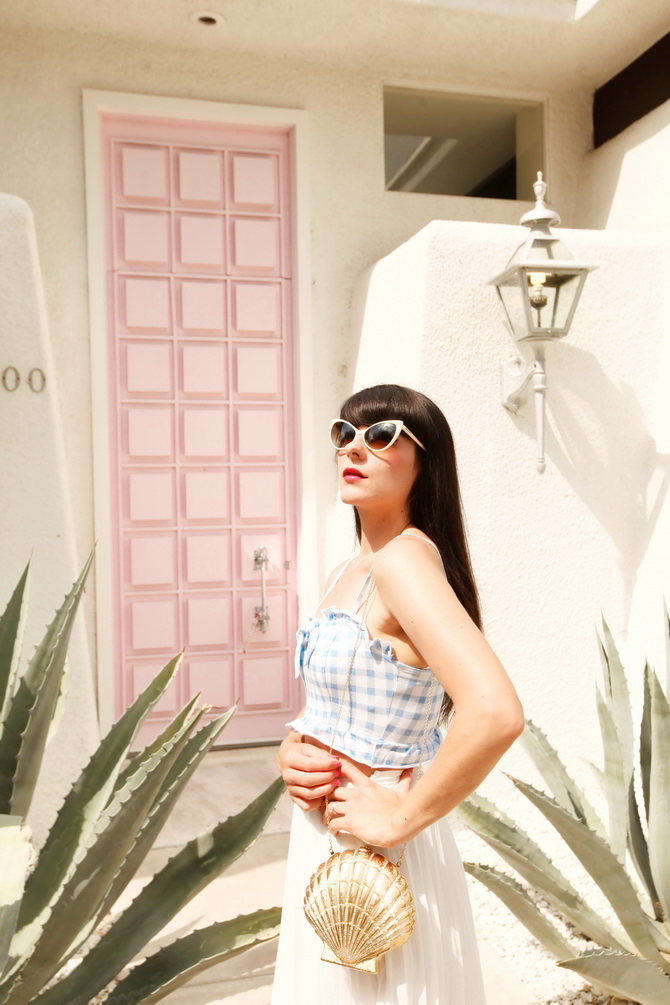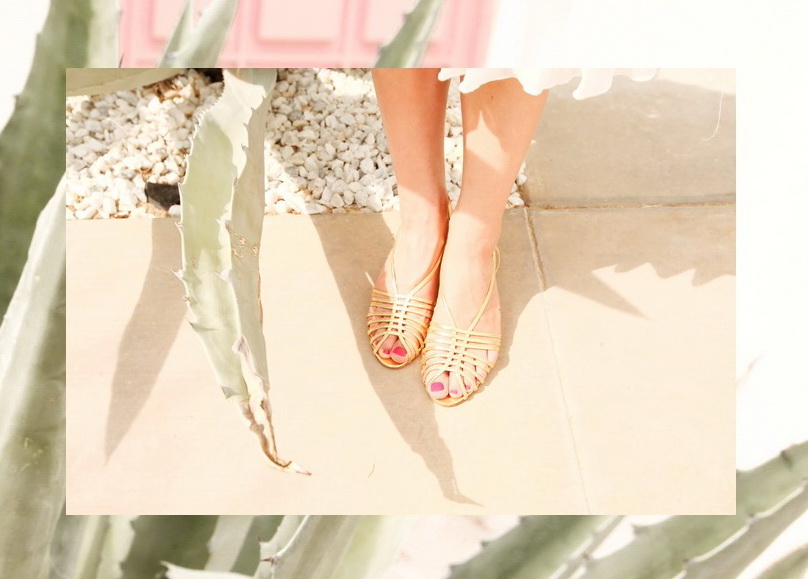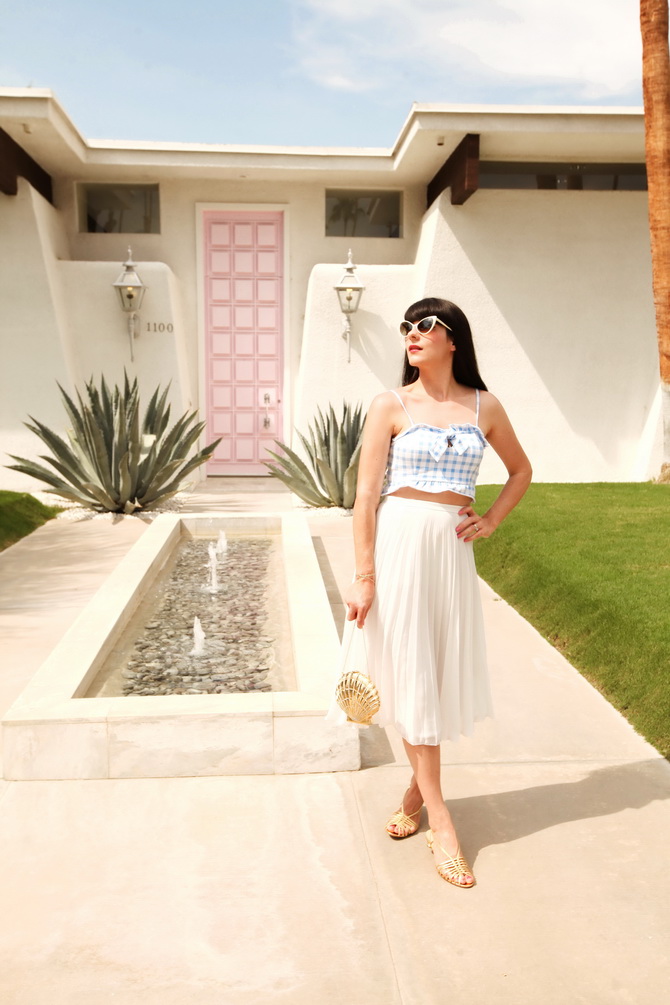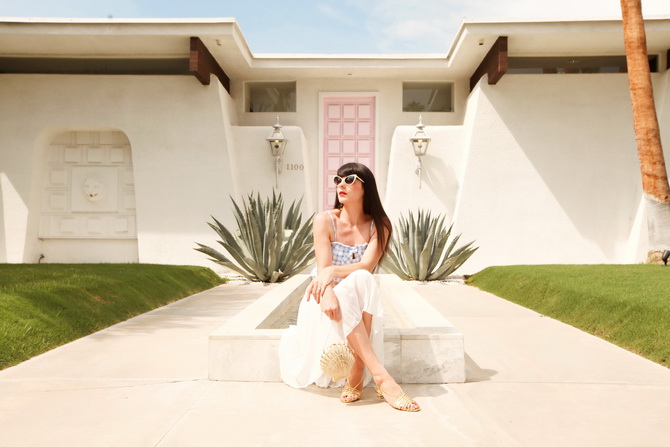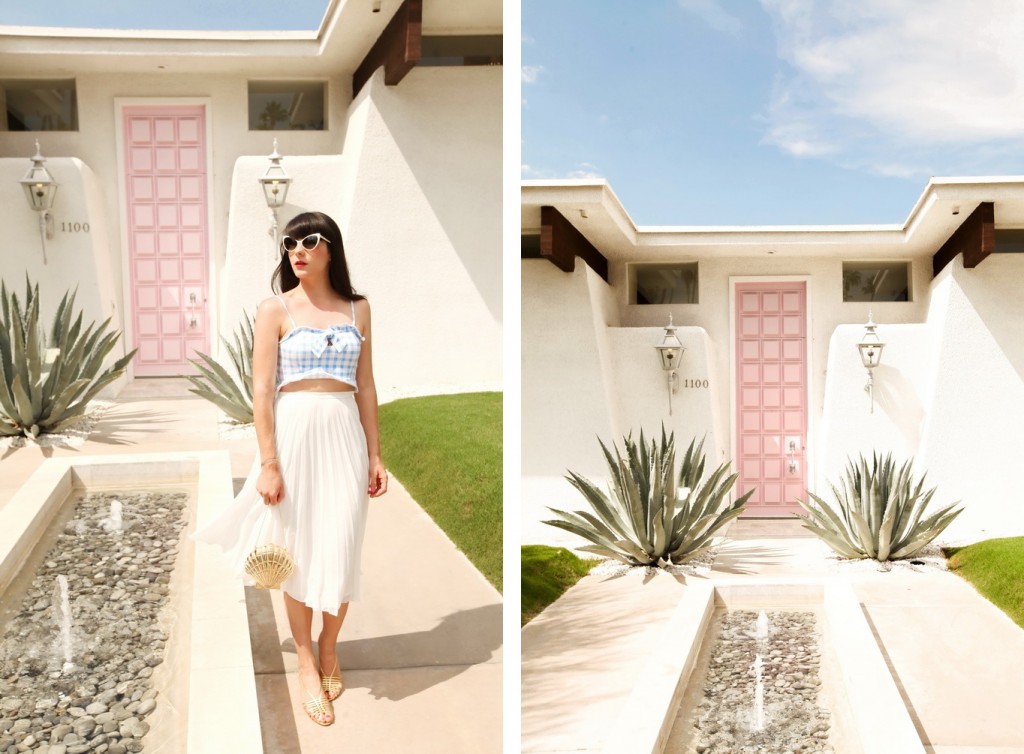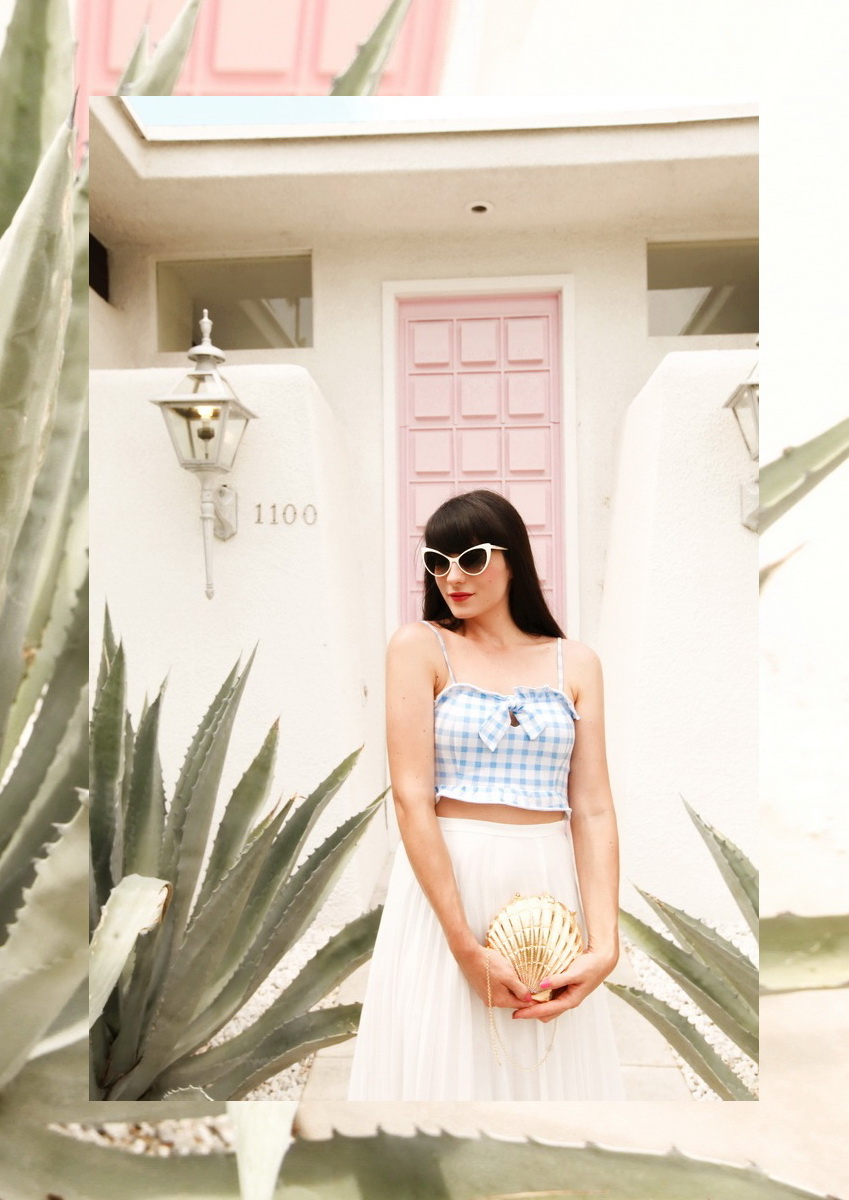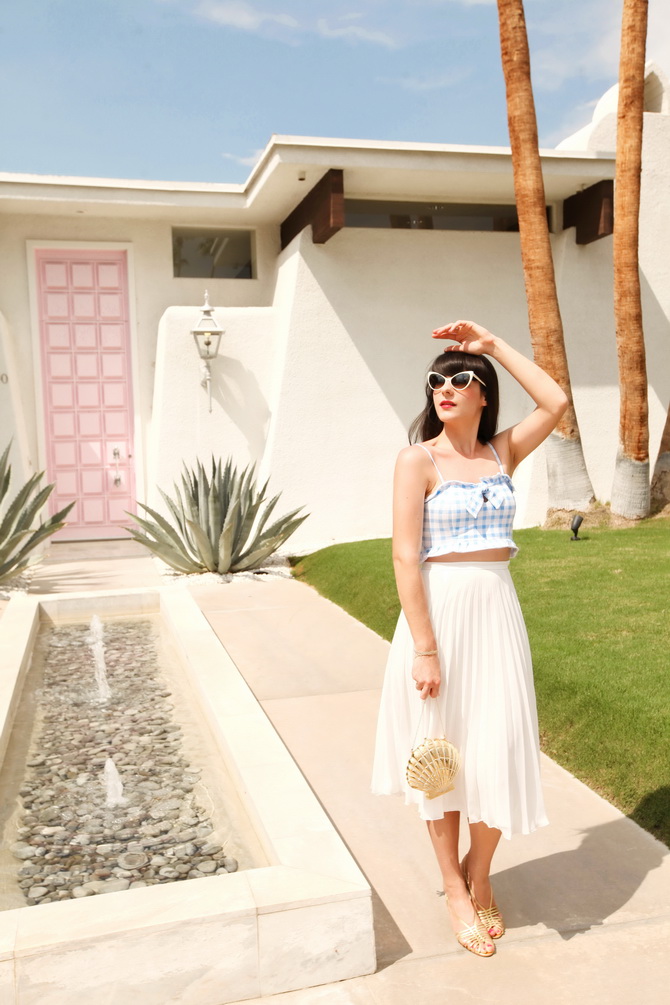 -
-
Top : Topshop
Jupe / Skirt : ASOS
Rouge à lèvre : Chanel Coco Shine 54 Boy
Sac et sandales / Clutch and sandals : Charlotte Olympia
Lunettes / Sunglasses : Tom Ford
-
-
-
-